Propeller Boss Cap Fins technology to play a pivotal role in enhancing vessel EEXI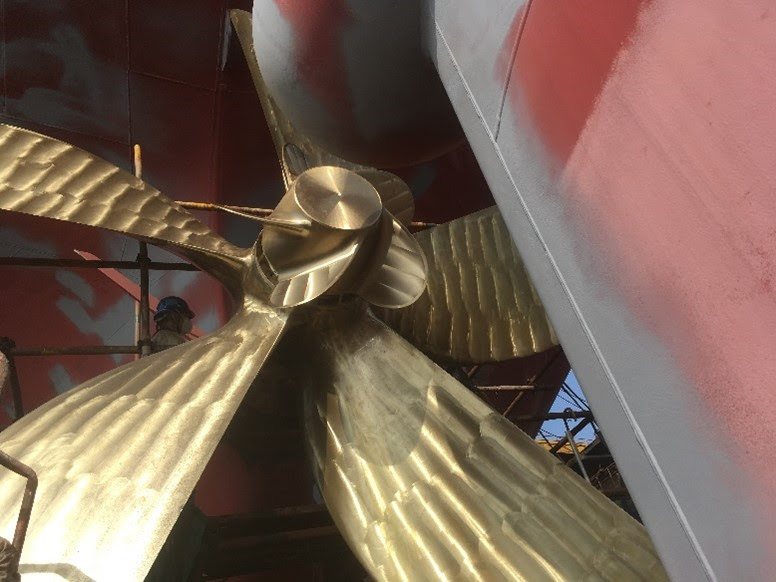 LONDON – February 15, 2021: MOL Techno-Trade Ltd have reported that interest in propeller boss cap fins (PBCF) technology has increased in the wake of IMO approving amendments to MARPOL Annex VI at MEPC 75 in November 2020 to introduce an Energy Efficiency Design Index for existing ships (EEXI).
The goal of the EEXI is to reduce the carbon intensity of international shipping, working towards the levels of ambition set out in the initial IMO Strategy on the reduction of GHG emissions from ships. This will be achieved through two new measures: the technical requirement to reduce carbon intensity, based on an EEXI; and the operational carbon intensity reduction requirements, based on a new operational carbon intensity indicator (CII). The dual approach aims to address both technical (how the ship is retrofitted and equipped) and operational measures (how the ship operates). Subject to adoption at MEPC 76 in June 2021, the requirements will enter into force in 2023, and the EEXI will be applicable for all vessels above 400 GT.
Since PBCF technology can reduce vessel fuel oil consumption by 3-5% and improve a vessel's CII rating, MOL Techno-Trade has welcomed an increase in the number of inquiries for PBCF technology from ship owners seeking to minimize the engine power limit of existing ships.
In addition to fuel-saving benefits, the technology also reduces underwater noise and protects the environment of marine mammals. As such, ships with PBCF installed receive a discount on port charges at the Port of Vancouver, Canada.
To-date, PBCF have been installed on over 3,500 vessels, 750 of which are owned by MOL. A PBCF can be installed on any vessel (new build and existing), regardless of size and type, so long as there is enough clearance between the propeller and the rudder. Installation is straightforward and only requires half a day to complete since PBCFs are attached using the existing bolt holes of the propeller boss.
In 2017, MOL Techno-Trade evolved the PBCF design into an Advanced type, which has now been installed on 300 vessels. In addition to the EEXI driving existing ship owners to adopt PBCF, MOL Techno-Trade believe that the EEXI will also drive the conversion of the 3,000+ current vessels using conventional PBCF to the Advanced type. MOL, for example, is already actively replacing Conventional type PBCFs installed on their vessels with the Advanced PBCF type.
As a next step to support the industry's vessel decarbonization efforts, MOL Techno-Trade is working on the hybridization of PBCF with other energy-saving devices and have completed the development of an energy-saving rudder.