What's Happening in 2021 – IBIA Conference Series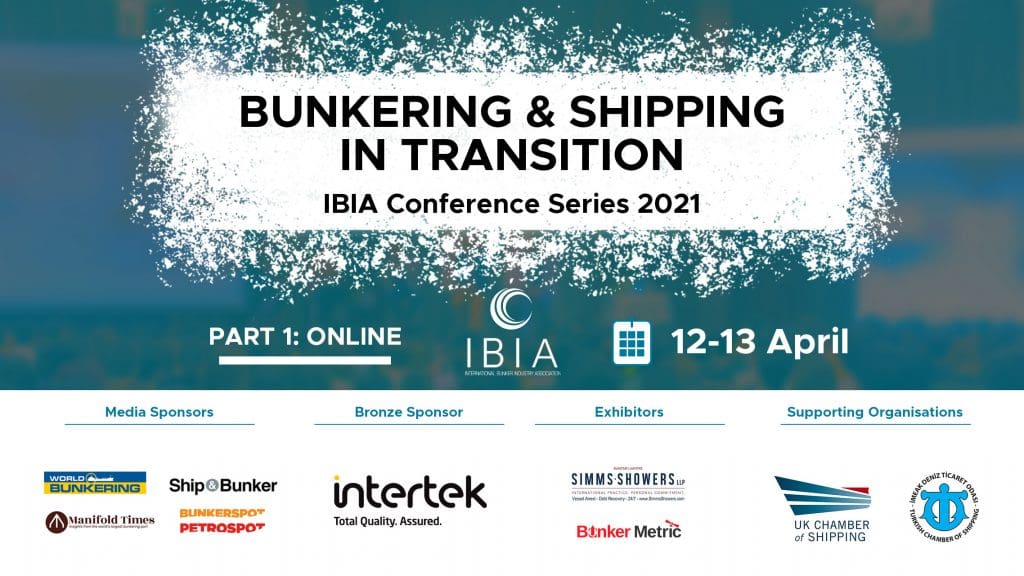 IBIA Conference Series 2021- PART 1 –MONDAY-TUESDAY, 12-13 APRIL, 2021
09:45 AM London | 5:45 PM Singapore
The "IBIA Bunkering & Shipping in Transition" part 1 is taking place on 12-13 April and you need to be part of it!

This conference will bring clarity to your questions as we address the challenges the maritime and bunkering industry face today, as well as envisioning/predicting/covering future aspects of the industry.

A high calibre of speakers from leading companies will share their valuable insights and answer your questions during live Q&A sessions. Don't miss this opportunity to understand the challenges and discuss solutions within the bunkering and shipping sectors.
Who is speaking?
Check now the overview of the agenda.
– First-hand accounts of the latest updates from the IMO and what it means for our industry. The highlights of what exactly is changing in Annex VI to progress the IMO's initial GHG strategy.
– Coping with COVID. Are business models changing in 2021 and are we doing things differently?
– What can we expect from the Shipping & Freight Markets as 2021 is already underway, but with many unknowns?
– Understanding VLSFO. Our expert panel will discuss the impact on fuel quality and operational issues, and whether the ISO:8217 specification is still sufficient.
– The need to reduce emissions of air pollutants like SOx and NOx has already been driving the industry toward new types of cleaner-burning fuels. Going forward, the decarbonisation drive will have an even bigger impact.
– Join new and established players in the online bunker procurement space to discuss what digital bunkering has to offer the industry.
– As banks pull their financing against a backdrop of bankruptcies and fraudulent activity, understanding and dealing with credit and risk management has never been more critical.
REGISTER FOR ONLY £50
SPONSORSHIP OPPORTUNITIES
Please follow the button below to explore the sponsorship opportunities we offer for the best exposure to your company.
We would like to thank our Sponsors and Supporters.
To find out more and how to participate as a speaker or Sponsor at the "IBIA Bunkering & Shipping in Transition" Part 1 and Part 2
Please contact Sofia Konstantopoulou, Global Head, Marketing & Events
+44(0)7531918914 || Sofia.konsatntopoulou@ibia.net
We are looking forward to welcoming you in April!