NAVIGATOR – the Shipping Decision Makers Forum (19 April 2021) / Invitation – Register now!!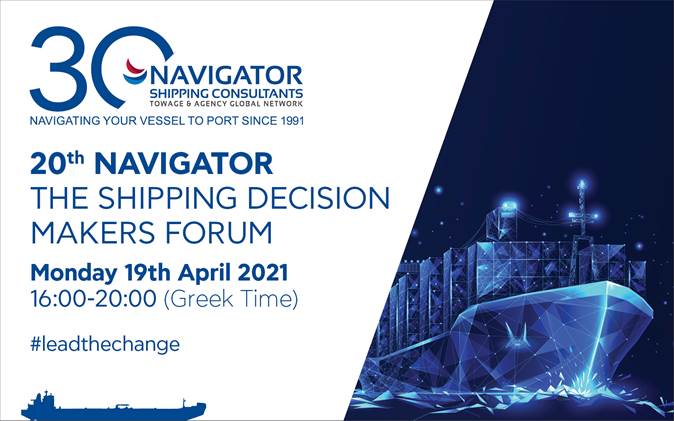 NAVIGATOR SHIPPING CONSULTANTS
would like to invite you to the 20th NAVIGATOR 2021- THE SHIPPING DECISION MAKERS FORUM, which will  be held online on Monday 19th April 2021, 16:00 – 20:00 hrs (Greek Time).
Opening remarks will be made by the Minister of Greek Shipping & Insular Policy, Ioannis Plakiotakis.
The outcome of the "closed" discussions of the week 12-16 April 2021, among the executives-representatives of Ship-owning and Ship management Companies, and the members of NAVIGATOR FORUM ADVISORY BOARD, will be presented by:
·  Helena Athoussaki, Head of ESG, Sustainability & Climate Change – MOTOR OIL GROUP (#Decarbonisation)
·  Seraphim Kapros, Director of MBA in Shipping – University of Aegean (#SupplyChain)
·  Panos Theodossopoulos, Chief Digital Officer – OCEANKING (#SmartShipping)
·  Katerina Skourtanioti, Managing Director – VENLYS Maritime Specialisation Services & Dorothea Ioannou, Deputy Chief Operating Officer – The AMERICAN P & I CLUB (#Human Element)
·  Costas Constantinou, Managing Partner/Global Maritime Leader – MOORE GREECE (#Commercial &Finance)
International Organizations will honor us with their participation commenting on issues of Maritime and Economic Affairs, as well as on the outcome of the closed discussions.
· Margi Van Gogh, Shaping the Future of Mobility – Head of Supply Chain & Transport –will represent World Economic Forum,
· Elaine Smith Genser, Responsible For Engagement and Partnerships Development will take part on behalf of United Nations Joint SDG Fund and
· Guy Platten, Secretary General on behalf of International Chamber of Shipping.
Moderators of the discussion will be: 
Danae Bezantakou, CEO – NAVIGATOR SHIPPING CONSULTANTS &  Gina Panayiotou , CVO – OCEANS ARENA, Concept Founder – IT'S ALL ABOUT SHIPPING
FORUM will be completed with the presentations of representatives of NAVIGATOR's network of Towing Companies and Shipping Agencies on issues such as: Port developments, crew changes, renewal of the tug fleet worldwide, etc :
Jeff Horst, Vice President of Sales & Marketing – FOSS MARITIME (Harbor Towing & Marine Transportation services) (U.S. West Coast – Hawaii)
Julian Oggel, Managing Director – Novatug & Counsel – MULTRASHIP TOWAGE & SALVAGE (Belgium & The Netherlands)
Diana Villarreal, Commercial Manager–COLTUGS TOWAGE & SALVAGE/ ULTRATUG (Chile, Peru, Equador, Colombia)
Hugh Buchanan,Operations Director- AGENCIA MARITIMA NABSA S.A (Argentina)
Elisio Dourado, Towage Commercial Director – WILSON SONS (Brazil)
Sushil Mulchandani, Chief Executive Officer – JM BAXI & CO. (India)
Jose Echeverria Goldoni, General Manager – ILG LOGISTICS (Panama)
Meera Kumar, Head of DIABOS Business Unit (DA's processing System)
Capt. Dimitris Bezantakos, Founder & President, Danae Bezantakou, CEO, & Christina Bezantakou, Co-CEO of NAVIGATOR SHIPPING CONSULTANTS are looking forward to welcoming you in "NAVIGATOR – The Shipping Decision Makers Online Forum".
We express special thanks once again to the sponsors of NAVIGATOR FORUM:
DNV– ERMA FIRST S.A. – FORTUNE TECHNOLOGIES S.A. – FRANMAN – GOLDEN CARGO – LAROS by PRISMA ELECTRONICS – ΜΑCGREGOR – MARICHEM MARIGASES – IRI/ THE MARSHALL ISLANDS REGISTRY – MOORE GREECE – OCEANKING – PALAU SHIP REGISTRY – PENNINGTONS MANCHES COOPER GREECE – Τhe AMERICAN P&I CLUB – The SWEDISH CLUB – THOMAS MILLER BV GREEK BRANCH – VENLYS MARITIME SPECIALISATION SERVICES – V.SHIPS – WINGUSUITE CLOUD COMMUNICATIONS PLATFORM.
20th NAVIGATOR 2021 – THE SHIPPING DECISION MAKERS FORUM, will be held in English.
Registrations at: https://lconsite3.azurewebsites.net/newpnr/1001 
With best regards,
Danae Bezantakou
CEO / NAVIGATOR SHIPPING CONSULTANTS LTD