Hot Port News from GAC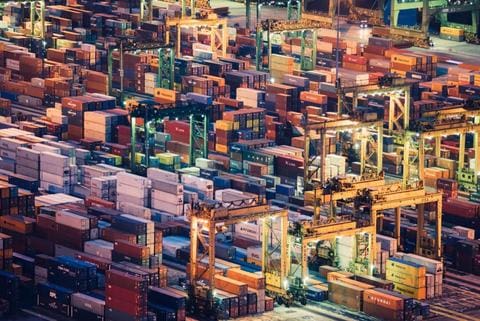 24-May-2021
DEMOLITION WORK AT DAMEN SHIPYARD
Singapore
PREPARATIONS FOR CYCLONE YASH
Mongla, Bangladesh
HUB REOPENED
Buckeye Bahamas Hub, Bahamas
IN-BOUND FLIGHTS SUSPENDED
Sri Lanka
PORTS BRACE FOR CYCLONE
Odisha & West Bengal, India
Demolition work at Damen Shipyard
Monday, May 24, 2021, Singapore
Demolition works are being carried out at Damen Shipyard until 20 November.
According to the Maritime and Port Authority of Singapore Port Marine Notice No.42 Of 2021, the works will be conducted from 0800 to 1900 hours local time daily – including Sundays & Public Holidays – within the working area bounded by the following co-ordinates (WGS 84 Datum):
1) 1°18.749'N / 103°38.455'E
2) 1°18.733'N / 103°38.472'E
3) 1°18.752'N / 103°38.490'E
4) 1°18.730'N / 103°38.511'E
5) 1°18.691'N / 103°38.476'E
6) 1°18.729'N / 103°38.437'E
The demolition of foreshore structures will be carried out using land-based equipment and the debris will be loaded on to the trucks using crane barges for disposal.
A safety boat will be in attendance at all times to warn and re-direct craft in the vicinity to keep clear of the working area.
Craft involved in the works will exhibit the appropriate local and international day and night signals.
When in the vicinity of the working area, mariners are reminded to:
a) Keep well clear of the working area;
b) Maintain a proper lookout;
c) Proceed at a safe speed and to navigate with caution;
d) Maintain a listening watch on VHF Channel 22 (Jurong Control);
and
e) Communicate with Jurong Control for assistance, if required.
For information about operations in Singapore, contact GAC Singapore at singapore@gac.com
Preparations for Cyclone Yash
Monday, May 24, 2021, Mongla, Bangladesh
Upcoming cyclone "Yash" may hit about 26 May 2021 through the coast of Khulna, Bagerhat.
According to cyclone pre-precautions, all shipping agents who have vessel discharging cargo at port anchorage, are requested to complete discharge operation as quickly as possible and sail out within 24 May 2021.
All the agents who have vessels scheduled for arrival on or later 24 May 2021, are requested to postponed arrival program until the declaration from this authority.
(For information about operations in Bangladesh, contact GAC-Uniglobal Bangladesh at gac-uniglobal.bd@gac.com)
Source: Mongla Port Authority Circular No-15/2021 dated 22 May 2021
Hub reopened
Monday, May 24, 2021, Buckeye Bahamas Hub, Bahamas
Buckeye Bahamas Hub reopened on 22 May after the port status was upgraded from Closed to Open.
(For information about operations in Bahamas, contact the GAC Houston Hub Agency Center at hub.us@gac.com)
Source: Elnet Maritime – GAC network agent
In-bound flights suspended
Monday, May 24, 2021, Sri Lanka
Sri Lanka's Civil Aviation Authority has suspended all in-bound flights, including charter flights, with immediate effect until 1 June.
Departure of seafarers via chartered flights is currently allowed, subject to availability of flights.
For further details and updates, as well as information about operations in Sri Lanka, contact GAC Sri Lanka at srilanka@gac.com
Ports brace for cyclone
Monday, May 24, 2021, Odisha & West Bengal, India
The East Coast of India is bracing for Cyclone Yaas, expected to hit coastal areas of Odisha and West Bengal on Wednesday (26 May) as a "very severe" cyclonic storm.
The cyclone is moving northwards in the Bay of Bengal and is likely to thunder into the Bengal-Odisha coast between Sagar Island and Paradip on Wednesday evening, with the Bengal coast more likely to take the hit after it crosses north Odisha as a very severe cyclonic storm with a wind speed of 155km/hr-165km/hr. Over the next 24 hours, the rain could intensify and turn into a deluge. It will be heaviest on Wednesday.
Ahead of the storm, ports are preparing as follows:
HALDIA
All vessels anchored at Sandheads for Haldia are advised to leave immediately. There will be no inwards movements from today (24 May), only departures to be effected till the day tide of 25 May. All vessels to vacate anchorage by 2200 hours local time tonight.
PARADIP
Inward movements suspended from 3rd shift yesterday (23 May). Working vessels to be moved out from Port Dock /Anchorage from this morning.
DHAMRA
All vessels at anchorage to pick up anchor by noon today and move to safer sea area. Vessels alongside berths to keep engines ready to shift to sea at short notice.
Local Cautionary Signal No. III (LC- III) has been hoisted at all ports in Odisha.
For further details and updates, as well as information about operations in India, contact GAC India at india@gac.com
GAC is a global provider of integrated shipping, logistics and marine services dedicated to helping customers achieve their strategic goals at thehighest levels of quality, safety and compliance.