GSCC Annual Report 2020 – 2021
Greek Shipping Co-operation Committee
We begin with the Chairman's Message:
Dear Colleagues,
It is with great pleasure that I present our 86th annual report in 2021.
It has been a tumultuous year because over the last 12 months the world has faced the greatest pandemic since the last one over 100 years ago, this has resulted in a huge loss of life and dislocated the normality of our everyday existence.
However, during this period, doctors, nurses, scientists have valiantly fought both to aid those who are suffering and to create a myriad of vaccines that have begun to overcome this appalling event.
In the meantime, the unsung heroes of our maritime industry, the seafarers at sea and the shore staff looking after them have continued doing their job invisibly and selflessly, ensuring that world trade is not disrupted and that all the essential goods arrive at their destination, and on time without any visible dislocation.
This is despite the fact that neither Governments nor regulators have done enough to recognize the importance of seafarers by considering them as essential or key workers and afforded them priority inoculation or allowed them to easily embark or disembark from vessels around the world. Equally disappointing is the prohibition of seafarers by some nations to have shore access for health and medical reasons.
Too few countries or ports allow a safe haven for seafarers to sign on or off ships and there is little stability in where and when crews can change hoping that in return Governments will show flexibility in the amount of time crews will remain aboard vessels.
Fortunately, as the pandemic is hopefully receding, world trade is beginning to recover, mainly through Government stimulus programmes and the economic benefits they bring about and in turn business optimism is returning. Against that, there is the perception that we may bring about an inflationary period which could have far reaching effects.
This is certainly evident in the container sector where freights are reaching historically high levels as vessel imbalances are causing shipping lines to scramble to secure any available tonnage, at whatever price.
The dry bulk sector has also seen some improvement over the last six months. Not as dramatic as the container ship sector, but enough to bring about a more positive feeling.
Tankers unfortunately have not yet recovered and are still at depressingly low levels, especially for the larger vessels.
However, the Gas Carriers have seen better days perhaps due to the perception of the clean element of their energy cargoes.
The car carrier sector has also come back to life on the back of greater global demand for new and second-hand cars.
Against this background, the Greek shipping industry has cemented its position as the world's largest fleet and has increased its market share in most sectors. This has been achieved through a combination of newbuilding deliveries and strategic second-hand purchases.
The Greek fleet is getting younger compared to the average world fleet age, bigger, more technically sophisticated in its fuelling systems for newbuildings, and has acquired a significant amount of very modern second-hand ships including about half a dozen cruise ships.
At the same time, it has disposed of a large amount of older, less energy efficient smaller vessels through second hand sales and recycling facilities. Whether we are talking about crude or clean Tankers, LNG and LPG Carriers, Container ships and Car Carriers, Bulk Carriers, the market share of the Greek fleet is growing annually.
As a result of the above, the Greek fleet is continually reducing its carbon footprint and proving that the deep-sea shipping industry is by far the most energy efficient form of transportation for the movement of any bulk or unitised commodity. On a per ton basis, shipping is continually raising the bar in the way that it maximises its efficiency and has shown a continuous improvement over the last 40 years.
Over the last 12 months, the G.S.C.C. has ceaselessly continued its task in lobbying at the highest levels. Firstly, to improve the lot of seafarers due to COVID-19 and secondly, to give the benefit of its experience and knowledge to all the relevant organizations and Governments to bring about workable maritime solutions to all the problems and issues we face.
Below, we mention but a few of the most current issues.
A. 2030/2050
Decarbonization, or the total reduction of greenhouse gases is a paramount objective of the G.S.C.C. as we work towards 2050. However, it is imperative that we create workable, safe, maritime solutions to this critical issue and we involve those whose primary responsibility it is, namely shipbuilders, engine builders, fuel suppliers and charterers.
So far, all of the above have been notable for their silence and the lack of any technical breakthrough that can bring about an industry wide solution.
At present we have the possibility of at least half a dozen different alternative fuels, none of which really provide a safe and greener footprint than what already exists today. Decarbonization progress must go hand in hand with the safety of seafarers, vessels and cargoes.
We have no new powerplant solutions yet and shipbuilders will not build hydrodynamically more energy efficient vessels because charterers do not want a real green solution. So, the result is a large number of very small improvements which, whilst positive, will not bring us the breakthrough we all wish for.
It is imperative that any global solution to our decarbonization happens through the I.M.O and not some regional bodies which cannot have the experience that the I.M.O. possesses.
B. Robust Ships
People cannot truly espouse E.S.G. policies if they do not realize that robust, well-built ships are imperative to protect the environment and the safety of all those who serve on board the global fleet.
It is inconceivable that in this era we still have ships that are virtually new suffering hull and machinery failures due to low standards of construction and safety levels. The examples of virtually new Ore Carriers nearly sinking are unacceptable and could easily be rectified with higher standards of construction and safety.
C. Maritime Training
A national and international issue but as it pertains to the Greek fleet it is still imperative to increase the quantity and quality of educational establishments in Greece including private schools and academies. Without a constant flow of Greek seafarers, the link between Greece and its shipping industry will inevitably weaken.
One of the greatest strengths of the Greek shipping industry over the last half century has been the close relationship between the Greek shipping industry and the Ministry of Mercantile Marine, the Hellenic Coast Guard and of course the Government itself, irrespective of political leanings. Without the appreciation of how strong this link is, the Greek maritime cluster would not be as prominent as it is and the position of shipping as Greece's second most important export industry. This link must be maintained going forward in order to guarantee a vibrant maritime sector.
Apart from its close and warm links with the Union of Greek Ship Owners in Greece, the G.S.C.C. prides itself on maintaining a close dialogue with all major international maritime organizations such as the I.M.O, ICS, INTERCARGO, INTERTANKO, RightShip, BIMCO, the EU, national Governments, MEPs, and the International Group of P&I Clubs, having Club Chairmen and Directors on our Council.
Our relationship with the senior IACS members is also very close, not least due to our presence as individual members on the boards of many National and International Committees of leading Classification Societies. We also work together with them in pressing for ever higher vessel standards in construction and operation.
Being based in London, gives us the opportunity to keep in close contact with the Baltic Exchange (the world's leading shipping indices provider), the UK Chamber of Shipping, Maritime London, and other London-based organizations. We also support the aims of London International Shipping Week in reminding our global shipping community of the importance of the U.K. and London in particular.
I would like to mention with great sadness the loss of one of our most respected and admired Council Members, John A. Angelicoussis. John served on the Council of the G.S.C.C. for over two decades and epitomised all that is great about Greek shipping. His company has grown into the largest Greek shipping group with a very substantial fleet of L.N.G. Carriers, Tankers and Bulk Carriers. Apart from the fact that virtually all the ships have been contracted as newbuildings for the Group, the ships have been constructed to the highest standards, mainly fly the Greek flag and have a very substantial number of Greek seafarers on board. In addition to all the above, John was a great patriot who supported many philanthropic causes within Greece, doing all of this whilst not advertising the fact.
John's passing away leaves a great void to Greek shipping but an admirable example to us all. He is succeeded by his very capable daughter Maria.
Finally, I would like to thank our Member Offices for their support, the Council and the Secretariat for their hard work, which allows us to continue keeping our membership well-informed and lobby on a global basis in favour of positive practical legislation and where this is negative, to make our opinion very well-known, backing it up with well-reasoned arguments.
I am particularly grateful to our Vice-Chairmen, Constantinos Caroussis, John M. Lyras and Spyros Polemis, our Honorary Chairman Epaminondas Embiricos, our Treasurer Diamantis Lemos and Deputy Treasurer Dimitri Frank Saracakis.
My special thanks go to Stathes Kulukundis and his team John Hadjipateras, George Embiricos, Filippos Lemos, Alex Hadjipateras and Basil Mavroleon, without whom our monthly reports and other documents would not be as professionally prepared as they are. My thanks also go to Thimios Mitropoulos for his invaluable knowledge on international legislation, and for keeping his eagle eye on our Council minutes.
Our Director Konstantinos Amarantidis, ably assisted by Maria Syllignaki, continue to run the Committee smoothly and very professionally, and I thank them for their sterling efforts.
But yet again this year I wish to thank all the seafarers in the world, whose perseverance during this difficult period has been legendary and without whom world seaborne trade would not be able to take place.
Table of Contents
From the Chairman 3
Fleet Statistics 9
The World Fleet 9
The Greek Controlled Fleet 9
Developments in Greece 11
Economic Outlook 11
COVID-19 12
Milestone 200 Anniversary of Greek Independence 13
Maritime Affairs 14
Ongoing Tensions in the Aegean and Migrant Issues 15
Developments in the UK 17
Economic Outlook 17
COVID-19 19
New UK Maritime Minister 20
Brexit 21
COVID-19 Pandemic – Impact on International Shipping 22
IMO Decarbonisation Roadmap 26
Background 26
New Requirements 29
Newbuilds – EEDI 29
Existing Ships – EEXI 30
EEXI Compliance Steps 32
New and Existing ships – CII 33
CII Compliance Steps 35
The Road Ahead – An Unknown Future 36
EU Environmental Proposal & Other National Schemes 38
Cyber Security 43
IMO Guidelines 44
United States Coast Guard (USCG) Guidelines 45
Piracy 49
Overview 49
West Africa 53
East Africa 56
South America 58
Asia 59
Ship Recycling 61
Recent Activity 61
Regulatory Developments 62
EU SRR 62
IMO HKC 64
Progress Towards Safer Recycling Practices 65
Shipbuilding 68
Yard Outlook 70
US Sanctions Against Iran 72
US Sanctions Against Venezuela 75
Panama Canal 79
Suez Canal 84
Ongoing Mediterranean Migrant Crisis 87
G.S.C.C. Council Members
Mr. Haralambos J. Fafalios
Chairman
Mr. Constantinos I. Caroussis
Vice Chairman
Mr. John M. Lyras
Vice Chairman
Mr. Spyros M. Polemis
Vice Chairman
Mr. Diamantis J. Lemos
Treasurer
Mr. Dimitri Frank Saracakis
Deputy Treasurer
Mr. John A. Angelicoussis
Member
Mr. Dimitri C. Dragazis
Member
Mr. George E. Embiricos
Member
Mr. Alexandros J. Hadjipateras
Member
Mr. John M. Hadjipateras
Member
Mr. Antonios C. Kanellakis
Member
Mr. Alexandros C. Kedros
Member
Mr. Stathes J. Kulukundis
Member
Mr. Filippos P. N. Lemos
Member
Mr. Basil E. Mavroleon
Member
Mr. Efthymios E. Mitropoulos
Member
Mr. Anthony P. Palios
Member
Mr. Michael G. Pateras
Member
Mr. Andreas A. Tsavliris
Member
Mr. Epaminondas Embiricos
Honorary Chairman
G.S.C.C. Secretariat
Mr. Konstantinos Amarantidis
Director
Ms Maria Syllignaki
Assistant Director
The World Fleet
As of 10 March 2021, according to IHS data, the world fleet of self-propelled, sea-going merchant ships, greater than 1,000 Gross Tons (GT), stood at 57,054 vessels of 1,544,687,201 GT, including 3,407 vessels of 128,339,808 GT on order.
As the aforementioned IHS data suggest, as of 10 March 2021, Greek interests controlled 4,038 vessels of various categories of 350,465,999 total deadweight (DWT), and 205,647,569 total GT. Compared to the data of the previous year, this represents an increase of 70 vessels, 9,642,362 DWT and 5,953,710 GT. These figures include 134 vessels of various categories, of 17,814,560 DWT and 11,480,103 GT, which are on order. In view of the unstable market conditions experienced during the period and COVID-19 the pandemic, the increase in the number of vessels, GT and DWT is encouraging.
With respect to vessel type, the Greek owned fleet recorded a slight decline in the categories of Oil Tankers, Liquefied Gas Carriers and Passenger vessels in terms of vessel numbers and DWT.
Chemical & Products Tankers and Other Cargo Ships also recorded a slight decrease in DWT, while vessel numbers remained the same. On the other hand, Ore & Bulk Carriers, Container Ships and Cargo Ships presented a slight increase both in DWT and number of ships in relation to the corresponding world fleet statistics for the year 2019, in terms of vessel numbers /2020.
What is notable is that, in terms of vessel numbers, Greek parent companies represent 26,5% of the world tanker fleet and 14.9% of the Ore and Bulk fleet.
Overall, the Greek owned fleet stands at 7.1% of the global fleet in terms of number of vessels, 13.3% in terms of GT and 15.8% in terms of DWT.
According to the data, the past year saw an increase in the average age of the world fleet, from 14.1 years in 2019/2020, to 14.5 in 2020/2021. However, the average Greek-controlled vessel, at 12.1 years of age, is 2.4 years younger than the industry average. When calculated in terms of GT and DWT, the average age is reduced to just 10.3 and 10.2 years, respectively, as against 10.5 and 10.2 of the world fleet.
The fleet registered under the Greek flag, as a percentage of the world fleet, in terms of number of ships, GT, and DWT is 1, 2.4 and 2.8 respectively. It should be noted, however, that for oil tankers the percentages are 6.9, 7.3 and 7.4 respectively.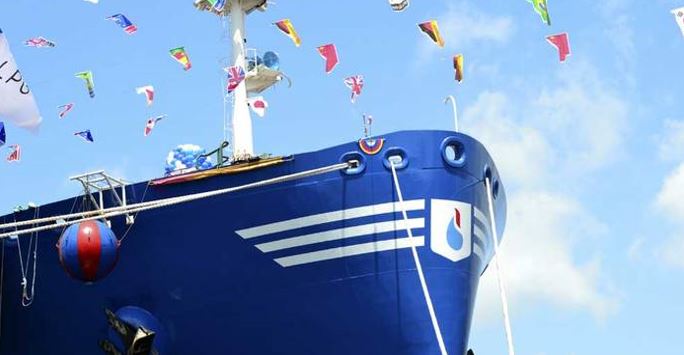 The Greek registered fleet has decreased in terms of vessel numbers as well as DWT and GT, now comprising 586 ships of 36,623,355 GT and 62,317,858 DWT. The significant decrease in the number of vessels registered under the Greek flag should be taken into consideration by the Greek administration.
(Source: IHS Markit)
The previously optimistic macroeconomic projections for 2020 for Greece overturned as the COVID-19 pandemic significantly affected economic activity, thus driving the country's economy into a deep recession and threatening financial stability.
The Greek economy, highly dependent on services, with a high share of tourism and retail trade in its GDP, was hit harder than other EU countries by the shocks to external and domestic demand. In 2020, the recession reached 8.2%. Tourism revenues shrunk as international arrivals decreased by 76.5 % in 2020, with the country welcoming only 7.4 million visitors, compared to 34 million in 2019.
The fiscal support measures and the recession led to a sharp reversal of the general government primary budget surplus into a deficit in 2020 and, combined with a substantial drop in nominal output, to a significant increase in the debt-to-GDP ratio. Revised projections by the Bank of Greece place the 2020 general government primary budget deficit at 7.0% of GDP, and public debt at 205% of GDP.
As uncertainty remained elevated, fiscal policy for 2021 has been complemented with new expansionary measures, which will further weigh on the fiscal balance. The general government primary deficit in 2021 is projected to reach 5.3% of GDP.
The rebound of demand is projected to pick up later in 2021, specifically from the second quarter onwards, leading the Greek economy to strong positive growth. According to Bank of Greece, the real GDP growth rate in 2021 is forecast at 4.2%. This, however, is subject to uncertainty due to risks associated with the epidemiological developments.
In 2022, the recovery is projected to accelerate, as the virus is expected to be better controlled, with the vaccines having become more generally deployed, restrictions being eased globally and the government implementing new investment projects.
While the health impact of the first wave of COVID-19 was very limited in Greece, from late summer 2020 daily infections, hospitalisations and mortality begun rising exponentially, yet remaining below the EU average.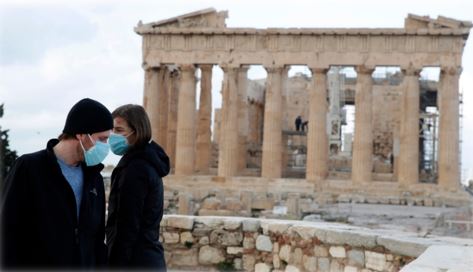 Responding to the rising second wave, a new round of lockdown and containment measures were introduced in early November 2020. The Greek government initially introduced the requirement of wearing masks in public spaces, then reintroduced strict nationwide movement restrictions, and closed businesses with high levels of physical interaction, as well as schools and nurseries.
Despite the restrictions, the country experienced periodic surges of the pandemic, with measures being further tightened in mid-February and again in early March 2021. Compared with the ones imposed during the first wave, the subsequent containment measures were less strict, as evidenced by relatively higher citizen mobility and by continued industrial and construction activities.
Looking at the country's death toll from COVID-19 since the outbreak of the pandemic, as of 6 June 2021, the number of fatalities stood at 12.277, with 95.2% reported to have an underlying condition and aged 70 or more, according to the National Public Health Organization (ΕΟΔΥ).
On a more positive note, the vaccination programme across Greece has noted good progress, with more than 21% of the country's population vaccinated as of 5 June 2021, a total of 6.084.963 doses of COVID vaccines administered, and 2.305.626 full vaccinations achieved.
Small Greek islands, with a population of less than 1,000 residents, have been prioritised for COVID-19 vaccination. A number of small islands including Oinousses, Chalki, Symi and Kastellorizzo, have already had their entire adult population vaccinated. The remaining Greek islands, excluding Crete, have also been prioritised in the national COVID-19 vaccination programme, with the aim of fully vaccinating all adult population by the end of June.
Greek seafarers have also been prioritised for COVID-19 vaccination, with the Ministry of Shipping and Island Policy issuing a Circular on 7 June, calling on shipping companies to submit a form with the details of seafarers engaged in international travel, who wish to be vaccinated against COVID-19.
Milestone 200 Anniversary of Greek Independence
Beyond the challenges posed by the pandemic and resultant financial impact, 2021 is a landmark year for Greece as a nation. This year marks the bicentennial celebration since the start of the Greek revolution for independence from the Ottoman empire.
On 25 March 2021, Greece celebrated this historic event which led to the country's subsequent independence, with a ceremony attended by Prince Charles, and Russian Prime Minister Mikhail Mishustin. French President Emmanuel Macron was unable to attend, sending a message in support of Greece and its history. US President Joe Biden also sent a message of support, noting that the relationship between Greece and the US would be closer than ever.
The contribution of foreign sympathisers from countries including Britain, France and Russia, aided the struggle for freedom for Greece, which gained its independence after numerous attempts and almost 400 years under Ottoman rule.
French and US warplanes overflew Athens during the parade in celebration of this historic event.
Maritime Affair
At the outset of 2021, the Shipping and Island Policy Ministry of Greece was reformed with the appointment of a Deputy Minister to join incumbent Minister, Ioannis Plakiotakis.
New Deputy Minister Kostas Katsafados, an MP for Piraeus district, was introduced in an effort better to handle the growing workload and new multiple challenges.
At the same time, the Greek government begun promoting a package of new measures aimed at boosting the attractiveness of the Greek flag as well as seeking to strengthen the competitiveness of the Greek seafarer.
The new measures, at the core of which is the removal of disincentives and the streamlining of procedures related to the selection of the Greek flag, will be incorporated into the existing stable and constitutionally enshrined institutional framework for the registration of oceangoing ships. The new measures will provide greater flexibility in crew employment conditions, reflect international best practices in the foreign crew tax regimes and promote maritime training.
It is also important to note that, as of 1 July 2021, after many years of not been qualified for the program, the Greek flag administration will be included in the eligible list of flags of the USCG QUALSHIP 21. This is an important achievement of the Maritime Safety Division of the Ministry of Shipping and Island Policy of Greece.
Finally, changes in the leadership of the Hellenic Coast Guard took place later in the year. March 2021 saw the appointment of Vice Admiral HCG Nikolaos A. Isakoglou to the position of First Deputy Commandant of the Hellenic Coast Guard. Furthermore, Vice Admiral HCG Georgios Alexandrakis was appointed Second Deputy Commandant of the Hellenic Coast Guard.
Regular Turkish violations of Greek airspace and the Law of Sea have led to tensions in the Aegean and Eastern Mediterranean. A number of illegal energy exploration activities by Turkey in the Eastern Mediterranean begun in August 2020, and continued in September and October. The deployment of research vessels by Turkey in Greek territorial waters, escorted by warships, led to increasing tensions.
An incident was also reported near Imia islet, involving the collision of a Hellenic Coast Guard vessel with a Turkish Coast Guard vessel in January this year, while, in the south-eastern Mediterranean, an additional incident, involving the collision of a Greek and a Turkish frigate, had taken place in August last year.
Turkey has faced the threat of sanctions by the EU if it failed to stop its illegal energy exploration activities. Nevertheless, the country has repeatedly ignored calls from Greece as well as the EU to desist, and has persisted in its increasingly aggressive stance.
Exploratory contacts between Greece and Turkey, with a view to resolving the dispute peacefully, took place in March. However, further provocations by senior Turkish officials against Greece, the EU and the United States have not helped to build trust and cooperation.
April saw another serious incident, which violated international regulations, involving vessels of the Turkish Coast Guard and the European Border and Coast Guard Agency, Frontex.
The incidents reportedly occurred off Chios Island, when Turkish Coast Guard vessels violated Greek territorial waters and engaged in dangerous manoeuvres very close to Finnish and Swedish boats patrolling in the eastern Aegean under the umbrella of Frontex's Poseidon operations, which supports Greece with border surveillance.
At the same time, the ongoing migrant crisis remains a topical issue affecting Greece, despite the recent decline in the flows of migrants.
As of 11 April 2021, the flows of refugees and migrants to the Greek islands decreased by 89%, compared with the same period in 2020. In all of the accommodation facilities there were 56,000 people as of April, while a year ago this figure stood at 92,000. The decrease led to the closure of at least 70 structures on the mainland this year. Some islands, including Samos, had reported no arrivals since the start of the year, while Chios and Kos saw 99 people arrive as of 14 April 2021. The vast majority of arrivals were recorded in Lesbos.

However, new structures are being built, with the EU announcing funding for five new camps on the Aegean islands of Lesbos, Samos, Chios, Kos and Leros. Over recent months, local people in Lesbos have been demonstrating against the planned camp, calling for decongestion.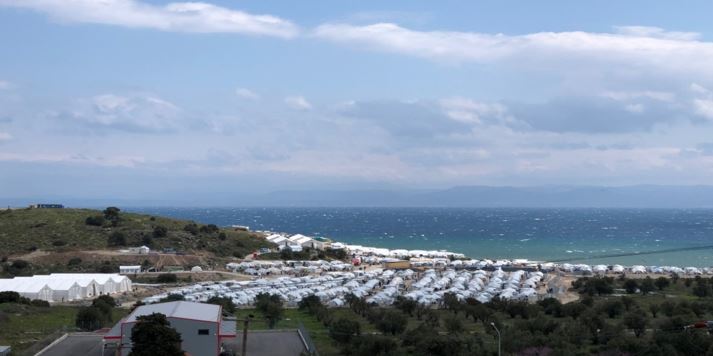 At first, the new arrivals were allowed immediately to travel on. However, since 2016 when the agreement between EU and Turkey was struck, migrants and refugees have not been allowed to leave the islands until their status has been decided. Close to 15,000 people still remain on the islands, with the majority of them from Afghanistan (49%), Syria (16%) and Somalia (8%).
(Sources: Hellenic Coast Guard, Bank of Greece, National Public Health Organization (EOΔY), European Parliament, Organisation for Economic Co-operation and Development, Seatrade-Maritime, Kathimerini, Skai, in.gr, Greek Reporter, BBC, Reuters, Euronews, Deutsche Welle)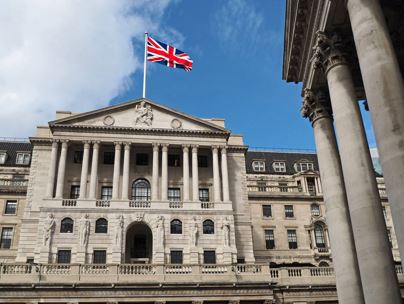 The pandemic has impacted the economy in many ways. From lockdown restrictions shutting down many businesses to limits on mobility, voluntary and enforced, the economic impact has been severe.
The magnitude of the recession caused by the pandemic is unprecedented in modern times. UK GDP declined by 9.8% in 2020, the largest decline among the G7 countries, and the steepest drop since consistent records began in the UK in 1948.
While output partially recovered in the second half of last year, the last lockdown and temporary disruption to EU-UK trade at the turn of the year negatively impacted output in the first quarter of this year.
According to the UK Office for National Statistics (ONS), UK GDP is estimated to have decreased by 1.5% in Q1 2021. This is 8.7% lower than its pre-pandemic level. However, the economy appears to have adapted well to lockdowns, noting a much smaller decline in economic activity in Q1 2021, compared to the same quarter a year ago, when the initial economic impacts of the pandemic began to show, and the UK economy fell by 6.1%.
Looking ahead, GDP is expected to grow by 4% in 2021, and to regain its pre-pandemic level in the second quarter of 2022. Unemployment is estimated to increase by a further 500,000 to a peak of 6.5% at the end of 2021. The pandemic is also expected to lower the supply capacity of the economy in the medium term by around 3 %, relative to pre-virus expectations.
The pandemic has pushed government borrowing up to a post-war high and debt to its highest level in sixty years. In 2020-21, public sector net borrowing is forecast to reach 16.9% of GDP (£355 billion), its highest level since 1944-45, and public sector net debt to rise to 100.2 % of GDP, its highest level since 1960-61. Most of the £298 billion increase in borrowing this year is due to an unprecedented peacetime expansion in government spending, with the full-year cost of the Government's virus-related support to public services, households, and businesses reaching £250 billion this financial year, £344 billion in total. This support has prevented an even more dramatic fall in output and diminished the potential longer-term adverse effects on the supply capacity of the economy.
Source: ONS, OBR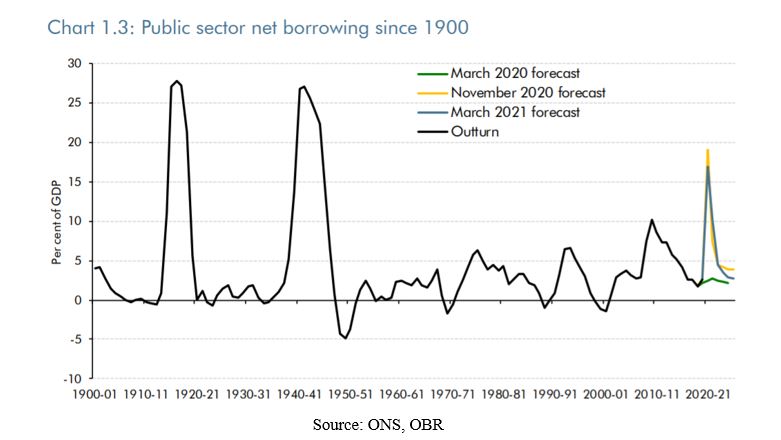 The March Budget, announced by the Chancellor, involves additional spending to protect the economy in the short-term. This will raise budget and public debt further. A subsequent rise in corporate tax rate as well as the freezing of income tax thresholds was also announced.
Specifically, the Chancellor has extended the virus-related rescue support to households, businesses and public services by a further £44.3 billion. In addition, he has boosted the recovery, most notably through a temporary tax break costing more than £12 billion a year that encourages businesses to bring forward investment spending from the future into this year and next. Finally, as the economy normalises, he has taken a further step to repair the damage to the public finances in the final three years of the forecast by raising the headline corporation tax rate, freezing personal tax allowances and thresholds, and taking around £4 billion a year more off annual departmental spending plans, raising a total of £31.8 billion in 2025-26.
The tax rises and spending cuts announced are sufficient to eliminate all but a £0.9 billion current budget deficit in 2025-26, while they are just enough to see underlying public sector net debt as a share of GDP fall by a similarly small margin of £0.7 billion in 2024-25, and £4.1 billion in 2025-26.
The COVID-19 virus has hit the UK particularly hard, continuing to resurge despite efforts to control its progress.
Following the first wave of the pandemic and strict lockdown measures introduced, the measures relaxed over the summer, with the economy opening up. This was followed by a further short-lived lockdown in November, with restrictions easing, briefly, in December. However, as a new variant of the virus drove up COVID-19 infection rates in December, lockdowns were again introduced across the UK by early January 2021, to reduce the spread of the virus. In late February, the Government announced a roadmap for the gradual lifting of public health restrictions, with the planned opening progressively materialising from April onwards as infection rates remained low.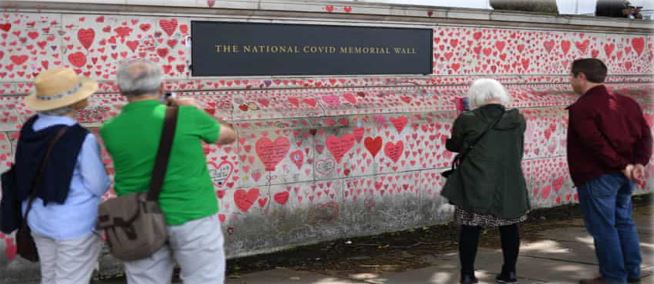 After the resurgence of infections over the winter, around 1 in 5 people had contracted the virus, 1 in 150 had been hospitalised, and 1 in 550 had died, one of the highest mortality rates in the world. The grim milestone of 100,000 deaths attributable to COVID-19 has been long passed and the total continues to grow, with each death a terrible loss. The total number of UK deaths, with COVID-19 on the death certificate, stood at 152,183 as of 6 June 2021.
The pandemic has, however, also spurred a global scientific effort to develop new and effective vaccines at unprecedented speed, with the UK in the vanguard of their discovery and rollout.
The mass vaccination programme in the UK began in December 2020, and is well underway bringing hope of a gradual return to normal interaction and a sustained economic recovery.
Currently, more than 40 million UK residents have received their first dose of the vaccine, the fourth highest vaccination rate worldwide. The total number of people who have received both doses as of 5 June 2021, stood at 27,661,353, representing 52.5% of the country's adult population. The UK government aims to have offered a first dose to all adults by 31 July.
Although the rollout of vaccines means that risks posed by COVID-19 will gradually reduce, the virus, in different forms, will be with us for years to come. Continuing to tackle this, and reduce its impact on people facing health inequalities, will be a key task for public health long into the future.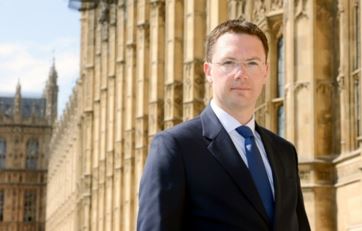 On 8 September 2020, Robert Courts was appointed as Parliamentary Under Secretary of State at the Department for Transport responsible for maritime, aviation affairs, and security and civil contingencies.
This is the first ministerial role for former barrister Robert Courts, who has served as the MP for Witney in Oxfordshire since 2016, when he held the seat in a by-election following the resignation of former prime minister David Cameron. In August 2019 he was appointed Parliamentary Private Secretary to the Secretary of State for Environment, Food and Rural Affairs. Courts is a member of the Marine Conservation Society and has a great interest in the maritime environment.
In a cabinet reshuffle, Kelly Tolhurst moved to the Local Government Department, after only seven months of overseeing maritime affairs. During her short tenure as shipping minister, Tolhurst led an international virtual summit in July 2020, on the crew crisis during the pandemic. The 13 participating countries, including Norway, Denmark, the Philippines and the UK, had agreed on new international measures to open borders for seafarers and increase the number of commercial flights to expedite repatriation efforts.
It should be noted that while many countries around the world closed their borders to seafarers at some point during the pandemic, the UK remained accessible for crew changes and transits, demonstrating its continued support of the maritime industry.
While the UK had voted to leave the EU in 2016, and officially left on 31 January 2020, the agreed transition period, during which previous conditions remained unchanged, ended on 31 December 2020.
The deadline for reaching an agreement on a trade deal between the two parties was set for the end of 2020. On 24 December 2020, days before the deadline, the UK and EU finally reached an agreement, which sets out the rules on the new partnership between the two parties.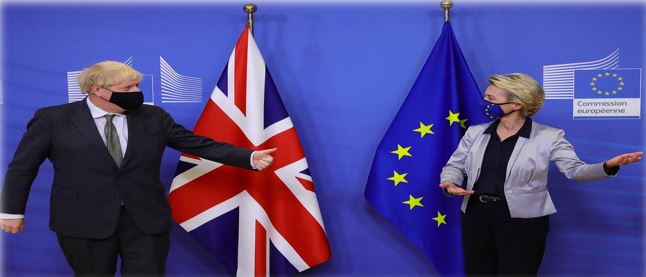 The Trade and Co-operation Agreement (TCA) has been operating provisionally since January, bringing stability to the new relationship between the two parties. The post-Brexit EU-UK trade deal was a key move to ensure that tariff and quota-free trade continues. However, as of 1 January, the free movement of people and services ended, bringing about significant differences to how people live, work and travel between the EU and UK. Businesses also need to become familiar with the new procedures and paperwork required in order to avoid disruptions.
The full UK-EU trade agreement is more than 1,200 pages long but its key points are as follows:
The agreement retains the position of no tariffs or quotas on goods traded between the UK and the EU, subject to meeting appropriate qualifying conditions, such as those on 'rules of origin'. Some new checks will be introduced at borders, such as safety checks and customs declarations.
There will be no role in the UK for the European Court of Justice. Disputes that cannot be resolved between the UK and the EU will be referred to an independent tribunal instead.
The agreement introduces significant barriers to trade in services. While the deal follows the broad ambition set in the EU-Canada FTA mutually to recognise professional qualifications, no qualifications have yet been recognised under this framework. The mobility of service workers is now subject to significant restrictions. In terms of market access for services, the TPO notes that while the deal is similar to EU agreements with Canada and Japan, in practice there will be a variety of rules in supplying services to each member state, meaning that many firms will need to establish a new commercial presence within the EU.
The deal makes little reference to the "cross-border provision" of financial services and many of the EU's unilateral equivalence decisions for the UK have been postponed. The UK and EU are aiming to agree, over the coming months, a 'memorandum of understanding' on the future framework for financial services regulation.
(Sources: UK Government, House of Commons Library, Office for Budget Responsibility, Office for National Statistics, Bank of England, UK Local Government Association, UK National Health Service, Public Health England, TradeWinds, BBC, Nautilus International, KPMG)
More than a year since the outbreak of the COVID-19 pandemic, millions of lives have been lost, while the financial impact is weighing heavily on the world's economy. Globally, as of 4 June 2021, there have been 171,708,011 confirmed cases of COVID-19, including 3,697,151 deaths, according to WHO. Lockdowns, reduced demand, increased unemployment and debt, led to a 4.2% reduction in global GDP in 2020, and a significant drop in industrial production, according to IHS Markit.
These are exceptionally challenging times for the society and naturally, for the maritime industry. With international transport at the forefront of trade, dependent on travel and human interaction, the shipping industry has been impacted both directly and indirectly from the outbreak of COVID-19.
The cruise sector and in general the transport of passengers are the sectors most heavily impacted by the COVID-19. Other sectors were also impacted, but in general the trade didn't stop. Commercial ship operations, ports and other maritime transport sectors continued to operate, despite facing various difficulties, ensuring the movement of goods and proving the strategic importance of the maritime sector for our livelihood.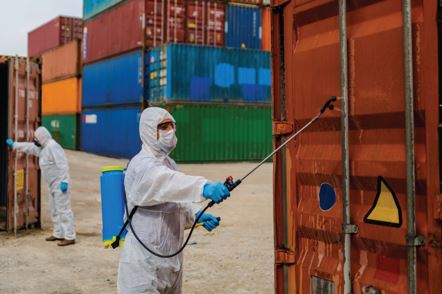 Seafarers in international trade are constantly facing the risk of being infected by COVID-19, and measures implemented by countries to prevent the further spread of the virus have brought serious operational consequences for vessels and crews. Travel restrictions due to the pandemic have made it exceptionally difficult to effect crew-change on ships.
Ports around the world have either refused or placed significant hurdles in the way of off-signing seafarers, all of which have posed a risk to the health of the crew as well as having increased the costs of handling such matters. The effects of COVID-19 have not been limited to cases of the virus itself. A wide array of crew-related matters have suffered from the delay and increased regulation. Routine off-signing has had to be planned well in advance, where it is possible at all, and emergency disembarkation has been refused on numerous occasions, often despite an urgent medical need.
Supply chain disruptions, shortage of workforce and implementation of social distancing measures in ports and shipyards have been causing delays. Shipping companies have had to adapt to the new challenges following inadequate or unclear terms in charterparties as to who is to bear the brunt of time lost due to quarantine or crew-related delays. BIMCO has reacted by publishing a bespoke COVID-19 clause in late June 2020.
Throughout the pandemic, shipping has demonstrated its reliability and resilience as one of the most economic and effective modes of transport. The industry has sought to provide workable solutions to local governments to help effect crew changes safely and efficiently, as well as maintaining the flow of goods across the globe during these difficult times.
However, the life and work of seafarers is still being affected dramatically by the COVID-19 pandemic. According to the IMO, in the last quarter of 2020, the estimated number of seafarers globally waiting to either be relieved or join their ships stood at 400,000. In May 2021, thanks to the collaborative efforts of IMO and its Member States, the shipping industry, social partners and UN agencies, the number is currently estimated to be about 200,000.
Nevertheless, this figure is still unacceptably high and the humanitarian crisis at sea is by no means over. As of May 2021, only 58 of the 174 IMO Member States had designated seafarers as "key workers", despite repeated calls by the Organization to its Member States to give "key worker" status to seafarers and marine personnel.
Seafarers still face enormous challenges concerning repatriation, travelling to join their ships, proper access to medical care and shore leave. Despite these challenges, the seafarers on board ships have continued working, providing an essential service for the global population.
The prioritisation of the COVID-19 vaccination for seafarers is a new challenge for the international community. The GSCC, the shipping industry and the IMO have led calls for governments to put seafarers at the head of the vaccine queue and to designate seafarers as keyworkers.
A "Roadmap for Vaccination of International Seafarers", prepared and launched by ICS and supported by a broad cross section of global industry associations representing the maritime transportation sector, was issued in May. The roadmap sets out procedures for a programme that can be implemented by all stakeholders concerned, including shipping companies, maritime administrations and national health authorities, to facilitate safe ship crew vaccination during the pandemic.
The IMO has been actively working with its Member States and the maritime industry to find solutions to enable and accelerate the vaccination of seafarers in order to protect them as soon as possible, and to facilitate their safe movement across borders. The Organization has been supporting the COVAX initiative of WHO, towards access to vaccines in countries with limited resources. As some key maritime labour supply countries currently rely on this initiative, a fair global distribution will also enable these seafarers to continue with their maritime careers.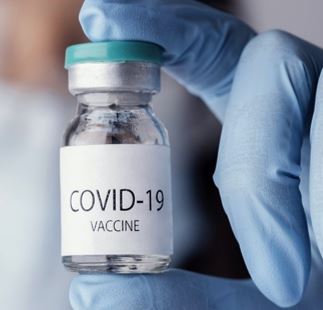 In the global fight against the COVID-19 pandemic, vaccination of populations is a key step. While the roll-out of COVID-19 vaccines has brought hope that the end of the pandemic is in sight, the production and distribution of vaccines are complex processes that will take time. The roll-out of vaccination programs varies enormously from country to country and it may take years before most of the global population has been vaccinated. As of 2 June 2021, a total of 1,638,006,899 vaccine doses have been administered, according to WHO.
To conclude, many seafarers have endured intense hardship while working to keep trade flowing. To address the ongoing humanitarian crisis at sea, it is essential that national governments designate seafarers and marine personnel as "key workers" and offer them priority to receive COVID-19 vaccination. It is also crucial to demonstrate solidarity and continue working together to overcome this challenging situation for global shipping sooner rather than later. The health of the world's seafarers and the safety of their workplaces must remain one of our main priorities.
(Sources: World Health Organization, International Maritime Organization, International Chamber of Shipping, European Maritime Safety Agency, GARD P&I Club, West of England P&I Club, Standard P&I Club, IHS Markit)
Decarbonisation and sustainability are key considerations in the future of the shipping sector. The international shipping industry, responsible for the carriage of around 90% of world trade, accounts for a relatively small share of global CO₂ emissions, estimated between 2% and 3%. The IMO has mapped out an ambitious pathway towards a carbon neutral industry. The ultimate goal is an important one for the planet, but there are likely to be disruptions and challenges along the way that make it important for all stakeholders to plan and prepare in order for it to succeed.
The IMO initial Greenhouse Gas (GHG) Strategy was approved in 2018, envisaging a reduction in carbon intensity of international shipping.
The first goal is an average reduction across international shipping of at least 40% in CO₂ levels by 2030, as compared to 2008 levels.
Subsequently, by 2050, it is intended that CO₂ levels will be further reduced by 70%, compared to 2008.
Overall, the Strategy aims to reduce the total annual GHG emissions from international shipping by at least 50% by 2050, compared to 2008, whilst pursuing efforts towards phasing them out, in line with the Paris Agreement.
In November 2020, MEPC 75 adopted amendments to MARPOL Annex VI on early application of Phase 3 of the Energy Efficiency Design Index (EEDI), applying for new vessels. This meant that application of the EEDI Phase 3 was brought forward from 2025 to April 2022 for container ships, large gas carriers, general cargo vessels, LNG carriers and cruise ships with non-conventional propulsion.

In addition, a package of new short-term measures was approved by MEPC 75, pending adoption at MEPC 76, and expected to enter into force by January 2023, with the aim of achieving the 2030 CO₂ reduction goal.
The measures involve technical and operational requirements, introducing the following:
The Energy Efficiency Existing Ship Index (EEXI) for existing vessels.
A Carbon Intensity Indicator (CII) regulating and annually monitoring the operational carbon intensity performance, setting a mandatory reduction of operational emissions.
The enhanced use and auditing of the Ship Energy Efficiency Management Plan (SEEMP).
Furthermore, MEPC 75 decided to give further consideration to a proposal from the industry collectively to provide USD 5 billion to accelerate R&D to support its decarbonisation. The proposed programme, to be conducted by a new International Maritime Research and Development Board, would be supervised by the IMO and financed by the industry, aiming to be operational by 2023.
MEPC 75 also officially approved the 4th IMO GHG Study 2020, published in August 2020. This was commended by many delegations for its scientific quality. The study had indicated a significant decrease of carbon intensity in the period under review, reflecting that the previously agreed IMO measures were starting to have a positive effect. Specifically, the study found that despite a 40% growth in maritime trade between 2008-2018, carbon intensity of international shipping improved by roughly 30%, and total GHG emissions from shipping dropped by 7% during the same period.
More recently, the IMO Intersessional Working Group on Reduction of GHG Emissions from Ships, which met in late May, agreed on a set of guidelines accompanying the new requirements, with a view to adoption at MEPC 76. The guidelines have a focus on the method of calculation of the attained EEXI; on survey and certification of the EEXI; and on the CII calculation methods and rating of ships, among others.
A Correspondence Group on Carbon Intensity Reduction has also been established. Amongst other things, this will develop draft guidelines on correction factors for certain ship types, operational profiles and/or voyages for the CII calculations, finalise the Guidelines for the development of a SEEMP, its audit and verification processes.
The outcome of MEPC 76, which will conclude on 17 June, is key for the way forward with the next steps, while it is hoped to bring much needed clarity on the calculation and compliance with the new measures.
In future, IMO's Initial GHG Strategy is to be revised by 2023. The effectiveness of the implementation of the CII and EEXI requirements will also be reviewed, by 1 January 2026 at the latest, and, if necessary, further amendments will be developed.
In order to enable shipping to meet its emissions reduction targets, the IMO has set various energy efficiency standards, which will need to be met by new and existing ships in the coming years.
In 2013, the IMO introduced the Energy Efficiency Design Index (EEDI), which applies to newbuilds and is measured in terms of CO₂ emitted per capacity. The EEDI is being implemented in phases:
Under phase 1, ships built in 2015 onwards were required to have a 10% reduction in CO₂ levels as compared to those built in 2013.
Phase 2, currently in process, requires ships built in 2020 and onwards to have a 20% CO₂ reduction.
In phase 3, from 2025 onwards, and from 2022 for some ship types, a 30% CO₂ reduction will be required.
It should be noted that the IMO is considering whether Phase 4 will be expanded to cover all GHG emitted from ships.
Recognising that the EEDI scheme for newbuilds was not enough on its own to meet the CO₂ reduction targets, the IMO determined that existing ships also need to be made more efficient. The EEXI will be applicable for all vessels above 400 GT, falling under MARPOL Annex VI.
Like the EEDI, the EEXI is a technical or 'design' efficiency index which requires a vessel to achieve a required level of technical efficiency i.e., the required EEXI.
The required EEXI is the vessel's required maximum grams of CO₂ emitted by the vessel per capacity (deadweight) tonne mile under reference conditions, given its type and capacity.
All existing ships will be required to meet this efficiency standard by 2023 or earlier.
A vessel will be ascribed an Attained EEXI, calculated by reference to technical guidelines, which are being finalised by the IMO. As the calculation process should be familiar and consistent with EEDI, it could be relatively quick to implement.
In its simplest form, the attained EEXI is the vessel's grams of CO₂ emitted per capacity tonne mile under the ship specific reference conditions. This is a function of the installed engine power (kW), the specific fuel consumption of the main and auxiliary engines and a carbon factor representing the conversion of fuel to CO₂, vessel capacity and vessel reference speed. However, there are many different correction factors and nuances which apply, depending on the ship type and capacity.
A draft example of the possible applicable reduction factors depending on the ship type and range, prepared by Lloyd's Register, is provided below.
Source: Lloyd's Register
The information and specific formulas required to calculate the Attained EEXI will be contained in the vessel's EEXI Technical File.
The EEXI Technical File will need to be approved by the vessel's Flag State or Class at the first annual/intermediate/renewal International Air Pollution Prevention Certification (IAPPC) survey taking place after entry into force.
For ships which comply, a new International Energy Efficiency Certificate (IEEC), which will state the required EEXI and compliant attained EEXI, will be issued.
If the Attained EEXI is less efficient than the Required EEXI, the vessel will be required to take measures to meet the Required EEXI levels. As compliance is determined by the vessel's design and arrangements, an attained EEXI can only be changed through alterations to the vessel's design or machinery.
The EEXI will necessitate technical upgrades to many ships, such as hull, rudder and propeller improvements etc. The Regulations do not, however, prescribe which improvement method should be deployed.
The EEXI Technical File will be used as a basis for verification of compliance with EEXI. In addition, ships using Overridable Power Limitation (OPL) to comply with EEXI should develop an Onboard Management Manual (OMM) based on guidance which will be approved by the IMO in MEPC 76. This should be done as soon as possible after June 2021.
According to LR, the route to EEXI compliance is as follows:
For pre-EEDI ships, calculate the attained EEXI and determine if it is equal to or lower than the required EEXI. For EEDI-certified ships, determine whether the attained EEDI is equal to or lower than the required EEXI.
For EEDI-certified ships which have an attained EEDI which is less than or equal to the required EEXI, refer to number 6 below.
For ships where the calculated (attained) EEXI / EEDI is greater than the required EEXI, take action to improve the attained EEXI. In addition to retrofitting of Energy Efficiency Technologies (EETs), or switching to a lower carbon fuel (other than a drop-in alternative fuel), EEXI allows the use of OPL to limit operational engine loads and fuel consumption. OPL may be either Engine Power Limitation (EPL) or Shaft Power Limitation (SHaPoLi).
Re-evaluate the attained EEXI following any action taken to improve the attained EEXI.
If the attained EEXI is less than or equal to the required, prepare the EEXI Technical file, which includes the data used for calculation of the attained EEXI.
Apply to the Administration or a Recognised Organization to issue the new IEEC. Where OPL is used to comply, issue of the IEEC will be subject to verification of the attained EEXI based on the EEXI Technical File and the OPL arrangements and OMM.
Vessels which have not demonstrated compliance will be unable to trade internationally.
Given the work required to ensure compliance, and large number of vessels effected, the time available for shipowners to demonstrate compliance is short.
Calculating the EEXI, developing the EEXI Technical File and OMM, if applicable, is relatively straightforward, however, a significant proportion of vessels will be required to take action to improve the attained EEXI. Early action to understand the impact of EEXI and the cost-effective compliance options available is essential, according to LR.
The CII focuses on operational aspects and seeks to ensure improvement of the ship's operational carbon intensity. CII will regulate the CO₂ emissions per unit of 'transport work' or the operating mileage in a given year, and will apply to vessels above 5,000 GT.
Vessels will be given an annual carbon intensity rating (CII Rating). A vessel's CII Rating for a given year will be generated by monitoring/documenting the actual operational carbon intensity achieved by the vessel (Attained Annual Operational CII), and then comparing this against the required operational carbon intensity that the vessel must achieve under the framework (Required Annual Operational CII). The Attained Annual Operational CII of any given vessel should improve annually.
There are five CII Rating categories representing different performance levels, as follows: A (major superior); B (minor superior); C (moderate); D (minor inferior); and E (inferior). The minimum CII Rating required for compliance is C. Flag States, port authorities and other stakeholders have received encouragement from the IMO to provide incentives to those vessels achieving a CII Rating of A or B.
If a ship's rating falls below C it will not be allowed to trade until corrective action is carried out. A vessel rated D for three consecutive years, or rated E at any point, must develop a plan of corrective actions to achieve the Required Annual Operational CII for its age, type and size. The plan must be set out in the Ship Energy Efficiency Management Plan (SEEMP) within one month after reporting the vessel's Attained Annual Operational CII, and will be verified by the Flag State.
The thresholds between the CII Rating categories will become increasingly stringent towards 2030. With CII targets becoming increasingly strict year on year, vessels might need regular improvements in order to enhance their CII grading and continue trading. As we are moving closer to 2023, companies will be required to ensure that they have programmes in place to upgrade existing vessels to a suitable efficiency level. However, the regulations are not especially prescriptive and it is largely up to owners how they seek to achieve this.
The Ship Energy Efficiency Management Plan (SEEMP), required for vessels under the CII framework, should include the following:
the methodology used to monitor and calculate the relevant vessel's Attained Annual Operational CII;
a Required Annual Operational CII for the next three years;
an implementation plan describing how the Required Annual Operational CII target will be achieved over the next three years (to achieve a continuous improvement); and
a procedure for self-evaluation and improvement.
Ships will need to consider operational measures such as slow steaming and "just-in-time arrival" to address CII compliance in the short term, and for the longer term alternative fuels will need to be considered.
The formal metric to calculate a vessel's Attained Annual Operational CII is yet to be confirmed, with technical guidelines awaited from the IMO. At present, the two options under consideration are:
the Energy Efficiency Operational Indicator (EEOI), a metric previously developed by the IMO, which works by dividing a vessel's annual carbon emissions by its annual cargo tonne miles; or
the Annual Efficiency Ratio (AER), which works by dividing a vessel's annual carbon emissions by its annual DWT miles.
Currently, AER data is being collected and is readily available by virtue of the IMO's Data Collection System (DCS). Whilst EEOI data would require further monitoring and reporting, it should be noted that such data is being used by signatories to the Sea Cargo Charter, a framework available to all bulk charterers in order to attempt to set standards for reporting emissions.
At the moment, there is indication that AER could be the defining factor for the efficiency of a ship going forward. However, there is scepticism about this metric as it encourages increasing distances travelled at lower rates of fuel consumption. Concerns regarding the penalisation of the most high-payload and high-productivity ships have also been expressed.
Irrespective of which CII metric (AER or EEOI) will apply, broadly speaking, the vessel's Attained Annual Operational CII can be improved by:
operating at a reduced speed and/or slow steaming;
diverting from the shortest or quickest route on a voyage/increasing distance sailed (including ballast voyages for AER);
reducing cargo volume intake (for AER); and/or
installing energy efficient technology.
Overall, the IMO Regulations come at a time when a number of regional measures to reduce GHG emissions from maritime transport are also being discussed. For example, the EU has confirmed its intention to include shipping within its Emissions Trading System, and China has likewise indicated that shipping may soon be covered under its national carbon trading scheme. The US has also indicated that it may be leaning towards a carbon tariff system of some nature.
The IMO's approach, however, more directly monitors and incentivises the improvement of a vessel's energy efficiency and reduction of carbon intensity by focusing on both its technical design and operations. In this regard, the Regulations go beyond simply imposing a tax on GHG emissions.
Regulatory change will be the driving force in innovations within design and manufacturing, which it is hoped will enable the advancements in technology needed to fulfil the industry's expectations. However, the use of new technologies, operational procedures and fuels will also carry inevitable challenges, cost and potential for disputes.
There is a plethora of technological and design solutions in the market, as shown in the table below, prepared by ABS. However, with continued uncertainty about the specifics of the upcoming IMO requirements, many stakeholders do not yet know how to prepare for the new regulations. At present, efforts are being made throughout the shipping industry to prepare fleets for the new IMO CO₂ regulation. With no clarity yet on practical, tested and effective solutions, fleet renewal plans and crucial investments decisions are impeded.
Source: ABS
(Sources: International Maritime Organization, Lloyd's Register, ABS, DNV, UK Defence Club, International Chamber of Shipping, BIMCO, International Union of Marine Insurance, Holman Fenwick Willan LLP, International Institute for Sustainable Development, Shipping watch)
Managing the GHG emissions of the maritime sector is currently under the EU spotlight as well as for a number of national governments around the world.
In December 2019, the European Commission announced its new Green Deal, which proposed to extend European emissions trading to the maritime sector. Subsequently, in September 2020, the European Parliament adopted amendments in order to:
Include shipping in the EU Emissions Trading System (ETS) from 2022;
Reduce shipping's annual CO₂ emissions per transport work by at least 40% on a linear basis by 2030, with penalties for non-compliance.
Establish a Maritime Transport Decarbonisation Fund, entitled "Ocean Fund", financed by ETS revenues, to support investment in the decarbonisation of maritime transport for the period 2022-2030.
However, in light of comparable IMO measures, the Commission will be required to review the regulation in the future.
Further details regarding the new rules in the Commission's package of energy and climate laws are expected to be agreed during its upcoming meeting on 14 July.
Although details are still under discussion, it is anticipated that from 2022, the ETS scheme will affect the majority of ships over 5,000 GT performing voyages that start or finish in the EU. It is not yet clear which party will be responsible for ensuring compliance with the scheme, although the draft proposals identify the party responsible for paying for the fuel as being the party obliged to obtain the applicable allowance.
In addition, the European Commission plans to propose the "Fit for 55" legislative package in July fundamentally to put the EU on track to deliver on its 2030 climate target of 55% reduction of GHG emissions.
With the exception of the Monitoring Reporting and Verification (MRV) scheme, the "Fit for 55" package contains all the expected measures including, but not limited to, a revision of the EU Emission Trading System and the Energy Tax Directive, a Carbon Border Adjustment Mechanism, and an amendment of the alternative fuels infrastructure Directive. Therefore, the discussion on the amendments of the MRV Regulation and its partial alignment with the IMO mandatory fuel oil data collection systems (DCS) at the moment appears to be on hold.
The UK, from its side, has introduced a reporting scheme relevant for shipping companies after Brexit. As of 1 January 2021, the UK MRV became the third CO₂ reporting scheme, alongside the EU MRV and IMO DCS.
The UK MRV is applicable to vessels >5000 GT calling at UK ports. By 2022, operators and managers responsible for vessels subject to the UK MRV scheme shall submit their first annual emissions report for 2021. It should be noted that the EU MRV will remain valid for the UK MRV, i.e. no separate UK MRV monitoring plan will be required. By carrying the EU MRV monitoring plan, the vessel will comply with both the UK MRV and EU MRV regulations.
Furthermore, the UK has also implemented its own Emissions Trading Scheme (UK ETS). The UK ETS replaced the UK's participation in the EU ETS on 1 January 2021. The UK ETS largely mirrors its EU counterpart but is subject to the UK's more ambitious target of net-zero carbon emissions by 2050. Nevertheless, at the moment, it remains unclear whether the UK ETS will apply to the maritime sector.
Other national emissions trading schemes are under consideration, with shipping likely to be targeted. The US has introduced the Ocean-Based Climate Solutions Act in October 2020. This addresses a number of topics, and will encourage discussion on the country's future action including shipping and GHG. The Act includes a proposal, which is similar to EU's approach, regarding the introduction of carbon pricing on shipping.
China also recently introduced its national emissions trading scheme. China's ETS entered into force in February 2021, with a focus, during its initial phase, on regulating entities from the power sector. The recent move does not appear to cover the shipping industry at the moment. Trading is expected to commence this July, covering CO₂ emissions during 2019-2020. However, experts have warned that the introduction of the China ETS will do little to curb China's emissions in the short-term, and does not incentivise a reduction in coal fuelled power generation.
Overall, the proposed extension of EU ETS to the maritime sector as well as other suggested national schemes could lead to multiple regimes where compliance is costly, time-consuming and, more importantly, does not yield the desired result.
In addition, a number of international shipping organisations and countries, including Japan, South Korea, Russia and Brazil, have urged the Commission to reverse course, warning that the inclusion of shipping to EU's carbon market could stoke trade tensions, and cause extra emissions by prompting ships to take longer routes to avoid stops in Europe.
It is possible that the application of EU ETS to international shipping could have adverse repercussions on both environmental integrity and sustainability of global maritime transport and trade. Therefore, the extension of the EU ETS to international shipping is not viewed as the right way forward by a large number of international shipping organisations.
Shipping bodies ICS, BIMCO, CLIA, World Shipping Council, along with other industry groups have also warned against unilateral carbon pricing initiatives such as the EU's ETS, as they create a market distorting solution to a global problem.
Further concerns have been expressed by the industry regarding shipping's inclusion to a carbon market, arguing that it is too early for such a move due to the current lack of commercially viable technologies to cut emissions.
ECSA also stated that the EU ETS proposal is putting unrealistic pressure on IMO as regional measures will gravely hurt a global sector and do very little for the climate. The association supports that this would unduly complicate the achievement of an effective and timely global agreement in IMO.
The EU has ignored calls, from the IMO, INTERCARGO and the industry as a whole for collaboration and adapted solutions to achieve the much-needed reduction in GHG.
Overall, global challenges and problems require global handling and solutions. There has already been significant progress made by the IMO, with an ambitious strategy and concrete targets for reducing CO₂ emissions in place, while the Organization is actively considering a number of alternatives such as Market-Based Measures, a global fuel levy, and the establishment of a board, funded by the industry to accelerate the R&D effort required to decarbonise shipping.
The inclusion of shipping in the EU ETS could potentially have serious implications for progress at IMO with respect to achieving further reductions of the total GHG emissions by the international shipping sector as a whole. Undoubtedly, a global strategy led by the IMO would be the most effective way to reduce emissions from international shipping in the most comprehensive way.
(Sources: European Commission, UK Defence Club, International Chamber of Shipping, European Community Shipowners' Associations, INTERCARGO, Holman Fenwick Willan LLP, Watson Farley & Williams LLP, Hill Dickinson LLP, DNV – Stamatis Fradelos, Lloyd's Register, Lloyd's List, Wall Street Journal, Maritime Professional, Ship and Bunker, Shipping Watch)
The pandemic had a seismic effect on all our lives, exerted a significant impact on trading and, out of urgent necessity, transformed working practices the world over. The availability of high-speed, high-quality connectivity has been an invaluable asset, enabling organisations to maintain their business continuity.
The corresponding downside has been an alarming escalation in the incidence of cybercrime, with some high-profile shipping companies having recently borne the brunt of these attacks. The regrettable fact is that the same critical pressure which forced organisations everywhere rapidly to move so many aspects of their operations online conversely represented a golden opportunity for hackers.
To cope with operational issues such as denied physical access, quarantined vessels and travel restrictions, companies are actively opening for remote access, implementing remote digital survey tools towards vessels and encouraging shore staff to work remotely from home. There is also increased use of mobile devices to access operational systems onboard vessels and core business systems in the company.
With more technological transformation, use of cloud, and broader networking capabilities towards vessels, the threat landscape continues to increase. Unprotected devices can lead to the loss of data, privacy breaches, and systems being held at ransom.
Four prominent container operating firms, accounting for almost 60% of the world's container traffic, fell victim to malware or ransomware attacks within months of each other.
On 30 September 2020, the IMO was also hit by a cyber-attack, with IMO's website and web-based services remaining unavailable for a couple of days. The Organization stated on Twitter that "the interruption of service was caused by a sophisticated cyber-attack against the Organization's IT systems that overcame robust security measures in place". IMO IT technicians shut down key systems to prevent further damage from the attack. The attack came only two days after container line CMA CGM was hit with malware, forcing it to take its e-commerce systems off line and resulting in a suspected data breach.
As cyber threats are on the rise, the entry into force of the IMO Cyber Security Guidelines on 1 January 2021, is timely and will have a beneficial influence upon the take-up of effective maritime cyber risk management programs. The guidelines will provide a consistent benchmark, a framework within which companies can measure their cyber-attack preparedness.
Recognising the urgent need to raise awareness on cyber risk threats to support safe and secure shipping, the IMO, in 2017, issued MSC-FAL.1/Circ.3 "Guidelines on Maritime Cyber Risk Management".
The IMO, furthermore, adopted Resolution MSC.428(98) "Maritime Cyber Risk Management in Safety Management Systems", which encourages Administrations to ensure that cyber risks are appropriately addressed in existing Safety Management Systems as defined in the ISM Code, no later than the first annual verification of the company's Document of Compliance after 1st January 2021.
In practice, shipowners will need to demonstrate a full understanding of mandated cyber security protocols by conducting a comprehensive inventory of all at-risk onboard and offshore systems, including IT and OT equipment.
Vessels will then be subject to a cyber risk analysis and evaluation to assess their vulnerability and the mitigation measures, which have been or need to be applied on board.
Thereafter, shipowners can implement a cyber risk management program best suited to their vessels and equipment, establishing crisis management strategies and incorporating crew training procedures, which clearly demarcate their specific roles and responsibilities.
The IMO Cyber Security Guidelines involve five basic steps, based upon the US National Institute of Standards and Technology (NIST) framework:
Identifying risk;
Detecting risk;
Protecting assets;
Responding to risk;
Recovering from attacks.
The USCG has issued information on how they will ensure compliance with IMO Resolution MSC.428(98). In November 2020, the USCG published Work Instruction CVC-WI-027 "Vessel Cyber Risk Management", which provides guidance to USCG Marine Inspectors and Port State Control Officers for assessing cyber hygiene onboard applicable vessels, as well as compliance options in case deficiencies are noted.
The USCG requires all ships, irrespective of flag, which call at US ports, to ensure that cyber risk management is appropriately addressed in their Safety Management System (SMS) by the company's first annual verification of the Document of Compliance after 1st January, 2021. Failure to comply with this requirement may result in vessel detention.
The key points of the USCG's Work Instruction CVC-WI-027(1) are as follows:
Serious deficiencies will require rectifying and an external audit within 90 days, or risk detention.
Minor deficiencies will need an internal audit within 90 days, and the deficiencies to be rectified prior to departure.
Inspections will only cover networked systems directly relevant to vessel safety.
Where faults have occurred in systems which are critical for vessel safety, the inspector/Port State Control officer is mandated to investigate if the cause of the fault was 'cyber-related', and if so whether the right procedures were followed prior to that fault occurring. The systems critical for vessel safety include the ballast control, engine & propulsion control, rudder control, cargo control, navigation (ECDIS/GPS), radar, satellite & 3/4/5G communications, and on-board welfare systems. Stand-alone systems, or other systems 'which do not affect the safe operation or navigation of the vessel" are not to be inspected or examined.
If the inspector believes there are clear grounds for an expanded inspection, and clear evidence is gathered of poor implementation of the cyber risk management element of the SMS, further deficiencies may be issued.
When inspecting a vessel, the USCG Port State Control Officer will be looking for a fully-integrated cyber-risk management system within its SMS, with documentary evidence to prove this.
In addition, the Officers have been tasked to look out for evidence of problems including, but not limited to, the following:
Poor cyber hygiene (such as password and/or logins on open display, generic logins or no logins, no automatic logout after a period of inactivity, heavy reliance on USB drives and no obvious means of virus checking prior to use);
Evidence of malware on ship computers: popups and/or any ransomware;
Records or complaints of unusual network activity and/or reliability issues impacting shipboard systems;
Spoofed/phishing e-mails purporting to come from the Master and/or crew members.
Overall, the USCG guidelines are clear about their requirements, approach and ensuing actions. So far, there have been no cyber security related deficiencies or detentions reported. However, as managing cyber risks is being regarded increasingly crucial for vessel safety, cyber hygiene and the integration of cyber risk management into vessels' SMS will most likely come under the spotlight in the future.
With regard to assessing compliance, the USCG favours the National Institute of Standards and Technology (NIST) framework, but recognises that the IMO assessment follows the broad direction of this framework, and the organisations are therefore working together. The USCG has also recognised other frameworks such as the International Organization for Standardization/International Electrotechnical Commission (ISO/IEC) and the industry "Guidelines on Cyber Security Onboard Ships", which are heavily based on the NIST framework.
In late December 2020, Version 4 of these industry cyber risk management guidelines was published, laying the foundation for further improvements and refinement of companies' cyber security risk assessments. Among the various organisations which have contributed in producing the updated guidelines are BIMCO, ICS, INTERCARGO and INTERTANKO.
The fourth version contains general updates to best practises in the field of cyber risk management and, as a key feature, includes a section with improved guidance on the concept of risk and risk management. The improved risk model takes into consideration the threat as the product of capability, opportunity, and intent, and explains the likelihood of a cyber incident as the product of vulnerability and threat. Thus, the improved risk model offers explanation as to why relatively few safety-related incidents have so far unfolded in the maritime industry, but also clarifies that this should not be misinterpreted and cause shipping companies to become complacent and lower their guard.
With increased connectivity and digitalisation, more vulnerabilities in need of safeguarding will emerge in the future. It is therefore vital that companies are informed and ready to implement the necessary protection within their systems.
A good start has already been made for some companies when it comes to ensuring compliance with the new guidelines, but for many organisations, there is still quite a journey to achieve a fully mature cyber programme on board their vessels.
In addition to the increasing and ever evolving cyber threats, IMO's Cyber Security Guidelines and the strict approach of the USCG are undoubtedly the driving forces behind the changes within marine cyber security.
The maritime industry is gradually gaining more understanding of the practicalities of cyber security and why it is so important to have safe, secure and robust measures in place in the current environment.
(Sources: International Maritime Organization, US Coast Guard, BIMCO, UK P&I Club, GARD P&I Club, West of England P&I Club, International Institute of Marine Surveying, Seatrade-Maritime, Maritime-Executive, Safety4Sea, Journal of Commerce)
Piracy
Adding to the COVID-19 hardships already faced by seafarers, 2020 saw a year-on-year increase in global piracy.
In 2020, the International Chamber of Commerce's International Maritime Bureau (IMB) Piracy Reporting Centre (PRC) recorded 195 incidents of piracy worldwide, in comparison to 162 in 2019, representing an increase of just over 20%.
The rise is attributed to an increase of piracy within the Gulf of Guinea, as well as increased armed robbery activity in the Singapore Straits.
Source: ICC/IMB
In 94 incidents vessels were attacked while anchored, in 13 while berthed and in 88 incidents while underway. While the typical merchant vessels, such as tankers, bulk carriers, container vessels, and general cargo vessels were involved in more than 80% of all the incidents recorded in 2020, the data from the IMB PRC shows that all types of vessels were targeted.
The incidents included 3 hijacked vessels, 11 vessels fired upon, 20 attempted attacks, and 161 vessels boarded. All 3 vessel hijackings and 9 of the 11 vessels fired upon in 2020 were related to the Gulf of Guinea.
Source: ICC/IMB
Globally, 135 crew members were kidnapped from their vessels in 2020. A record 130 crew members were kidnapped in the Gulf of Guinea in 22 separate incidents. The IMB data of the past 5 years, shown below, presents the increasing and alarming number of successful kidnap and ransom attacks in the region.
Source: ReCAAP
In 2020, the crew kidnapping incident which occurred furthest offshore in this high-risk area was almost 200 nautical miles (NM) from land, with the average kidnapping incident taking place over 60 NM from land.
March 2021 saw the furthest ever recorded kidnapping, when pirates kidnapped 15 crew from a Maltese-flagged Chemical Tanker 212 NM south of Cotonou in Benin.
In the first three months of 2021, the IMB reported 33 vessels boarded, 2 attempted attacks, 2 vessels fired upon and 1 vessel hijacked, a total of 38 incidents compared to 47 incidents during the same period last year.
Despite the slight decrease in the number of reported piracy incidents in Q1 2021, violence against crew is on the rise. Since the start of 2021, 40 crew have been kidnapped compared to 22 crew in Q1 2020. Furthermore, a crew member was killed in Q1 2021.
Source: ICC/IMB
The Gulf of Guinea continued to be particularly dangerous for seafarers with 43% of all reported piracy incidents occurring in the region in Q1 2021. In addition, the region accounted for all 40 kidnapped crew incidents, as well as the sole crew fatality.
The alarming situation in the Gulf of Guinea has recently incited a number of international anti-piracy efforts. In late April, Nigeria and the Interregional Coordination Centre for the Implementation of Regional Strategy for Maritime Safety and Security in Central and West Africa announced the formation of a Maritime Collaboration Forum to provide shared awareness and deconfliction of activities in the Gulf of Guinea through the "GOG-MCF/SHADE" model. This model has already demonstrated its value for the exchange of information between regional and non-regional military forces in countering the Somali piracy threat.
The situation has led several EU countries including France, Spain, Italy, Belgium and Denmark to announce an interest in contributing to maritime security in the region, to suppress the threat posed by Nigerian pirates. Recently the Italian navy has, on more than one occasion, disrupted pirate attacks, and the Danish government has committed to send a frigate on a five-month antipiracy patrol in the Gulf of Guinea from November 2021. The EU has also approved a pilot anti-piracy project named Coordinated Maritime Presences, which will work with the voluntary coordination of military assets, without deploying new EU resources.
Looking at other global hotspots of piracy, the Singapore Straits continued to record an increase in incidents against vessels underway in 2020. Although incidents in this area are usually low-level (aimed at armed theft from the vessel), during the previous year one crew member was injured, another was taken hostage and two were threatened. In Q1 2021, the number of incidents remained at similar levels to Q1 2020.
Armed robbery reports in Indonesia remained consistent last year, while a decrease was noted in Q1 2021, in comparison with the same period last year.
In 2020, Somalia saw another year without incidents. However, in Q1 2021, one incident was reported in the area, with the armed security team intervening and thwarting the attack. The incident reflects the lurking threat and the necessity for crews to maintain vigilance.
In South America, the IMB five-year statistics show no signs of improvement in 2020. The Callao Anchorage in Peru is still considered a robbery hotspot, whilst an uptick in incidents in Q1 2020 was reported. Container vessels were the target of attacks while underway, or at anchor in Colombian waters, in 2020. An alarming new trend is the increase in the number of robbery incidents in Brazil, near Macapá City, at the mouth of the Amazon River. Seven incidents were reported in this area in 2020, a trend that has continued into January 2021.
With regard to COVID-19, there is no evidence to suggest that the pandemic has had an immediate impact on security threats at sea, according to Gard P&I Club. However, it could be argued that the pandemic, at least over time, may indirectly affect the overall risk related to piracy and armed robbery at sea. Crew fatigue and a reduction in a crew's ability to perform security procedures diligently may impact the safety level of a vessel. Congestion at anchorages of crew change hubs could provide increased opportunities for perpetrators. Likewise, a worsening of the economic and political conditions of a country can potentially create motivation for increased criminal activity, including at sea.
The waters off West Africa have become increasingly dangerous for shipping in recent years.
The Gulf of Guinea has experienced an unprecedented rise in the number of multiple crew kidnappings, with 130 seafarers kidnapped in 22 incidents in 2020. A total of 84 piracy and armed robbery incidents against vessels were reported in 2020 in the Gulf of Guinea, a year-on-year increase of more than 30%. The region accounted for all three vessel hijackings that occurred in the previous year, as well as 9 out of 11 vessels that reported coming under fire.
An increasing number of successful kidnap and ransom attacks are now taking place outside the Nigerian EEZ. Benin, Ghana, Angola and Guinea, in addition to Nigeria, represented the top five locations for incidents recorded in the Gulf of Guinea in 2020.
Source: ICC/IMB
Of particular concern are the facts that attacks are becoming increasingly violent, that they occur further from shore, and that larger groups of seafarers are being kidnapped per incident.
It is therefore critical that seafarers remain vigilant when operating in the area and report all incidents to the regional authorities and the IMB; knowledge and increased collaboration between vessels and maritime response authorities will reduce the risk to seafarers in the region.
The rise in kidnapping incidents further away from shorelines is a worrying trend, demonstrating the increasing capabilities of pirates in the Gulf of Guinea. The IMB advises vessels in the region to remain at least 250 NM from the coast at all times, or until the vessel can transit to commence cargo operations at a berth or safe anchorage.
Several violent incidents were seen during the first quarter of 2021, including the killing of one seafarer during a kidnapping. The attack targeting container vessel 'MOZART' in January 2021, while underway around 98 NM north west of Sao Tome and Principe, resulted in one crew being killed and 15 crew members kidnapped.
March saw the furthest recorded kidnapping incident, when pirates boarded a tanker of De Poli Shipmanagement while underway about 220 NM south of Lagos, kidnapping 15 crew members out of a crew of 21.
The incident happened after a month of no piracy attacks in West Africa, with the British and French piracy reporting body "Maritime Domain Awareness for Trade – Gulf of Guinea" warning ships prior to the incident to be extra vigilant in Zone E, which covers Togo, Benin and Nigeria. After just over a month, all 15 of the kidnapped crew members were released.
Incidents continued during the spring season, with a boxship of Contships Management thwarting an attack 230 NM south-west of Bonny in Nigeria in late April. The ship was boarded but its crew retreated to the citadel, and no seafarers were abducted. However, the pirates caused severe damages on the bridge and accommodation, including gunning and stealing equipment before departing. An Italian warship eventually came to the vessel's aid. With armed guards in Nigeria only arranged via the Nigerian navy, the company called for armed guards to be allowed on board to save lives.
In Q1 2021, nearly half of all reported piracy incidents globally and all 40 kidnapped crew incidents worldwide happened in this region.
Source: ICC/IMB
In October 2020, BIMCO, ICS, INTERCARGO, INTERTANKO and OCIMF issued a joint statement advising vessels operating in the Gulf of Guinea to pay particular attention to maritime security risks in their voyage planning, especially as winter approached which traditionally sees an increase in attacks as sea conditions abate.
When operating in this high-risk area, following the "Best Management Practices to Enhance Maritime Security for Vessels & Mariners Operating Off the Coast of West Africa including the Gulf of Guinea" (BMP WA) is crucial.
The following BMPs were emphasised in the joint statement:
Equip citadels with a satellite telephone (BMP WA Page 22).
Be familiar with the ship security plan and the specific protection measures should the vessel come under attack (BMP WA Section 7).
Register with MDAT-GOG when entering the West African Voluntary Reporting Area (VRA), and if operating inside the VRA, report daily (BMP WA Section 6).
Report significant changes to ETAs in Line 6, "Other important info", of the "Daily/Transit Position Report" to MDAT-GOG (BMP WA Annex D).
Clearly define a vessel's AIS policy (BMP WA page 13). It should be noted the Nigerian Navy may arrest any ship found to have switched off their AIS. A decision to switch off the AIS should be based on concerns over safety and/or security and recorded in the vessel's logbook as evidence in any subsequent legal proceedings.
Ensure vessel CSOs have available the correct contact details for MDAT-GOG (BMP WA Annex A).
Implement strict procedures regarding information security to prevent critical voyage information from 'falling into the wrong hands' (BMP WA Page 11).
Report an attack, or suspicious activity, immediately to MDAT-GoG (BMP WA Section 7).
Understand the threat (BMP WA Section 2). Attacks have previously occurred 200 NM from the coast and past locations of attacks should be considered as part of a vessels threat and risk assessment. Closely monitor the threat situation, for example via the websites of the IMO and IMB, and stay in close contact with the ship's local agents and regional authorities to obtain the most up to date and reliable information available at any given time.
Coordinate a vessel's arrival (BMP WA Page 13). If voyage plans permit, wait at distance offshore and transit at high speed to arrive at any rendezvous point 'Just in Time' including STS and/or Offshore Terminals. Some vessels tender a virtual Notice of Readiness (NOR) whilst staying safely offshore. Both tendering a virtual NOR and waiting offshore are accepted practice for many vessels operating in the Gulf of Guinea. Whilst waiting offshore, engines must be ready for immediate manoeuvre.
In 2020, the IMB recorded only four incidents in the African continent outside the Gulf of Guinea region, down from seven in 2019. All four were robbery incidents and took place at the Nacala Anchorage in Mozambique.
No piracy incidents were reported off Somalia and in the Gulf of Aden in 2020 and 2019. However, during the first three months of 2021, there was one incident of reported piracy in the area. A bulk carrier reported a skiff with armed persons and a ladder approaching it while underway in the Gulf of Aden. The onboard armed security team fired warning shots resulting in the skiff moving away.
Source: ICC/IMB
Despite the decline of piracy incidents around Somalia and neighbouring waters, the IMB encourages vessels to implement the BMP5 recommended practices while transiting these waters, as Somali pirates continue to possess the capacity to carry out attacks, and cautions ship operators and masters against complacency when operating in the Somali basin and wider Indian Ocean.
The piracy threat in Somalia has been low for a number of years, however, the situation could change amid a political crisis in the country. President Mohamed Abdullahi Mohamed has been in office since February 2017, with his term having expired on 8th February 2021. Since then, the federal state presidents of Puntland and Jubaland, and the Council of Presidential Candidates, no longer recognise him as president. It is argued that if the election impasse is not resolved, the threat of piracy in the area might increase.
It should also be noted that in late April, the Joint War Committee updated its high-risk listed areas, adding Cabo Delgado, Mozambique, which reflects the growing threat to shipping in the Indian Ocean caused by instability in the region. The new listed area includes waters within 50 NM of Tanzania and Mozambique, between Mnazi Bay in the north and Baia do Lurio in the south. Security experts have likened the situation in the region to the political instability and lawlessness in Somalia that triggered piracy attacks on shipping in that region more than a decade ago.
South American ports in Brazil, Peru, Colombia, Ecuador, as well as Central American ports in Mexico and Caribbean ports in Haiti continue to be affected by high levels of armed robbery, with 30 incidents reported in 2020. 25 vessels were boarded while at anchor, 3 vessels reported attempted boardings, and 2 vessels were fired upon in Mexico and Ecuador.
Source: ICC/IMB
2020 saw an increase in incidents at Macapá, Brazil, and Callao, Peru, with respectively 7 and 8 actual and attempted attacks reported.
While the Callao anchorage in Peru has been regarded as a robbery hotspot for many years, the rise in number of robbery incidents in Brazil near Macapá City at the mouth of the Amazon River is a new alarming trend. The rise in piracy attacks in these two locations continued in Q1 2021.
The first three months of 2021 recorded a rise in attacks on container vessels while underway or at anchor in Colombian waters. According to the IMB, perpetrators have been known to open containers and steal cargoes even while vessels are under pilotage.
In the previous year, Haiti reported 5 actual and attempted attacks, with 3 at Port Au Prince. Guayaquil in Equador, and Puerto dos Bocas in Mexico each recorded 3 attacks in the past year.
Another alarming incident was in the southern Gulf of Mexico in early 2020, when a series of four piracy incidents occurred between 4 and 15 April 2020, all of which involved attacks on offshore support vessels and some involved crew injuries and theft. While the IMB has recorded no additional incidents in the area, various media reports have described a steep increase in the number of attacks on maritime oil infrastructure in Mexico since 2016. Although unconfirmed, they do suggest that there could be a significant degree of under-reporting of incidents in the area.
Operators of vessels in South and Central America and Caribbean waters are reminded to stay vigilant and maintain strict anti-piracy watch and measures, especially while at anchor.
Asia experienced an increase in the overall number of piracy and armed robbery incidents at sea in 2020. According to the Regional Cooperation Agreement on Combating Piracy and Armed Robbery against Ships in Asia (ReCAAP), a total of 97 incidents were reported in the region in 2020, a 17% year-on-year increase compared to 2019.
Of the 97 incidents reported, 9 occurred in India, 5 in Bangladesh and 83 in South-East Asian countries, with the majority of incidents, except those reported in the Singapore Straits, occurring to vessels while at anchor/berth.
IMB reported an increase in incidents against vessels underway within the Singapore Straits, with 23 incidents reported in 2020. Vessels were boarded in 22 of the 23 incidents last year.
Source: ICC/IMB
In Q1 2021, incidents remained at similar levels to previous years. However, April saw a spate of attacks in the Singapore Straits, with 2 vessels attacked on the same day. In one of the incidents, a seafarer was hit on the head when attempting to shout for assistance. A few days later, a third vessel was attacked around the same area. The alarm was raised and the robbers fled, stealing engine spares before departing. Following the incidents, ReCAAP warned that, as the perpetrators have not been arrested, there is a possibility of further incidents in the Singapore Straits.
In Indonesia, armed robbery reports remained consistent in 2020 as compared to 2019, with 26 low-level incidents reported to IMB. Vessels continue to be boarded while anchored or berthed at Indonesian ports, with 2 crew taken hostage and 2 threatened in 2020. During the first three months of 2021, only 2 incidents were reported in Indonesia, with the reduced levels of reported incidents attributed to the continued efforts of the Indonesian Marine Police.
Although incidents in the area are considered low-level, in some cases the perpetrators are armed with knives and demonstrate aggression. Thus, enhanced vigilance and prompt reporting is crucial.
(Sources: International Chamber of Commerce – International Maritime Bureau, Regional Cooperation Agreement on Combating Piracy and Armed Robbery against Ships in Asia, BIMCO, GARD P&I Club, TradeWinds, Lloyd's List, Seatrade-Maritime)
Ship recycling has felt the significant impact and challenges created by the pandemic since early last year. In 2020, a year dominated by COVID-19, ship breaking activity decreased, while the same unusual circumstances lead to a period of extraordinary highs and lows commercially.
Ship recycling activity was completely halted at the outbreak of the virus in 2020, however, with the easing up of restrictions over the summer, increased demolition activity and demand led to higher rates and encouraged more recycling activity. In 2021, restrictions have been mostly of short duration or limited to certain geographical areas, however, governments in the Indian sub-continent have been recently trying to control another wave of infections, with operations in the yards once again significantly impacted.
Ship breaking activity in the Indian yards was held back due to the recent pandemic surge noted in the country. Most shipyards have been reportedly operating at minimum levels since April due to lockdown measures and shortage of oxygen, which is now needed for medical use. Yards consume tonnes of oxygen daily in the process of breaking down steel. More recently, some oxygen supplies to yards have been reportedly resumed, aiding a return to dismantling activities.
Despite all the major recycling markets remaining under numerous restrictions, deliveries were still taking place, although with some delay. Intense competition in Pakistan and Bangladesh to secure tonnage, and high demand for steel, has been driving demolition rates higher, but during the summer rates could be affected due to the traditionally quieter monsoon period and a possible drop in steel prices.
In parallel with the pandemic challenges, the industry is under greater scrutiny regarding ship recycling practices. In April, the Danish Environmental Protection Agency reportedly launched an investigation into the recycling of three Maersk vessels in Alang, India. These vessels were the most recent ones sent for demolition to the Indian yard, which does not meet EU regulations. In response, Maersk stated that it is in full compliance with all applicable legislation, adding that the quality of the best yards in Alang are compatible with EU approved yards.
On 1 January 2021, the EU Ship Recycling Regulation 1257/2013 (EU SSR) started to impact shipowners' demolition decisions for EU Flagged vessels.
The EU SRR, which came into general application on 31 December 2018, is applicable to vessels of 500 GT and above, flying the flag of an EU/EEA Member State, or third-party-flagged vessels calling at European ports.
The EU regulation implements the requirements of the IMO Hong Kong Convention (HKC) into EU law, including additional safety and environmental requirements such as establishing a list of approved ship recycling facilities, and the requirement for vessels to carry an Inventory of Hazardous Materials (IHM) on board.
Specifically, EU-flagged ships will require an IHM Certificate and non-EU flagged ships will need a Statement of Compliance (SoC). Both the Certificate and the SoC must be issued on behalf of the Flag, either by the Flag itself or by a Recognised Organisation. As the UK has now left the EU, UK flagged ships are classed as third country ships by EU Member States and thus, are required to have a SoC when arriving at port or anchorage of an EU member state.
The deadline for IHM compliance was initially set for 1 January 2021. However, due to the multiple challenges created by the pandemic, the European Commission issued a Bulletin in October 2020 urging its member states to temporarily apply a harmonised approach, and delay the IHM/SoC requirement to 30 June 2021.
According to the European Commission, vessels arriving at an EU port without carrying on board a valid IHM, or a semi-completed IHM, must provide evidence of the measures taken to meet the IHM requirement, and prove that the delay in obtaining the required documentation is due to difficulties caused by the pandemic.
In the meantime, EMSA Port State Control Officers Training on EU SRR reportedly took place virtually in February, aiming to assist inspectors of the EU Member States and Iceland in their efforts to fulfil the requirements of the EU SRR and the PSC Directive. The course focused on actions that should be followed by inspectors during a ship inspection under the EU SRR but did not cover enforcement actions and reporting of inspections.
A further development on the EU SRR was the publication of the updated list of ship recycling facilities in November 2020. The 7th edition of the European List of ship recycling facilities included 4 new yards, two of which are located in Europe (Denmark and Norway), and two in Turkey. With the new update, the European List of ship recycling facilities contains 43 yards, including 34 yards in Europe, 8 yards in Turkey and 1 yard in the USA.
Last year it was reported that congestion emerged at EU-approved yards in Turkey, following widespread demolition in the cruise sector, highlighting the strong need for alternative EU-approved recycling facilities.
Overall, the European List includes many facilities that provide valuable services to the existing market and the inclusion of non-European ship recycling facilities is a step forward in the maturity of the European List. However, according to BIMCO's updated report, released in December 2020, most EU Member State facilities are not dedicated ship recycling facilities for the international market. EU Member State facilities, in general, provide either bespoke local solutions to a niche recycling market, or are focussed on offshore decommissioning.
The report also highlights that recycling in EU member states is an unattractive proposition in the overall international market, and that facilities would far prefer to dedicate their energy to more profitable activities such as repair yard, newbuilding, and military or offshore recycling projects. This leaves Turkey as the only major ship recycling nation contributing significant capacity to the European list as no facilities from India, Bangladesh or Pakistan are included. It appears that one facility in India is now viewed as acceptable from the European Commission's auditors, although local infrastructure is not.
Looking ahead, a key date for the EU SSR is 31 December 2023, when the regulation will be reviewed. The work on the review is scheduled to commence this year, with a view to put forward a legislative proposal by the end of 2023.
IMO HKC
The IMO Hong Kong Convention (HKC) for the Safe and Environmentally Sound Recycling of Ships is yet to meet all the ratification criteria for entry into force, with little progress being made in the past year. The HKC will enter into force two years after three separate criteria have been met, being the ratification by 15 States, representing 40% of world merchant shipping by gross tonnage, and a combined maximum annual ship recycling volume during the preceding 10 years of not less than 3% of their combined gross tonnage.
With 16 contracting states agreeing to the Convention at present, the number of States required has been reached. As of May 2021, the contracting states were Belgium, Congo, Croatia, Denmark, Estonia, France, Germany, Ghana, India, Japan, Malta, Netherlands, Norway, Panama, Serbia and Turkey, representing approximately 29.58% of the gross tonnage of the world's merchant shipping. Thus, further tonnage and recycling volumes are needed before the convention can enter into force.
China holds the key for the HKC's entry into force by 2022. Industry stakeholders and shipowners continue in their support for China to ratify the HKC as well as to re-enter international ship recycling. More involvement of all stakeholders for the enactment of the HKC is needed.
The importance of the HKC's entry into force has been repeatedly stressed by the shipping industry as it will help raise recycling standards on a global level. The IMO HKC is the only international framework and thus is the most effective way to limit occupational health and safety risks related to ship recycling worldwide.
Despite the fact that the IMO HKC has not yet entered into force, the Convention has already brought about a positive impact, with a large number of yards in South Asia achieving HKC compliance through efforts to improve their practices and gain more market share. Transformation is ongoing and apparent in most yards, while each ship recycling country moves at its own pace.
Source: The Japanese Shipowners' Association
According to the above data, provided by the Japanese Shipowners' Association, India has made remarkable progress in recent years, counting 84 HKC compliant yards in 2020, compared to zero in 2012. The remaining Indian yards will be upgraded with the support of the Official Development Assistance of Japan. The progress was slower for the dismantling yards of Bangladesh, however, momentum seems to be growing, with a yard receiving the first HKC certificate in the country in 2020.
Recent initiatives involving international state support in countries like Bangladesh and India are small yet significant steps towards a safer and more sustainable ship recycling future.
An agreement between the IMO and the Government of Norway to support Phase III of the project on Safe and Environmentally Sound Ship Recycling in Bangladesh (SENSREC) was signed on 24 July 2020, with Norway committing approximately US$ 1.5 million. This will pave the way for Bangladesh to move forward on its path towards becoming a party to the IMO HKC.
The Agreement follows the successful implementation of Phase I (2015-17), and Phase II (2018 – 2020), of the SENSREC Project, both mainly funded by Norway. SENSREC Phase III will focus on improving ship recycling standards in compliance with the HKC, and enhancing capacity building for the Government of Bangladesh on legislation and knowledge management. Specific technical assistance will be provided to the Government of Bangladesh to establish a facility for treatment, storage and disposal of hazardous wastes. There will also be a focus on evaluating the impact of COVID-19 on the ship recycling industry in Bangladesh. The continuation of this project will greatly enhance national capacities for Bangladesh for the safe and environmentally sound recycling of ships.
Another past state initiative aimed at supporting yard compliance with international safety and environmental regulation, was a loan signed between the Government of India and Japan International Cooperation Agency (JICA) in 2017, with the aim of upgrading the Alang-Sosiya ship recycling yards. The total cost of the project was $111 million, out of which $76 million was provided as soft loan from JICA. The project is likely to be completed by 2022.
The regulatory framework on ship recycling set by the IMO and the EU have undoubtedly encouraged the recycling of vessels in safer and more environmentally sustainable way. However, the various occupational hazards and environmental implications need to be addressed systematically and at a global level to achieve the most far-reaching and substantial changes.
Looking to the future, the changing regulatory landscape and efforts to decarbonise the industry are likely to have a large impact on ship recycling, significantly increasing the volume of demolition. Thus, it is more important than ever to ensure safer practices are in place globally.

Ship recycling is a vital part of the maritime sector, an essential supplier of steel and an important source of employment for the ship recycling countries. It is crucial not to forget its valuable role and contribution to the industry, and to work together towards reducing risks to the workforce engaged in ship recycling activity and to the environment, achieving higher standards on a global level.
(Sources: International Maritime Organization, European Union, European Maritime Safety Agency, Japanese Shipowners' Association, BIMCO, International Chamber of Shipping, Clarksons, TradeWinds, Hellenic Shipping News, Lloyd's List, Lloyd's Register, DNV, Standard P&I Club, UK P&I Club, The Economic Times – India Times, GMS)
2020 was a uniquely challenging year for shipyards, with newbuild ordering contracting by 30%, according to Clarksons. The orderbook at the start of 2021 stood at 8% of the world fleet in gross tonnage terms, down from 52% at its peak in 2008.
Source: Clarksons
In 2020, deliveries from Southeast Asian shipyards, which build more than 90% of the world's ships, fell to almost half of 2018 and 2019 levels, with the total number of vessels launched last year reaching 2,059, according to Lloyd's List Intelligence shipbuilding outlook.
However, activity picked up markedly in the last quarter of 2020 as well as in recent months, bolstering the global shipyard orderbook.
In the first five months of the current year, total orders of dry bulk, tanker and container ships jumped 119.7% compared with the same period in 2020, primarily driven by record high container ship contracting, according to Clarksons. In 2020, a total of 49 million DWT was ordered, which is only 5.5 million DWT above the level reached in the first five months of 2021.
Source: BIMCO, Clarksons
It has been a truly record-breaking start to the year for containership contracting, with orders totalling 2.2m TEU. This is more than 12 times higher than the 184,254 TEU ordered in the first five months of 2020, and more than 60% higher than the previous record dating back to the start of 2005.
Demand for new crude oil tankers has also been strong this year, up 47.4% from the first five months of 2020. On the other hand, oil product tankers have seen a fall in contracting, whereas dry bulk contracting was only slightly above last year's level.
According to the Lloyd's List Intelligence shipbuilding outlook, 2021 deliveries are forecast to rebound to 114 million DWT, with 2023 numbers estimated at 110 million DWT, based on the large size of vessels in the orderbook. Newbuilding deliveries are expected to average 2,300 ships a year to 2025. Accounting for demolition, the world fleet is forecast to increase by 3.4% annually over the next five years, reaching 2.66 billion DWT by the end of 2025.
Source: Lloyd's List Intelligence
Looking at the three dominant Asian yards, China leads the rebound in 2021 newbuilding deliveries. Deliveries from the world's largest shipbuilding country are expected to rise 41% from 2020 levels, after the pandemic delayed construction in 2020. This will be the highest output since 2012. As of March 2021, China accounted for more than 40% of orders and output, followed by South Korea and Japan, according to Lloyd's List data. Source: BRS Group
According to BRS Group data, China and Korea improved their market share from 44.6% in 2019 to 45% in 2020, and 28.1% to 31.9% respectively. However, China managed to outperform Korea in containership construction for the first time. Japan remained in the third position, with the country's market share dropping from 22.5% in 2019 to 18.4% in 2020. The three Asian shipbuilding giants, representing more than 95% of the global orderbook by deadweight, continued to fight fiercely in a poorer market.

Global production has dropped to its lowest levels in many years, however, yards showed resilience considering COVID-19 related challenges and continued consolidation.
China State Shipbuilding Corporation is expected to win the antitrust approvals for its merger deal, paving the way for the state conglomerate to integrate its business further. China's largest shipbuilding group, CSSC, stated in May that uncertainties about its merger were largely cleared up, after foreign competition authorities completed their reviews.
By comparison, its South Korean rival, Hyundai Heavy Industries, said its takeover of small domestic rival Daewoo Shipbuilding & Marine Engineering, was pending antitrust approvals from several jurisdictions, including the European Union, Japan, China, Singapore and Kazakhstan.
In addition, IMABARI Shipbuilding and Japan Marine United have pledged to regain global competitive edge through a new joint venture between the major Japanese shipbuilders. The long-awaited joint venture Nihon Shipyard was formally established at the beginning of 2021 to create synergy and develop next-generation vessels fuelled by alternative fuels. The Japanese government is laying out incentive policies to reinforce the country's shipbuilding sector further. Measures will include long-term loans, tax incentives for establishing new ventures and subsidies to foster technological development.
The global shipbuilding and shipping markets are shifting further towards the adoption of low-carbon technologies. Tightening regulation such as EEXI and CII create replacement pressure on the fleet, which will support the orderbook in the longer term. The shipbuilding market will need to meet the challenges of decarbonising shipping and to undergo its own digital evolution.
However, with no clear indication yet, and no viable alternative solution to this pressing issue, a greater input from ship builders and ship building nations is required to make the quantum leap to a zero-carbon future. The GSCC and the industry have made calls on yards to invest more in developing the new "green" technologies required to meet the carbon reduction targets in the future. Accelerating the transition is not only deemed necessary, but also an important response to the current market crisis, which will sharpen the competitive edge of each building nation.
(Sources: Naftika Chronika, TradeWinds, Lloyd's List, Seatrade-Maritime, BIMCO, Clarksons, Barry Rogliano Salles Group – Review 2021- Shipbuilding)
With the recent change in US presidency, a new chapter in the diplomatic relations between Iran and the US has begun. While 2020 saw a significant number of new sanctions designations under the Trump administration, and 2018 saw the withdrawal of the US from the Joint Comprehensive Plan of Action (JCPOA), the Biden administration has expressed its openness to offering sanctions relief and support to a return to the nuclear agreement.
During its term, the Trump administration increasingly sought to target Iran with sanctions. In the final days of Trump presidency in January 2021, the Office of Foreign Assets Control (OFAC) blacklisted seven entities and two individuals related to the Islamic Republic of Iran Shipping Lines and Iranian shipping entities, in addition to sanctioning Iranian entities for activities related to conventional arms proliferation. The companies sanctioned included Chinese-based Jiangyin Mascot Special Steel, and UAE-based Accenture Building Materials, as well as two people for shipping steel to or from Iran.
Additional sanctions related to Iran's metals industry were also announced in January. Arguing that the Iranian regime uses revenue from its metals sector to fund destabilising activities around the world, the US government imposed sanctions on 17 companies. The wide-reaching sanctions effort included not only Iranian companies but also one Chinese and others headquartered in Germany and the U.K. While the effort mostly targeted the metals companies, the shipping industry was also included in its participation in the trade.
October 2020 saw the addition of Strait Shipbrokers in Singapore and its executive Murtuza Mustafaunir Basrai to the US SDN list. The US State Department noted that Strait was sanctioned under Section 3(a)(ii) of Executive Order 13846 for knowingly engaging in a significant transaction involving the purchase, acquisition, sale, transport or marketing of petroleum products from Iran. The SDN designation took immediate effect, impacting fixtures where Strait Shipbrokers had been or could become involved, posing difficulties with payments.
Earlier in October, the US had blacklisted two Chinese men and six Chinese entities for having dealt with Iranian shipping company Islamic Republic of Iran Shipping Lines (IRISL) and, in some cases, helping it to evade US sanctions. The US State Department named the entities as Reach Holding Group (Shanghai) Company Ltd.; Reach Shipping Lines; Delight Shipping Co., Ltd.; Gracious Shipping Co. Ltd.; Noble Shipping Co. Ltd.; and Supreme Shipping Co. Ltd.
On the other hand, the Biden administration has signalled that it is open to easing sanctions against critical elements of Iran's economy, including oil and finance, helping narrow differences in nuclear talks. US officials had previously expressed their willingness to consider lifting some of the sanctions, without however detailing which could be eased or which Iranian entities stand to be affected.
In early April, the US and Iran along with the EU, China, and Russia, started holding indirect talks in Vienna, with the nuclear deal talks positively advancing. It was reported that the US laid out more clearly the contours of the sanctions relief it is prepared to provide. Specifically, the US signalled its openness to lifting sanctions against Iran's central bank, its national oil and tanker companies and several key economic sectors including steel, aluminium, and others. Potential sanctions relief for sectors including textiles, autos, shipping and insurance was also on the table.
Despite the progress, it is argued that weeks of difficult negotiations over the nuclear agreement lie ahead and progress remains fragile. President Biden is supporting a return to something similar to the 2015 nuclear agreement. However, the US has insisted on Iran taking the first steps towards returning to compliance. Tehran is opposing this.
A joint statement issued in February by the Secretary of the US, Anthony Blinken, and the Foreign Ministers of France, Germany and the UK stated that "if Iran comes back into strict compliance with its commitments under the JCPOA, the United States will do the same and is prepared to engage in discussions with Iran toward that end."
Nevertheless, a return to the nuclear agreement would only end 800 new US sanctions and designations, just about half of the 1,500 sanctions, which are estimated to have been imposed on Iran's economic sectors, institutions, companies and individuals.
Reaching an agreement amenable to both sides requires time. However, during the four years of Biden's administration, an agreement leading to the lifting of nuclear sanctions on Iran is anticipated.
It also remains to be seen how Iran's presidential election of 18 June will impact the progress of negotiations.
From its side, the US has made notable efforts to restore the JCPOA and has indicated its intention to remain open to dialogue.
Certainly, the US-Iran relations are now in a less confrontational phase, with a positive outcome of the meetings in Vienna and a significant reduction of sanctions appearing a plausible future scenario.
(Sources: US Department of State, West of England P&I Club, Wall Street Journal, Reuters, CNBC, TradeWinds, Maritime-Executive, Hellenic Shipping News, Herbert Smith Freehills LLP, S&P Global Platts)
For over 15 years, the United States has imposed sanctions in response to the activities of the Venezuelan government and Venezuelan individuals. However, the past year saw a steady increase in the use of sanctions and export controls by the US. The Trump administration focused sanctions authorities on larger and more systemically important players in the global economy than ever before and brought to bear other coercive economic measures including export controls, import restrictions, foreign investment reviews, tariffs and more. During President Donald Trump's single term, the Office of Foreign Assets Control (OFAC) sanctioned more entities than it had under two-term President George W. Bush and almost as many as two-term President Barack Obama.
The outgoing US administration had been targeting the shipping sector to enact its "maximum pressure" policy. The pace and frequency of the sanctions intensified in the Trump administration's final days, introducing a slew of new sanctions on a network accused of brokering the sale of prohibited Venezuelan crude oil to buyers in Asia.
On 19 January 2021, 14 entities, 6 tankers and 3 individuals were added to the list of sanctioned entities maintained by OFAC. Venezuela's Maritime Authority (Instituto Nacional de los Espacios Acuaticos – "INEA"), was amongst those added to the SDN list.
INEA was designated under Executive Order 13850. While the designation appeared to be addressing US concerns of corruption in Venezuela's gold, oil and finance industries, as well as other sectors of its economy, it appeared to have a direct effect on any vessel calling on a Venezuelan port, as INEA is the national government body administering port fees and other port activities.
The designation led to understandable confusion among shipowners who were exposed to the possibility that they would offend certain provisions of E.O. 13850 by utilising or paying for services provided by INEA at ports in Venezuela on voyages unrelated to the oil or other targeted sectors.
To address this, OFAC later issued General License 30A, which advised that authorisation for ordinary port usage and this type of transactions involving INEA was permissible, provided that the trade was not sanctionable.
There are exceptions to the authorisation, but these are the same exceptions that have been in General Licence 30 since it was first issued, for example, no authorisation for transactions related to diluents or other activities prohibited by E.O. 13850.
The IG advised that GL 30A will apply to non-US persons by analogy, and that non-US persons were unlikely to be exposed to sanctions under EO 13850 or EO 13884 for using ordinary port services provided by INEA in Venezuela and paying ordinary port expenses to or for INEA, provided such is in connection with non-sanctionable trade.
However, despite the publication of GL 30A, US and non-US banks may apply stricter internal protocols, which could result in delayed payments to INEA if they are made in US dollars, and while GL 30A should provide some comfort to banks, there is no certainty that banks will not reject or delay such payment.
Previous sanctions actions by the former Trump administration included a series of blacklisting of vessels and companies with Greek links in May and June last year, in an effort to cut off Venezuelan oil exports. With a commitment to refrain from conducting business with Venezuela until there is a change of regime, the vessels were removed from the blacklist.
August 2020 saw digital sanctions, when the US seized three websites with alleged links to Iran-Venezuela gasoline trade.
Looking ahead, it is argued that US oil sanctions on Venezuela could reach a tipping point this summer in case Venezuela's diesel shortage further exacerbates the situation in the country. Biden is set to come under increasing pressure to alleviate the humanitarian situation in Venezuela, which has seen 5 million people exit the country in recent years. Calls partially to ease sanctions by again allowing crude-for-diesel swaps as a means of humanitarian aid have been reportedly made by aid groups as well as US oil companies, however, this could indirectly help Venezuela produce more oil while keeping Maduro firmly in office.
Until fall 2020, Italy's Eni, Spain's Repsol and India's Reliance were all trading diesel for Venezuela's crude oil in deals that helped maintain fuel supplies while also depleting Venezuela's crude inventories to make room for more production. Former President Trump's "maximum pressure" campaign did away with the swaps in an effort to push Maduro out of office in favour of opposition leader Juan Guaidó. But the popularity of the opposition upstart has failed to rise since last year.
Venezuelan state oil company PDVSA's crude production has plunged from nearly 2.5 million b/d five years ago, and from 1.3 million b/d when US oil sanctions started in January 2019, down to just 300,000 b/d in the summer and fall of 2020, during the peak of pandemic lockdowns. This is the lowest level for the country with arguably the world's largest crude oil reserves since the US Energy Information Administration started recording production in 1973.
From the side of Venezuela, it was reported that President Maduro has signalled a willingness to "turn the page" and rebuild the relationship between the two nations.
On the other hand, US officials stated in March that the US is not planning to lift sanctions any time soon, rather to rebuild multilateral pressure, including targeted sanctions against those responsible for corruption and human rights abuses in Venezuela. In addition, it is argued that currently, Venezuela is relatively low on Biden's priority list, behind other pressing domestic issues such as the pandemic and vaccine rollout, climate change etc.
In March, the Biden administration made its first friendly policy foray when it offered temporary legal status to roughly 320,000 Venezuelan immigrants living in the US, helping to allay ongoing fears of deportation back to a country in crisis. It is therefore argued that the new US administration might approach the relationship with Venezuela with less aggression and engage in dialogue with the Maduro government.
In the meantime, the US has reiterated its commitment to targeting those enabling the Maduro regime's abuse of Venezuela's natural resources.
US Authorities continue to monitor trade with Venezuela, and it is crucial that companies continue to carefully assess the risks of such trade, undertaking comprehensive due diligence and ensuring that industry recognised sanctions clauses are in any charterparties.
(Sources: International Group of P&I Clubs, West of England P&I Club, London P&I Club, TradeWinds, Lloyd's List, Gibson Dunn & Crutcher LLP, S&P Global Inc., US Congressional Research Service, Global Trade Review)
It has been almost 107 years since the opening of the Panama Canal, which accelerated international commerce and world maritime transportation.
2020 was a challenging year for the waterway as the outbreak of the pandemic, water scarcity and trade tensions between its two main customers created a world stage of uncertainty, which affected the Canal. Panama Canal took the necessary measures to provide a safe and uninterrupted service amid the pandemic. COVID-19 preventive measures were implemented in March 2020, with positive cases not impacting transit operations. Despite all challenges, the Canal´s financial performance was strong, supported by the recent expansion and a new tolls scheme. Transit costs significantly increased at a difficult time for the shipping industry, which is already under a lot of pressure due to the ongoing economic impact of the COVID-19 pandemic and new emissions regulations.
A few months before the pandemic, the Panama Canal announced the implementation of a freshwater surcharge, an unprecedented action in the history of the Canal. The surcharge was implemented at the beginning of 2020, with the Canal announcing its intention to develop a portfolio of projects that would guarantee water availability.
The effects of variations in weather and rainfall patterns were felt in the Canal watershed in 2020, with the average annual precipitation among the lowest levels in the last ten years, as shown in the following graph.
Source: Panama Canal Authority
In addition to the freshwater surcharge, the Panama Canal continued with its water-saving measures which, among others, included cross filling in the Panamax locks, the use of water-saving basins in the Neopanamax locks and the suspension of hydropower generation in the Gatun Hydroelectric Plant. Additionally, the number of transit reservation slots available were adjusted and as a result, the Canal was able to provide 50 feet of draft since September 2020, the highest draft in more than 12 months.
Transit revenues and tonnage reached record levels in fiscal year 2020 as a result of an increase of PC/UMS tons, the new freshwater surcharge as well as toll structure and reservation system policies modifications. Tolls revenue totalled B/.2,663.2 million, a 2.7 % increase. The tonnage registered reached 475.2 million PC/UMS tons, a 1.2% increase compared to the previous fiscal year. Overall, the Canal concluded fiscal year 2020 with B/.3,443 million in revenues, 7.2% more than fiscal year 2019.
Source: Panama Canal Authority
Transits totalled 13,369, a 3% decrease compared to the previous fiscal year due to less transits of vehicle carriers, refrigerated, general cargo, container and passenger vessels.
The new coronavirus caused global economic slowdown which resulted in a 20% decline in transits between May and July 2020. These negative results in some segments were partially mitigated by other segments, which continued to generate constant traffic. For instance, dry bulk registered 21% PC/UMS tonnage more than the expected, due to an increase in need for grains and raw materials. LPG carriers registered 27% PC/UMS tonnage more than anticipated due to a greater demand for gas for domestic use, given its favourable price, as well as its consumption as raw material and as a naphtha substitute.
The high seasons of the container and LNG segments caused an upturn in arrivals for the Panama Canal. To cope with the temporary traffic increase, the Canal expanded its operations labour force as well as allowing more vessels that arrived without reservations to transit daily. In addition, the Canal began to share waiting periods.
Source: Panama Canal Authority
In February, the Panama Canal announced that it would modify its transit reservation fees and other maritime services as of 15 April 2021, in order to respond better to evolving market changes and manage its capacity in the face of growing demand.
Concerns were expressed by the industry over the speed of price rises, with the International Chamber of Shipping, the Asian Shipowners' Association and the European Community Shipowners' Association, sending a formal letter to the Panama Canal Authority in March. The associations highlighted that the significant fee increases came at too short notice, giving owners little time to adjust.
In response to the letter sent by the industry, the Panama Canal Authority announced the postponement of proposed fee changes until 1 June 2021, in line with industry's request, in order to provide the maritime industry more time to prepare for the adjustment to the new fees.
The modification involves an increase in tolls for the Booking Reservation Slots in the Panamax and Neopanamax locks, the Standard Auction Slots and the introduction of Special Auction Slots. In addition, modifications are extended to other maritime services provided by the waterway, including the transit related services fees for tugboats, line handlers and locomotives, as well as complimentary services, such as vessel inspection, safety & security charge and Panama Canal Shipboard Oil Pollution Emergency Plan (PCSOPEP) charges.
The modifications imply that vessels are now faced with increase costs of between $20,000 and $58,500 per transit reservation. This equals hikes of between 57% and 167%. With demand hit due to the pandemic and markets still adjusting to regulations on sulphur levels, this significant increase in fees adds to the existing pressure on the shipping industry.
An additional issue of ongoing concern is the reported congestion at the Neopanamax locks. A long-term strategy to mitigate congestion issues reported at these locks is crucial as the issue remains a serious concern for industry stakeholders.
Looking at the Canal's decarbonisation efforts, the waterway contributed to a reduction of more than 13 million tons of CO₂ emissions in 2020, by offering a shorter route for ships in comparison to the most likely alternative routes. The Canal recognises the importance of decarbonising its operations and recently announced its intention to become carbon neutral by 2030. Furthermore, to mark the anniversary of IMO 2020 Sulphur reduction implementation, the waterway launched a Carbon Dioxide (CO₂) Emissions Dashboard. The Dashboard will be updated monthly and allows companies to compare CO₂ emissions reductions by route and market segment.
To conclude, the Panama Canal is of great commercial importance to the shipping industry. It is critical to reducing voyage times as well as the sector's CO₂ emissions. The waterway is one of the world's busiest shipping routes, recording nearly 14,000 transits in 2020. The Canal of Panama is committed to sustainability, continued growth and competitiveness, whilst it maintains open communication with the industry for finding fruitful solutions to the emerging challenges.
(Sources: Panama Canal Authority, International Chamber of Shipping, TradeWinds)
Suez Canal
The Suez Canal is one of the most important global shipping lanes with approximately 12% of the world trade volume passing through the waterway. It recently suffered one of the most serious blockages when the containership, "Ever Given," grounded, blocking traffic for six days. In the aftermath of the blockage, the Canal begun planning for a further expansion to safeguard Suez Canal's competitive position and restore trust in its ability to maintain safe passage for all ships.
The Suez Canal Authority (SCA) has started dredging work to expand the southern stretch of the waterway. Specifically, the SCA intends to widen the southernmost 30-kilometre stretch of the waterway between the city of Suez and the Bitter Lakes area by 40 metres eastwards. It also plans to deepen that section to 72 feet from 66 feet. In addition, a second canal lane, which opened in 2015 north of the Great Bitter Lake to allow two-directional traffic, is to be extended by 10 km on the southern side of the lake, to reach a total length of 82 km and thus allowing more ships to pass. The project is set to be completed within 24 months. The expansion plans were on the Canal's future agenda, however the grounding of the "Ever Given" highlighted the urgency of these plans.
The 20,000 TEU, 440-metre containership ran aground and became wedged diagonally across the waterway in the single-lane stretch whilst transiting northbound on 23 March. Luckily, there were no crew injuries, pollution or cargo damage. The salvage operation involved a flotilla of tugboats and dredging vessels, which shifted an estimated 30,000 cubic metres of mud and sand. The owners engaged Smit and Nippon Salvage jointly on Lloyd's Open Form (LOF) terms to assist the SCA with refloating efforts. The US also offered assistance to the SCA in an effort to reopen the waterway, amid concerns that businesses reliant on just-in-time supply chains would have to resort to flying in essential components. The IMO, in a letter to the SCA, expressed its appreciation for the great efforts to tackle these challenges and for successfully refloating the grounded vessel, which allowed the resumption of navigation traffic.
The six-day closure of the Canal disrupted global shipments, adding strain to the shipping industry which was already under pressure from the pandemic. More than 400 vessels had been waiting to transit, while some vessels were forced to divert around the Cape of Good Hope, adding approximately 10 days to a typical voyage duration.
The SCA has claimed $916 million over losses due to the blockage, the costs for dislodging the ship and loss of reputation. The vessel's P&I Club, the UK Club, was negotiating in good faith but found the claim extraordinarily large. The SCA later adjusted its claim to almost $600 million, while the UK Club maintained that the reduced compensation claim was still exceptionally large. With the issue now moving forward in the court, the fate of the "Ever Given" is in the legal arena.
The "Ever Given" has been detained while the dispute by the SCA against the vessel's Japanese owner, Shoei Kisen, continues. The Egyptian court in the city of Ismailia has ruled that the vessel shall continue to be held in the waterway until the dispute is settled. The majority of the vessel's crew members will be unable to leave the vessel during this time, while there is no immediate prospect of a settlement. Since it was refloated, the "Ever Given" has been anchored in the Great Bitter Lake, still loaded with 18,300 containers on board.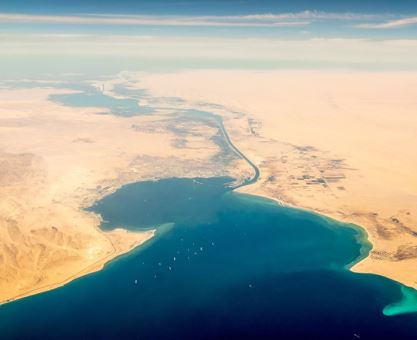 Beyond the incident and closure in March, the Suez Canal recorded strong financial and traffic figures in the previous year. In 2020, 18,829 ships with a net tonnage of 1.17 billion tonnes transited the Canal, with the average daily traffic ranging from 40 to 50 vessels. Despite the decline in global trade and economic movement due to the pandemic, the Canal's revenues reached 5.61 billion U.S. dollars, which is the third highest annual revenue reported. Additionally, transit tolls for all types of vessels are expected to remain the same in 2021.
Overall, the temporary closure of the Suez Canal underlined its significant role in world trade, with the closure halting billions of dollars a day in maritime commerce. The blockage also raised concerns about the fragility of global supply chains, attracting worldwide attention. However, the Canal is one of Egypt's main sources of foreign currency and thus, the country is eager to ensure that it retains the trust of its customers and its dominance on Asia-Europe trade lanes. The 193km Suez Canal, which provides the shortest sea link between Asia and Europe, is and will continue to be an artery of life for world trade.
(Sources: Suez Canal Authority, North of England P&I Club, TradeWinds, Financial Times, Reuters, BBC, ABC, Maritime-Executive, Safety4Sea, Insurance Journal)
Despite the fact that migrant flows by sea and land into the EU were significantly lower in 2020 in comparison to the highs of 2015, the ongoing migration crisis remains a topical issue and will most likely continue to affect Greece and the wider EU for years to come.
2020 saw the lowest number of illegal border crossings in the past 6 years at Europe's external borders, with 95.031 reported arrivals. However, the number of people reported dead and missing noted an increase compared to 2019, due to the high risks associated with crossing the Mediterranean Sea.
Source: UNHCR
The drop in arrivals during the past year was due to the significant drop in the number of migrants and refugees taking the Eastern Mediterranean route to Greece. According to UNHCR, in 2020 Greece recorded 9,714 sea arrivals and 5,982 land arrivals, while in 2019 these figures stood at 59,726 and 14,887, respectively. The most frequently represented nationalities on this route are people from Afghanistan, Syria, Somalia and Congo, together accounting for 78% of arrivals.
On the other hand, Spain saw an uptick in sea arrivals via the Western Mediterranean route, with 40,326 people arriving on the country's shores in 2020, up from 26,168 in 2019. However, land arrivals dropped in 2020, with Spain receiving 1,535 migrants, compared to 6,345 in 2019. Nationals of Algeria, Morocco and Mali accounted for the largest number of irregular migrants on this sea route.
Meanwhile, the number of sea arrivals in Italy via the central Mediterranean route tripled last year, recording 34,154 arrivals compared to 2019, when the figure stood at 11,471. Most of the migrants on this route originated from Tunisia, Bangladesh and Côte d'Ivoire.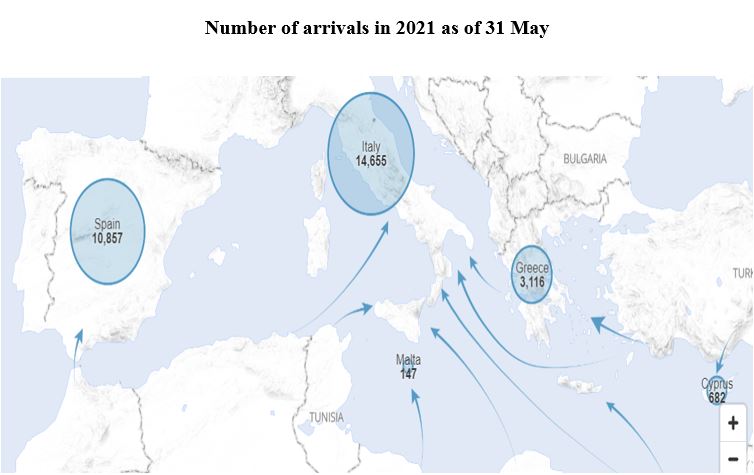 Source: UNHCR
In 2021, migrant flows have so far followed similar patterns with the previous year, noting a decline in arrivals in Greece while arrival numbers in Italy and Spain remained high.
According to UNHCR, between 1st January and 31st May 2021, 29,457 people arrived via the Mediterranean routes from North Africa and Turkey, with the number of sea arrivals accounting for 27,131 and land arrivals for 2,326, while it is estimated that approximately 762 people lost their lives or are still missing.
With regard to the demography of Mediterranean arrivals by sea in the period of January 2020 to 31 May 2021, men accounted for 65.4%, women for 11.2% and children 23.4%.
Italy is currently the most active migratory route into Europe, which is struggling with the migrant influx. More than 2,000 people reached the southern Italian island of Lampedusa in May within less than a week. In total, more than 14,000 people have arrived in Italy so far this year, a figure three times higher than the same period in 2020. Locals have voiced their concerns, while some have called for a financial package for Libya to reduce crossings to Italy, similar to the EU's €3bn deal with Turkey in 2016.
Spain has also received large numbers of migrants in the current year, in particular the month of May saw an unprecedented number of migrant arrivals in Ceuta. The influx of 8,000 people, mostly Moroccan, within merely a few days, was a record number for Spain. The migrants, unhindered by the Moroccan border guards, were able to reach Spain's north African enclave of Ceuta. The frontier is demarcated by a six-metre-high fence and is normally enforced by Moroccan authorities but this time the authorities seemed to turn a blind eye.
This incident, as well as the recent influx of migrants in Italy's Lampedusa, reflects how vulnerable Europe is to the weaponization of migration flows by other countries seeking diplomatic or financial gain, underlining the limitations of Europe's approach to irregular migration.
In an effort to address the issue of irregular migration in the EU, the European Commission published a 'New Pact on Migration and Asylum' in September 2020. The New Pact outlines the objectives for EU policies over the next 5 years. However so far, progress has been slow.

According to the New Pact, the EU's law enforcement agency, Frontex, will be taking a lead role on sending unwanted and rejected asylum seekers back. The plan is part of a larger European Commission strategy on voluntary returns. The project intends to pave the way for a fully operational 'return' agency by the middle of next year. The pact aims to make returns voluntary, which, the commission says, is both cheaper, easier and quicker.
Frontex's budget has grown from €142m in 2015 to €460m in 2020. The 15-year-old agency was given the task in 2019 of building a standing cadre of 10,000 officers by 2027. Currently, Frontex operates in the Aegean Sea under the name 'Operation Poseidon'. Operation Poseidon supports Greece, with almost 600 guest officers for border surveillance, search and rescue, registration and identification of incoming migrants as well as combatting cross-border crime.
However, there is scepticism over the effectiveness of the New Pact in easing the pressure on southern EU Member states as there is no mention of a permanent relocation mechanism to distribute asylum seekers across the EU. Asylum responsibility therefore remains with the first state of irregular entry, which will be forced to carry the weight of irregular migration into the EU due to their geographical location, rather than ensuring that asylum and migration policies are governed by the principle of solidarity and fair sharing of responsibility.
Apart from the southern EU Member states which have felt the impact of mass migration more strongly, commercial shipping operations have also been affected. There have been several reports of coastal states' authorities responding very slowly, or simply issuing instructions, to stand by, to commercial vessels in the vicinity of a boat that may be in distress. As rescue maritime missions have been scaled back, commercial vessels are being diverted from their route in order to rescue those in distress. However, merchant vessels are less equipped to do so, and have faced further obstacles including problems with disembarkation which puts the rights and health of both survivors and crew members at risk.
One of the incidents in the past year in which a merchant vessel was stranded caring for people rescued at sea was the "Maersk Etienne." At the request of the Maltese authorities, in August 2020, the crew of this vessel rescued 27 persons, including children and a pregnant woman, who were in distress at sea. Once rescued, they and the crew were left stranded for an unprecedented 38 days, with no authority willing to allow the ship to call at a port and permit safe disembarkation.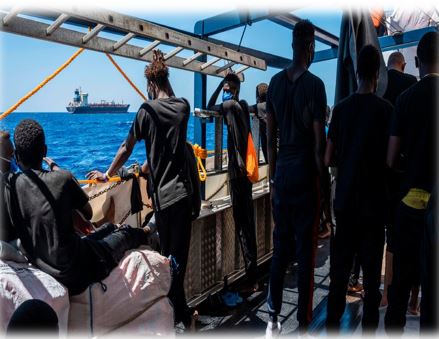 The "Maersk Etienne" fulfilled its responsibilities but found itself in a diplomatic game of pass the buck, whereby the vessel's crew were sharing food, water and blankets with those rescued. Nevertheless, and not forgetting that a vessel's crew is not trained or able to provide medical assistance, a commercial vessel is not a safe environment for vulnerable people.
The shipping industry takes its legal and humanitarian obligations to assist people in distress at sea very seriously and has worked hard to ensure that ships are as prepared as they can be when presented with the prospect of large-scale rescues. However, the absence of a clear, safe and predictable disembarkation mechanism for people rescued in the Mediterranean continues to pose an avoidable risk to life.
International law and maritime conventions place clear obligations on ships and coastal states to ensure people in distress are not only rescued but promptly disembarked in a place of safety. Rescue at sea is a basic humanitarian imperative and states need to play their part by showing solidarity and having an effective and predictable relocation mechanism in place.
Solidarity and decisive political action are urgently needed to avoid a repeat of the "Maersk Etienne" incident and further loss of life at sea.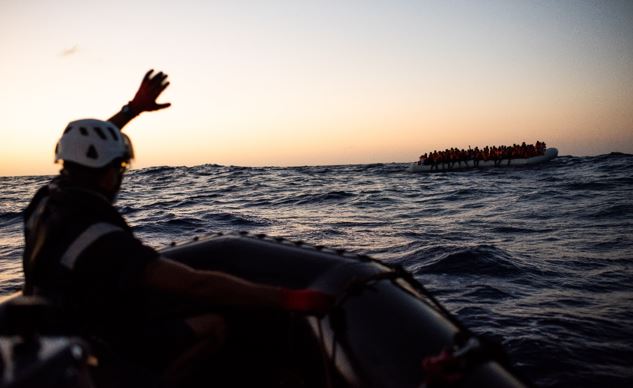 (Sources: United Nations High Commissioner for Refugees, FRONTEX, Council of Europe, International Chamber of Shipping, Maersk Tankers, Financial Times, BBC, EU Observer, London School of Economics)