Join Europe's largest annual bunker conference in Antwerp next week!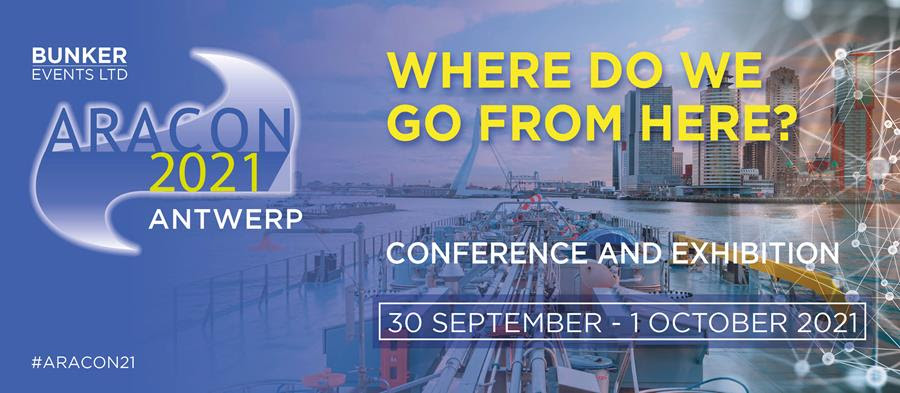 Just one week to go until the ARACON bunker conference comes to Antwerp!
Register today to join a growing list of attendees. The latest companies to register are in bold – see below. More will follow.

ARACON, which has built a strong reputation for its no-nonsense, hard-hitting programme and large contingent of bunker buyers, is the first major in-person bunker conference to take place since early 2020. It offers an important opportunity for the industry to come together to reflect on the tumultuous turn of events over the past two years.
ARACON is recognised as a key forum where industry stakeholders can speak frankly and openly about the challenges and changes the sector is facing. And, from the vantage point of late 2021, those challenges are unprecedented, profound, and potentially, long-lasting.
ARACON 2021 will look at how the ARA market and the wider shipping and bunker industry can retrench, regroup, and recover from the economic shocks caused by COVID-19. Is industry consolidation and a credit crunch still on the cards and how is the bunker sector responding to the next wave of changes – including digitalisation and the marine energy transition?
The primary focus of ARACON is, of course, on the dynamic bunker markets of Amsterdam, Rotterdam and Antwerp, and the conference will give a platform for informed exchanges between speakers and delegates on key ARA issues, such as fuel quality, supply chain transparency, and bunker licensing.
Register today to join a growing list of companies attending:
-15degrees Inspections BV
-Aderco Marine SPRL
– AFS Group
-AGNAT IndustrieService GmbH
-Albemarle Advisors
-Anglo-Eastern Antwerp NV
-Anglo-Eastern Ship Management (NL) BV
-Anthony Veder Chartering
-Bebeka U.A.
-Bergen Bunkers
-Bernhard Schulte GmbH & Co
-BP Sinopec Marine Fuels Pte Ltd
–Bunker Connect
-Caland Advocaten
–Camin Cargo
-Cargill NV
-Chemship BV
-Cockett Marine Oil Benelux BV
-CSSA- Total Oil Trading SA
-CYE Petrol AS
–Dan-Bunkering
-De Haas Van Oosterhout
–Delta Energy Fuel Supply and Trading
-DFDS A/S
-D.S. Norden
-Emerson
-Endress & Hauser A/S
-ExxonMobil Petroleum & Chemical BVBA
–Fratelli Cosulich Monaco SAM
-Fuel Technologies Company
-Gasum
-Golden Arrow Olieproducten Amsterdam BV
-Gunvor Belgium NV
-Hafnia – BW Group
–IAPH
-IBT Bunkering & Trading Mineralolvertrieb GmbH
–Infospectrum
–Integr8 Fuels
-Intertek Lintec
-Island Oil (Hellas) Ltd
-Island Oil (Holdings) Ltd
-J Lauritzen A/S
-Lloyds Register GMT
-Logic Vision BV
–Malik Supply
-Monjasa A/S
-New District BV
-Norbunker AS
-Northstar NV
-Norwegian Oil Trading A/S
-Oilchart International NV
-Onego Shipping & Chartering BV
-Orient Shipping Rotterdam
–Peninsula
–Port of Antwerp
–Price Forbes 
-Rensmarine
-ReSeaworld 2.0 SRL
-Ronne Havn A/S
-Rubis Group
–SABA
–S&P Platts
-Saybolt Nederland BV
-ScanOcean AB
-Service Terminal Rotterdam BV
–SGMF
–Shipping Strategy
–Spliethoff
-Stena Oil
-Tankers Plovidba DD
–Teekay Tankers
–Teqplay
-The Oil Marketing Journal
–Titan LNG
-United Bunkers BVBA
-Van Ameyde Marine
-Verenigde Tankrederij BV
-Veritas Petroleum Services BV (VPS)
–Vroon
-World Fuel Services EU Ltd
-Zeeland Bunkering
Once registered, all delegates will receive a link to book rooms at the Hilton Antwerp Old Town hotel should they wish to benefit from preferential rates.
Please note, the deadline for delegateregistrations for ARACON is 17:00 on 28 September.
Speakers Attending ARACON
Attending ARACON will give you the opportunity to hear from this fantastic line up of speakers.
Mark Williams, Managing Director, Shipping Strategy
Mounir Bendouch, Director, Bunker Connect
Anna-Maria Foteinou, Senior Credit Manager, Island Oil Holdings
Léon Gommans, Co-Founder, Teqplay
Argyrios Schoinas, Global Operations Manager, VeriFuel Bureau Veritas
Steve Bee, Group Commercial & Business Development Director, VPS
Gunnar Kjeldsen, Global Business Development Manager, Marine Fuel Services, VeriFuel Bureau
Tracey Wardell, Global Technical Manager, Intertek Lintec
Christian Kint, Managing Director, OilChart International
Michael de Boeck, Director, United Bunkers
Claudia Beumer, Global Account Manager, VT Group
Cherry Almeida, Partner, Caland Advocaten
Daniel Kemp, Business Development Manager, Marine Fuel Solutions, Emerson Automation Solutions
Armelle Breneol, Marine Fuels Technical Advisor, ExxonMobil
Mads Bjornebye, Manager, Bunker Services, Teekay Tankers
Leon van Duivendijk, Director Shared Resources, Vroon
Edgar Martin, Head, Infospectrum Central & Eastern Europe, Infospectrum Ltd
Grégoire Hartig, Business Development, Gasum
Sjaak Klap, Principal Environmental Advisor, SGMF
Michael Schaap, Commercial Director Marine, Titan LNG
Michael Van Lieshout, Sustainable Transition Expert, Port of Antwerp
Patrick Verhoeven, Managing Director, International Association of Ports and Harbors
A must-attend conference covering important topics of the bunker industry and giving insights from experienced professionals' – Island Oil Hellas