Region of Attica – Dynamic Presence at IFTM Top Resa 2021

Dynamic presence of the Region of Attica at the International Tourism Exhibition "IFTM (International French Travel Market)-Top Resa 2021", B2B Travel Show, Paris, completed on October 8
G. Patoulis: "We stimulate the openness of Attica, and use all available financial resources to promote culture, implementing emblematic projects, which add value to the tourism product of Attica."
The very important for the French market, "IFTM (International & FrenchTravel Market) – Top Resa", B2B TravelShow, (www.iftm.fr) in which the Region of Attica, participated as co-exhibitor at the national pavilion of the Greek National Tourism Organisation (EOT), was successfully completed. The exhibition took place at the Paris Expo "Porte de Versailles" from October 5 to October 8, 2021.
The pavilion of the Region of Attica was visited by the Minister of Tourism, Mr Vassilis Kikilias, the Secretary-General of the Greek National Tourism Organization (EOT), Mr Dimitris Fragakis and the Minister for Economic and Commercial Affairs of the Embassy of Greece in France, Mr Emmanuel Stantzos.
According to the organisers, during the exhibition, more than 200 destinations were showcased, around 1,700 companies were represented, 34,000 tourism professionals participated, whereas 150 conference events were organised.

At its pavilion, the Region of Attica welcomed large numbers of visitors and tourism professionals, who had the opportunity to be informed, with the use of rich audiovisual and print material, about the variety of options trip to Attica may offer to the visitor. Furthermore, during the exhibition, various B2B meetings with tourism professionals and influencers were scheduled.
In the frame of this tourism promotion action, the main objective of the Region was to inform the French market (traditionally one of the main target markets for Attica) and the international public about the competitive advantages of Attica as a safe and attractive multi-dimensional destination for unforgettable holidays all year long. In addition, the Region's unique destinations, the various forms of thematic tourism such as gastronomic, cultural, health, etc., were presented, along with a variety of activities that meet the expectations of all visitors, irrespective of their profile and financial status, and may be enjoyed during a safe and unforgettable holiday trip to Attica throughout the year.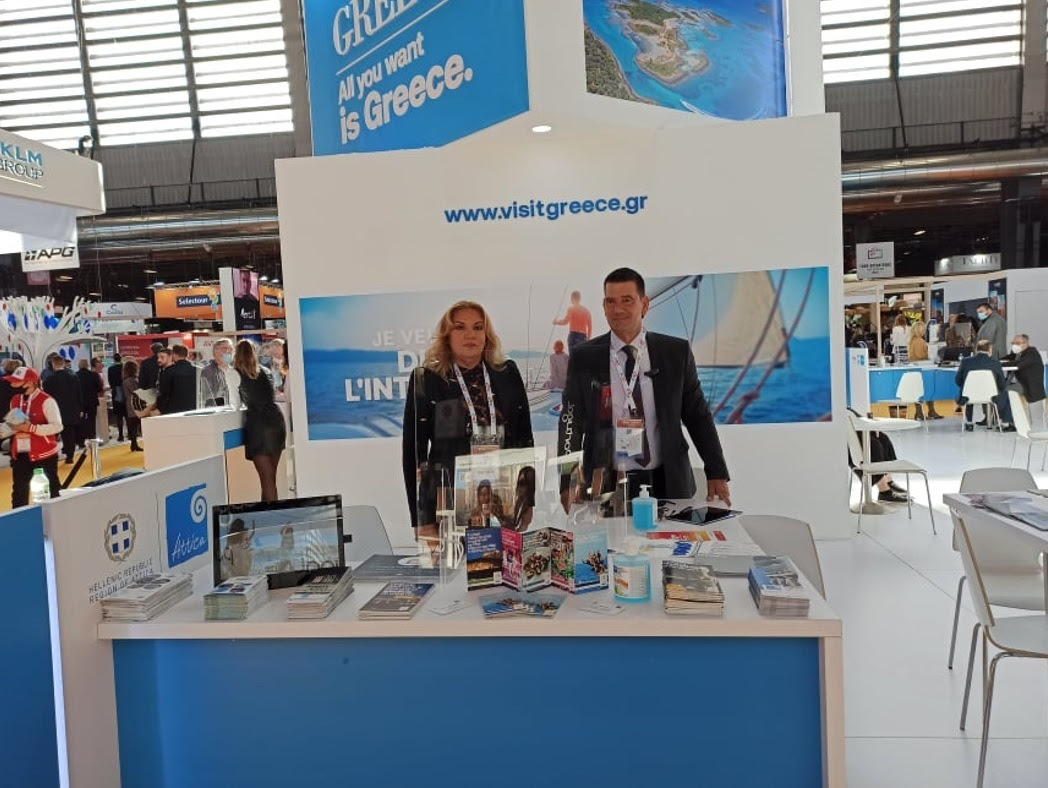 At the IFTM Top Resa, the Region of Attica was represented by Mr Theodoros Koutsogiannopoulos, Executive Regional Councilor of Tourism, and Ms Athena Kolyva, Head of the Directorate of Tourism.
The Municipality of Poros, which participated as co-exhibitor, was represented by the Member of the Municipal Committee of Tourism Development and Promotion, Mr Anastasios Fiakas.
The Regional Governor of Attica, Mr George Patoulis, stated:
"For the Region of Attica to participate in important international exhibitions, such as the "IFTM Top Resa", B2B TravelShow in Paris, is important because it serves one of our top priorities, that is to strengthen openness, and allows us to promote the Region's competitive advantages in a significantly important market.The Region of Attica has been coordinating its actions to make Attica one of the most popular travel destinations worldwide, highlighting recreational tourism and other alternative forms of tourism. We mainly focus on partnerships to give impetus to health tourism by creating investment opportunities, promoting contacts with pioneering practices and networking between Greek and foreign operators. In this context, we use all available financial resources to promote our culture – ancient and modern – by implementing emblematic projects that add value to the cultural capital, the tourism product and the economy of Attica. I am deeply convinced that an integrated promotion of our regions' tourism product lays the foundation for a better future, opening new perspectives for prosperity and growth