All About Bunkers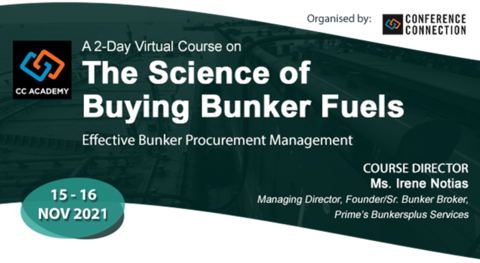 Home
Register Now
Download brochure
Course Duration and Timing
Two Days of Sessions (SGT Time)
Day One, Monday, 15 November 2021
Module 1: 3pm to 5pm : The ABC's of Bunker Fuel Buying

Module 2: 5.30pm to 7.30pm: Buying Efficiently for Cost Savings
Day Two, Tuesday, 16 November 2021Module 3: 3pm to 5.30pm: The Bunker Game
The Bunker Game – Foundations to Make The Right Purchase
 Designed for new entrants as well as those seeking a refresher, this virtual training course focuses on effective and efficient fuel procurement strategies, examining the entire fuel procurement process from the bunker inquiry, purchase order and sales contract to delivery, sampling/testing methods and claim prevention. 

The Bunker Game which is a special feature of this virtual course, will allow attendees to assume different roles in the bunker buying process and come up with decisions on who to buy from and why, what factors need to be considered and how the price is determined, providing a better understanding of the bunker buying process and dynamics of the bunker supply chain. Participating in the game will also provide exposure to:- 

– Real life scenarios in the bunker buying process including operations, logistics and crude prices in real time; and
– The methodologies for effectively applying tools and best practices learnt during the course, for better fuel procurement
What You Will Learn
 You will:-
 Source compatible & cost efficient bunkers in a timely manner
Make smart purchasing decisions in a volatile market
Acquire important tools that can help you get a better price and handle bunker requirements holistically & strategically
Learn about the risks in bunker chains
Learn how to handle shortfalls in credit availability
Optimise the bunkering process and mitigate challenges & rising costs associated with IMO's 2020 sulphur cap regulations
Gain actionable tips to help improve fuel purchasing and elevate your business' bottom line
Review procurement best practices, pricing models and the supplier landscape
Incorporate increased transparency & higher governance standards across the industry 
Download brochure
Register now

Your Course Director Ms. Irene Notias
Managing Director, Founder/Sr. Bunker Broker, Prime's Bunkersplus Services

Irene Notias is a businesswoman who has been working in the Marine fuels (Bunker) Industry since 1999, as a bunker fuels broker. Her mission has been to help her clients sustain their businesses through efficient cost savings by strategy and consultation, training and educating via seminars and presentations. Read more….
Course Methodology
The course will be taught live via a video conferencing platform, covering a combination of theoretical and practical applications. The course instructor will adopt an interactive approach which will encourage active participation, delegate engagement and contribution through live sharing of views and experiences. A role play will simulate real life scenario challenges and expose delegates to operations, logistics and crude prices in real time.
Download brochure
Register now
What Delegates Have Said About The Course
"Provided practical knowledge and an exercise to enlighten the bunker purchaser even more."
 – Purchasing Officer, Bahri 
"Very informative for those who want an insight on buying & selling aspects of bunkers. For newcomers, a must. For those already in the industry, its about gaining updated information."
 – SVP, Miyabi Industries Pte Ltd 
"I appreciated the refresher the course offered, as well as the new concepts I learnt. All the information was adaptable and may be applied to my every day work."
 – Manager, Africa Bunkering and Shipping 
"Bunker Game – Fun way to practice modelling skills from supply-side perspective." 
– Intern, Miyabi Industries Pte Ltd 
"Great game that showed us the functions of suppliers, traders, brokers and buyers."
 – Bunkering Sr. Specialist, Bahri 
"Gained a good understanding of the outline of the bunker purchasing work flow."
 – Shipping Operation Manager, Nova Carriers (Singapore) Pte Ltd 
Who Should Attend
– Bunker Buyers
– Shipowner, Operator & Charterer Executives
– Shipmanagers
– Fleet Managers
– In-House Lawyers & Legal Departments
– Shipping Agents
-P&I Clubs & Claim Managers
– Other Bunker Supply Chain and Bunker Industry Stakeholders including Accountants & Credit Managers, Policy Makers & Port Authorities & Customs 
INTERVIEW: Bunker buying is more than a relationship-based activity; it's a science, says marine fuels broker Irene Notias is the Founder, Managing Director, Sr. Bunker Fuels Broker of bunker broking firm Prime's Bunkerplus Services; she is also Course Director of a bunker buying Irene Notias Interview with Manifold Times
Attend The Science of Buying Bunkers with the following course and Save with the Joint Attendance Discount
 This 2-day virtual course will:
– Examine alternate fuels & market trends for 2030 & beyond.
Provide relevant information & indicators of technological advances, geographical areas, supply availability, vessel trading patterns & collaboration between stakeholders.
Allow better understanding of the factors impacting stakeholder operations, demands, preparatory measures & particularly, the investment needed for the selection of each type of marine fuel.
Discuss key CAPEX and OPEX issues affecting shipowners, charterers, producers of marine fuel, refineries, barge operators and tank storage operators 
Inquire Now
Media Sponsor
For queries, registration and more information, please contact the Conference Connection team at: