The Bermuda Angle, November 2021
Welcome to The Bermuda Angle, the bi-monthly roundup of international business news, views, and events that you need to know about from our world-leading financial jurisdiction.
https://ci6.googleusercontent.com/proxy/NKQhXCLvd1qdtXBg-S_EyGEHKOOHRvOKzoT2D1nFe8NYH9tmyb6-7LswLEfAGoscwq5KSITrGwXIuplZMwOnhWYpG08pIt6wE3DlX9PkPThk8S3lpw9OGdK1FIjQFBmzjiziFhH4w1T0FsREJ3qtPAy2ZVEjpogDqknefRUIm8w=s0-d-e1-ft#https://mcusercontent.com/b7735837b7eaf1e2149d6b61c/video_thumbnails_new/30ee20783f121c616b17a89816ae7383.png
BDA Launches Bermuda Angle/Central Video Series

The Bermuda Business Development Agency has launched a Bermuda Angle and Bermuda Central video series, showcasing why Bermuda is such an idyllic place to live, work, and play. The videos feature prominent Bermuda industry leaders discussing the benefits of doing business in Bermuda, including our transparency, culture, and central location.
The videos include interviews with:

– Cheryl Lister, acting Financial Secretary of the Ministry of Finance, who describes how Bermuda is a jurisdiction committed to compliance and transparency, including anti-money laundering and anti-terrorist financing (AML/ATF) – WATCH HERE

– Bermuda Institute of Ocean Sciences' (BIOS) President and Director Dr. William Curry, who provides his expertise on the island's history and the importance of protecting Bermuda's natural marine environment – WATCH HERE

– Convex Founder and CEO Stephen Catlin, who talks about commercial reinsurance and the benefits of Bermuda's unique work culture – WATCH HERE

– Abbie Shepherd, senior manager of talent partnerships team at Cameo, who explains why she took advantage of Bermuda's Work From Bermuda (WFB) Certificate – WATCH HERE
A Successful Bermuda Tech Summit
Spread over three days, the 2021 Virtual Bermuda Tech Summit drew nearly 800 registrants from 500 companies across 52 countries — an increase from the 2020 event. The summit, which took place from Oct. 13-15, featured 23 panels and 79 speakers who discussed the summit's theme of "Transforming the Digital Landscape."

Running through the event was a sub-theme of Bermuda's robust yet pragmatic regulatory environment, as well as its advanced infrastructure and history of innovation, which all make the island an ideal location for quality technology companies looking for a domicile. The BDA will continue to work with the registrants to drive business and investment to the island.

The dates for the 2022 Summit have been announced and will form part of Bermuda Tech Week to be held Oct. 17-21, 2022.
Coming up:
November 22-27, 2021: Youth Climate Summit

The Bermuda Underwater Exploration Institute (BUEI) is hosting the island's first Youth Climate Summit. During a full week in November, young people between the ages of 13 and 22 will focus on climate issues, culminating in a year-long, action-based volunteer project managed by a Youth Climate Advisory Board.

The week will include:Four days of online learning designed to foster a common understanding of climate issuesTwo days at BUEI to engage with Bermuda-based environmental organisations, then the group will map out a course of action to address an issue of their choosingDecember 2, 2021: Economic Investment Certificate (EIC) Webinar

Join the Minister of Labour, The Hon. Jason Hayward, JP, MP on December 2 as the BDA hosts a webinar to discuss the details and benefits of the Economic Investment Certificate (EIC), which provides qualifying parties with the opportunity to live and work on Bermuda for five years. The programme is designed to stimulate economic activity, create the environment for job creation, and help market Bermuda as a premier place to reside and do business. Click here to register.




BDA Spreads the Word About Climate Risk FinanceSeveral Bermuda leaders are heading back to New York City to promote Bermuda as the world's climate risk finance capital. From Nov. 29 to Dec. 2, the Bermuda delegation will highlight Bermuda's core competitive advantages in climate risk and tech innovation. Meetings are already booked with New York asset allocators with assets under management of over $13 trillion. This trip follows on the heels of successful roadshows in September and October, when the BDA organised over 20 meetings with New York's leading law firms, advisers, and assets managers, who represent revenues of $3.28 billion and maintain offices in 54 cities worldwide.


BDA Creating New ESG/Climate Risk Finance Hub With the rising importance of environmental, social, and governance (ESG) initiatives around the world, the BDA is working with the Ministry of Home Affairs, and local environmental entities to create an ESG/Climate Risk Finance hub on its website. 
 
The ESG/Climate hub will serve as a home for climate-related resources and activities, and provide important examples of the various ways the BDA is collaborating with the government and private sector to protect Bermuda's beautiful environment. 
 
If your group is doing innovative work in this space and you would like to participate or be featured, please contact Jamari Douglas, the BDA's Director of Marketing, at jdouglas@bda.bm.

 BDA Launches Conservation Central Video 
From protecting sea turtles and cedar trees to consulting on a strategy to eliminate single-use plastics, the BDA has created a video that highlights Bermuda's 400-year history of environmental conservation. Click here to watch it.
BDA Attends COP26 Meetings and Hosts London EventsA delegation of Bermuda leaders recently attended the COP26 UN Climate Change Conference in Glasgow, Scotland. The delegation hosted a luncheon for attendees showcasing Bermuda's work in sustainability, marine conservation, and climate risk finance, and Bermuda's Deputy Premier, the Hon. Walter Roban, JP, MP was keynote speaker. Throughout the conference, the delegation represented Bermuda on the world's stage and met with international climate leaders and stakeholders.


BDA Commits to Full TransparencyThe BDA is working to tell our story on regulation and transparency in key markets, and we continue to see companies setting up in Bermuda because of our innovative spirit, coupled with our robust compliance standards. While the details are still being worked out, Bermuda's commitment to transparency and serving as a great home for quality businesses remains unwavering. This is just one reason Bermuda remains the ideal location in which to do business and operate global business-to-business financial services firms. Contact us to learn more.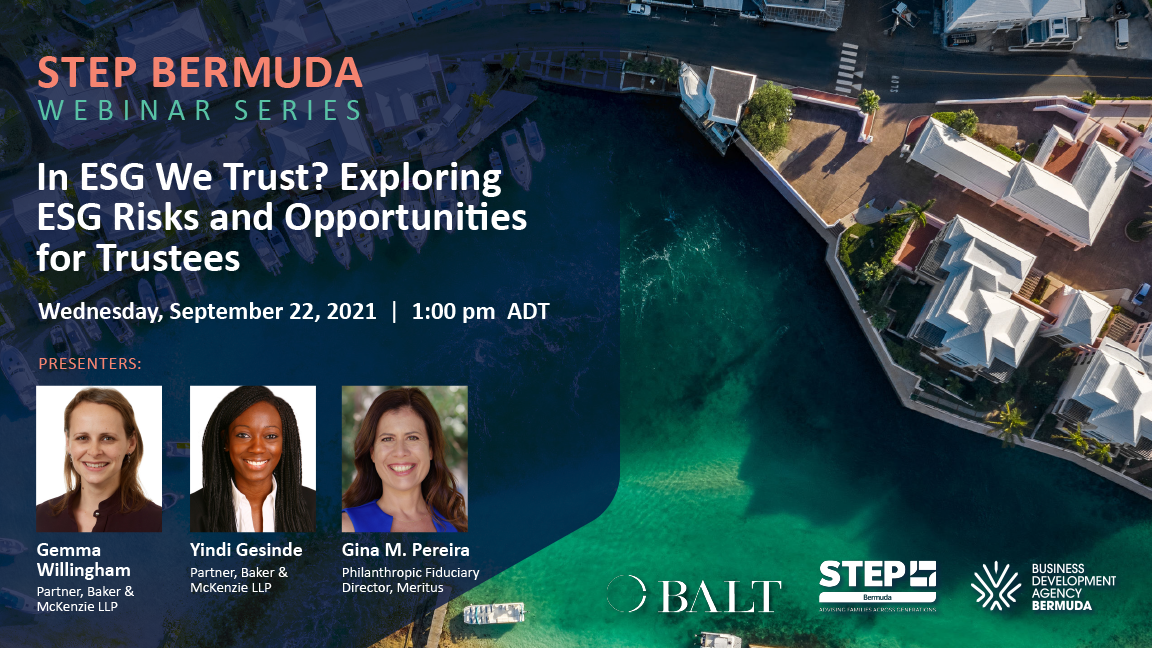 Check out ESG and Tech Summit VideosThe BDA created several videos to provide insight into today's changing economic realm. One video explores the importance of the ESG agenda for business operations and investment decisions for trustees. In this video, Yindi Gesinde and Gemma Willingham, partners at Baker & McKenzie, and Gina Pereira, philanthropic director at Meritus, explore timely and topical ESG issues.
 
In addition, videos from the 2021 Bermuda Virtual Tech Summit are now available. The summit brought together the world's top technology thought leaders to reimagine the future's digital landscape and provide insights and wisdom on the latest trends.

Connecting Business

The BDA encourages direct investment and helps companies start up, re-locate, or expand their operations in our premier jurisdiction. An independent, public-private partnership, we connect you to industry professionals, regulatory officials, and key contacts in the Bermuda government to assist domicile decisions.