The new EVO V8 yacht opts for HIMACS for the corner bar in its lounge area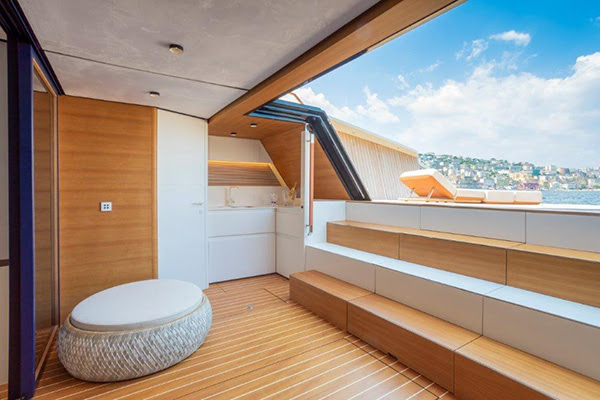 HIMACS gives shape to the surface of the corner bar in the lounge area of the EVO V8, the amazing new high-tech flagship from Evo Yacht, the brand from shipyard Blu Emme Yachts.
Making its world première at the Cannes Yacht Festival 2021, EVO V8 is the new vessel from Evo Yacht, designed by Valerio Rivellini. EVO V8 is 24 metres long with a minimal, refined design that inspires a new on-board experience to straddle the worlds of sailing and motor yachts.
The outside of the new flagship features large open areas – subdivided into the main deck, roof top and lower deck – while the inside comprises a spacious living and dining area, three cabins reserved for the sleeping area, four helm stations, two different routes for reaching the main deck and a lounge area.
This lounge leads to the master stateroom and is 'enclosed' between two large sliding glass doors that transform the space, giving it a dual function. When open, these doors turn the lounge into an open-air patio for sheltering from the sun and wind, while when closed, they create an intimate, cosy private living area for the owner.
The lounge area includes a small corner that is home to the bar area, featuring an integrated sink in a surface executed in HIMACS.
Thanks to its versatility and special characteristics, HIMACS is the ideal material for executing projects in the nautical sector. HIMACS is incredibly robust and resistant to wear and tear, weather, fire and UV rays. Moreover, its non-porous surface makes the material totally waterproof and very easy to clean.
The thermoformable properties of HIMACS allow it to be moulded into any shape and size, adapting to the specific design of ships or other types of vessels.
The absence of visible seams also not only ensures a smooth, uniform look, it also prevents dirt, bacteria and viruses building up on the surface. This makes HIMACS a Solid Surface material with unbeatable hygienic properties, guaranteed by certifications that comply with LGA and NSF international standards.
HIMACS is IMO MED (Marine Equipment Directive) Module B and D certified by the International Maritime Organization (IMO), certifying the suitability of the Solid Surface in the context of maritime use. This has been possible thanks to the flame-retardant and low flame-spread properties of HIMACS in its FR composition.