Chris Leontopoulos from the American Bureau of Shipping delivers guest technical lecture at NTUA
Chris Leontopoulos from the American Bureau of Shipping was invited by the National Technical University of Athens, department of Naval Architecture, to deliver an honorary lecture as a guest speaker on "Propulsion Shaft line Smart Bearing Sensor for Self-Diagnosis".
The lecture lasted for 1.5 hours and the audience included undergraduate and postgraduate students as well as academics. "It was surprising to see that university students received very well the technical contents of the technical presentation and nearly everybody in the room asked questions", said the presenter, Dr Chris Leontopoulos, Director of ABS Global Ship Systems Center, and continued: "The questions, interestingly enough, had a variety of issues, ranging from pure technical but also maritime industry oriented, in general". Discussions about new technologies, as well as concerns from the new environmental regulations and various sustainability related issues were also discussed.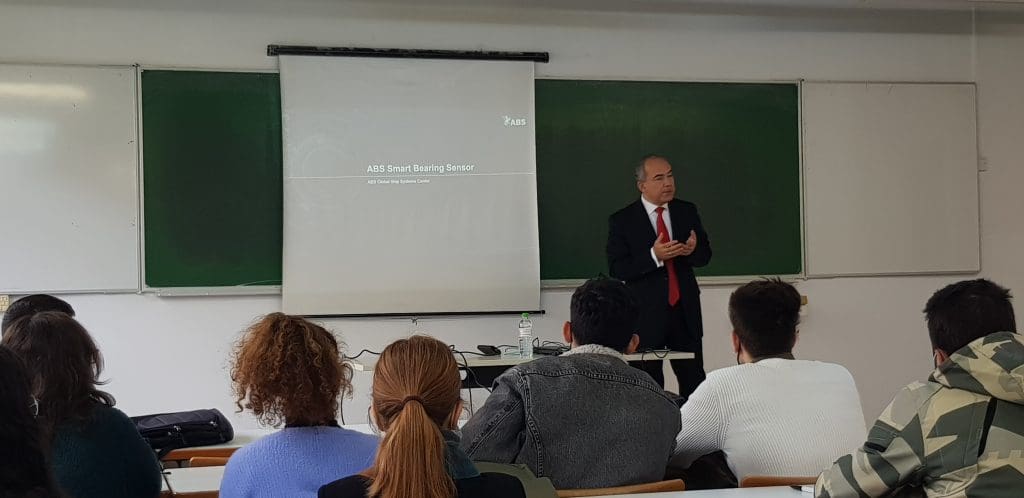 When asked, the presenter said that technical knowledge accumulation is not a panacea for post-graduate students when seeking a job in the maritime industry. All personality aspects should be appropriately balanced and cultivated, including willingness to learn and move outside one's comfort zone, as well as soft skills, which play an important role in one's career development. NTUA and ABS have a long-standing cooperation in R&D and Joint Development Projects with shipyards, shipowners and vendors from Europe and the Far East, including EU funded R&D projects. ABS provides special scholarship and awards to talented NTUA graduate students.