Royal HaskoningDHV makes key appointments to water and maritime leadership team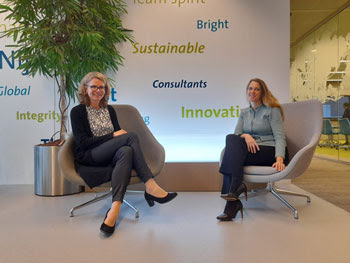 Amersfoort, the Netherlands, 20 January 2021 – Royal HaskoningDHV has confirmed its renewed focus on the Dutch water and maritime sectors with two key appointments:
Maartje Wise-Hoevenaars takes on responsibility for all ecological, water technology and water system activities in the Netherlands.
Esther Bosman will handle all flood risk management and maritime activities in the Netherlands and the United Kingdom.
The appointments consolidate the company's reputation as an innovative, expert and reliable partner.
Water is central to the complex challenges society is facing; especially in relation to climate change. These challenges cover water security and safety, but also biodiversity and climate adaptation in cities. The new roles signal the company's ambition to meet growing demand in the Netherlands and UK for solutions and to ensure an integrated, multidisciplinary approach.
Niels Schallenberg, Global Director Water, Maritime & Digital: "Our multidisciplinary approach recognises and leverages the synergies between our water, maritime and digital operations. Maartje and Esther will be working to consolidate our seamless offering from consultants, engineers and digital experts to deliver integrated solutions.
"Working with our customers, our experts link strategy to design and implementation. In doing so, they apply the best technological and digital innovations and deliver the effective, sustainable, and circular solutions that are needed today and tomorrow.
"Congratulations to Maartje and Esther, I have no doubt that thanks to their experience, energy and focus on the customer, they will prove inspiring leaders."
Sustainability and integration as a starting point
For maritime clients, Royal HaskoningDHV focuses on ports, shipyards and terminals. Climate change, biodiversity, digitization, and the impact on society are central themes in the team's strategic advice, master planning, design, and implementation.
In the water technology sector, Royal HaskoningDHV develops, designs and implements smart tailor-made solutions for drinking water and wastewater, with circularity as a central concept.
Whether for maritime or water projects, Maartje and Esther's joint focus for their markets is on building resilience through contributing to a safe, healthy and climate-resilient society. With sustainability and integration as the starting point, the pair will drive the delivery of solutions which ensure reduction, reuse and recycling of raw materials and materials.
Tackling society's challenges together
Maartje Wise-Hoevenaars has worked for Royal HaskoningDHV for over 24 years. She has in-depth knowledge and experience at the interface of climate adaptation and water technology, both in the Netherlands and internationally.
Speaking of her new role, Maartje said: "Our rapidly changing world, with its complex societal challenges, requires sustainable, integrated and inclusive solutions. We are developing these in a 'golden triangle' with science and public partners. Our Ephyra® technology is a striking example of the potential of this approach. Ephyra makes it possible to cost-effectively ferment more sludge from wastewater treatment and produce up to 75 per cent more biogas. I am excited about exploring other such possibilities through my new role."
Esther Bosman has also worked for Royal HaskoningDHV for 24 years, for 17 of which she has been in management positions within the water team.
Esther is looking forward to broadening her experience in maritime, she said: "The water and maritime challenges we face as a society, can only be tackled together. Royal HaskoningDHV seeks to deliver these integrated solutions using all the knowledge and experience we have in-house, without boundaries between disciplines, in co-creation with our clients. My ambition is to build on this approach as I take on my new role and help ensure we live up to our motto: enhancing society together."