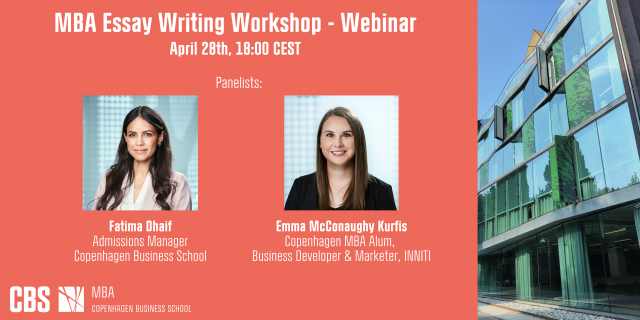 Join us for this interactive webinar to get all the insider tips on how to write an outstanding essay for your MBA application.
The MBA essay is a crucial part of your application and is your chance to show us your personal and professional brand. At this webinar, you will hear from our Admissions Manager and a graduate of the Copenhagen MBA how to highlight your unique skills and experience to make your essay stand out from the crowd.
This event will be hosted by the Copenhagen MBA Admissions Team, in collaboration with BusinessBecause.
Format: Webinar
When: Thursday, April 28th
Time: 18:00 CEST
CLICK HERE TO REGISTER FOR THE WEBINAR
Meet our panelists:
Fatima Dhaif, Admissions Manager of the Copenhagen MBA
Emma McConaughy Kurfis, Business Developer & Marketer at Inniti and a graduate of the Copenhagen MBA
Marco De Novellis, Senior Editor at Business Because
This webinar will give you:
All the exclusive tips on how to write a strong MBA essay
An introduction to the unique features of the Copenhagen MBA, where sustainability and responsible management lie at the core of the curriculum
A chance to ask all your questions during an interactive Q&A session
We look forward to meeting you next week!
The Copenhagen Full-Time MBA Team
REGISTER HERE – MBA Essay Writing Workship