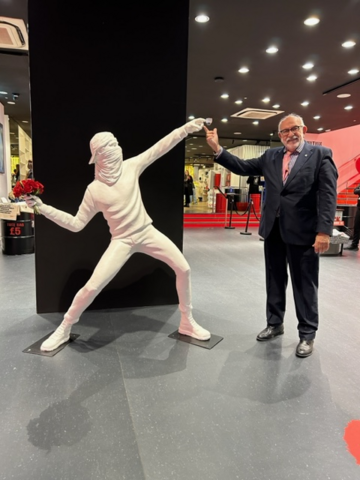 Peace needs the Chance by John Faraclas
Whatever happens in the Middle East since Saturday the 7th of October 2023, 50 years from the Yom Kippur War, is simply, as we say in shipping and in particular in marine insurance, the result of "a both to blame collision": end of story.
The brutal reality will affect everyone, all over Planet Ocean!
Scanning the future, my way – I can assure you that you haven't seen anything yet and we all need, this is a MUST, to make peace once and for all. Although we cannot predict the future, we can shape same by the decisions we make now – now means something without duration and we MUST act beyond silly decisions impacting 75 years, since the 1947 UN Resolution 181 (known as the Partition Resolution) dividing the Britain's former Palestinian mandate into Jewish and Arab states in May 1948 when the British mandate was ending. We since have seen so many unnecessary wars (1948, 1956, 1967, 1973…) not to mention extensive terrorism. Enough! And shipping – with the closure of the Suez Canal in 1967 suffered, all but the mega-ships (VLCCs, ULCCs, VLBCs) as did Planet Ocean at large.
Wonder if all the politicians involved in this saga all these years, can see their faces in the mirror, and wonder when one day they leave Planet Ocean, what their souls will deliver to the Almighty, each individual. Their cronies too. Their supporters too. We are on the edge and we need leadership to end this inhumane situation. Remember: the wise and well-trained general wins the war without battles…
We all know that to some extent, we are prisoners of geography and in this region AND its wider periphery, things MUST change and people see reason, as well as reassess other factors… religion is also another factor as well as natural resources…
If Aristotle's work, and in particular the Nicomachean Ethics, has had a profound and lasting influence on all subsequent Western thought and ethical matters, what are Western leaders doing on balance? There is no balancing act here, hence no peace in the way we move "forward". The situation we witness today, is not just the one mentioned above obtaining for75 years, but in my humble view, one that has its origin over 1,400 years back…
Human aggression continues as without boundaries and we humans are the cruellest and most ruthless species that has ever walked and sailed on Planet Ocean. I am saying this as, given what is said above, you haven't seen anything yet in this Middles East conflict. Who is protecting the vulnerable? Wonder also: when is a healthy sense of national identity transformed into virulent nationalism?
Before the scourge of terrorism creates a situation of no return, and this includes state-sponsored terrorism, it is about time we sat down and talked. Dealing with difficult people is in my bones now as one schooled in broking ship sale and purchase agreements; thus, here I am offering my good offices for Peace
Two sovereign states under the control of the United Nations guarding both sides and supervising and controlling also their supporters. A special forces UN contingency of 150,000 to be permanently stationed in these areas, these lands of ultra hostility until the situation completely diffuses. Whoever interferes to be completely brought down by land, air and sea. Dura Lex Sed Lex (" it is harsh, but is the law").
With the ongoing Ukraine – Russia mess (IN OUR VIEW CAUTIONED ON SINCE THE BEGINING IN FEB 2022, another "both to blame collision"), we cannot afford not to have Peace in the Middle East… as yet more conflicts are threaten to erupt.