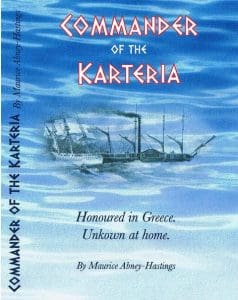 Our international readership may be interested to learn that a new book was launched last week by Maurice Abney-Hastings.
"Commander of the Karteria.  Honoured in Greece – Unknown at Home" is the history of a remarkable man born in rural Leicestershire at Willesley Hall near Ashby de la Zouch to a privilidged and aristocratic family. At the age of 11  Frank Abney Hastings joined the Royal Navy and remarkably participated in the Battle of Trafalgar. By the age of 18 he had his own command!  He later lost his life fighting against the Turks in the Greek War of Independence.
He was responsible for the construction and command of KARTERIA the first ship of the Hellenic Navy and the first ever steamship in the world used in battle.  His untimely death at the age of 34 was a blow to the Greek cause, but nearly 220 years later he is still remembered there with affection and gratitude.
The book has been described as "…exciting as Hornblower, but true!"  The contents of "Commander of the KARTERIA – Honoured in Greece. Unkown at Home"  are perhaps best summed up in the words of Dimitri G. Capaitzis CEng FRINA in a presentation he made to the Royal Institute of Naval Architects last year: "KARTERIA was built at the instigation of the great English Philhellene Frank Abney Hastings who inspired the design, helped in the construction and commanded the ship on passage and in war.  The KARTERIA was the first ever steamship in naval war action."
The President of the Society for the Study of Hellenic History, Telemaque Maratos, also said: "The KARTERIA was not only the first ship of the Hellenic Navy, but was the first steamship in the world used in battle.  For this reason she is not only important for the role she had in the Greek Wars of Independence but also holds a place in Naval History throughout the world."
The book is now available in  both hardback and paperback through all major booksellers including shortly, we hope Eleftheroudakis, and may also be ordered as signed, numbered limited first edition direct from the author on www.captainfrank.co.uk.