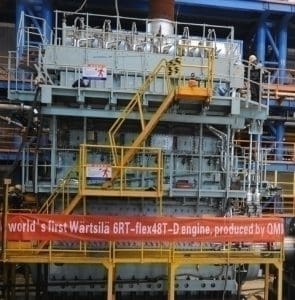 The new engine is designed to power small bulk and tanker vessels. The flex common-rail technology lowers emissions and fuel consumption.
Wärtsilä, the marine industry's leading solutions provider, successfully started up its new 6-cylinder Wärtsilä RT-flex48T engine on 24 November 2011 at the facilities of Wärtsilä licensee QMD (Qingdao Qiyao Wärtsilä MHI Linshan Marine Diesel Co Ltd.) in China. This new engine is the result of further development of the existing Wärtsilä RTA48T engine. With the introduction of this new engine, Wärtsilä completes its work in adapting its range of low-speed RT-flex engines for all bore sizes. The engine type is also available in other cylinder configurations.
The Wärtsilä RT-flex48T is designed to power small bulk and tanker vessels, including the Handysize and Handymax range. With the implementation of the RT-flex common-rail technology, the conventional and well-known RTA48T engine has been upgraded to feature electronically controlled fuel injection, and exhaust valve activation for greatly reduced emissions and fuel consumption. One great advantage is its smokeless operation at all engine load levels.
"We are extremely pleased to add the Wärtsilä RT-flex48T engine to our portfolio of common-rail low-speed engines. We now have this industry-leading technology available for all bore sizes in our current low-speed engine portfolio, " says Mr Martin Wernli, President, Wärtsilä Switzerland and Vice President, Product Centre 2-stroke.
The key features of the Wärtsilä RT-flex common-rail system are the precise control of fuel injection, and the high injection pressure at all speeds which together give steady running. The electronically controlled exhaust valve opening/closing allows the best engine tuning for each individual engine rating.
To further develop the common rail version of the RTA48T engine, the rail unit and supply unit were taken from the well-known and successful RT-flex50 type engine. It consists of one common rail pipe for fuel injection and another common rail pipe for the system oil driving the exhaust valves. Both are integrated within the rail unit where all pipe works and components are easily accessible from above. The rail unit is located just below the cylinder covers along the complete engine length.
Main Data: D-version of Wärtsilä RT-flex48T marine diesel engine:
Cylinder bore                  480 mm
Piston stroke                2000 mm
Stroke/bore ratio          4.16
Power, R1 MCR             1455 kW/cylinder
Speed range, R1-R3      102-127 rev/min
Mean effective pressure at R119.0 bar
Mean piston speed at R1    8.5 m/s
Maximum cylinder pressure  160 bar
Number of cylinders       5 – 8
Power range                5100-11, 640 kW
BSFC at full-load, R1-R2  164-170 g/kWh