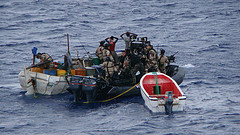 A maritime security alert has been issued for the Gulf of Aden after Iranian news agencies reported that an Iranian-flagged chemical tanker was hijacked whilst transiting to North Africa on 11 January.
Details of the attack are currently unclear, and are yet to be corroborated by international piracy reporting centres.
The location of the reported attack and the current position of the vessel are unknown; accordingly, all vessels in the Gulf of Aden should remain on high alert, particularly after previously-hijacked Marshall Islands-flagged MT Liquid Velvet was reportedly patrolling as a mother ship between Socotra and the north eastern tip of Puntland on 10 January.
The attack comes days after two other hijacked Iranian fishing vessels were rescued by Danish and American forces in the region.