Undoubtedly the new century marked some deep changes in the entire logistics and the shipping industry thanks to the following critical issues:
Factor "C", the China Growth Factor;
Industrial sites re-deployment;
Ton/mile increase; and
New technical requirements (IMO Annex II-VI, SECA      Rules, 13g-13h DH Tankers Rules, etc.)
The above is just the "appetizer"; further changes in the game we expect soon such as: SWT, SOLAS (mostly for Ro-Pax and Cruise Carriers), SECA rules Extension Area (including Med Sea), New Engine propulsion technologies (LNG compliant).
Unfortunately the shipowners' mentality didn't change at the same pace, and despite the entry of the new generation into the shipping arena, we haven't seen changes in terms of corporate governance, so we are still getting things wrong and we will make the same mistakes, never learning from the past.
My close octogenarian shipowner friend remarked that shipping is a family business. I respect that because he is like a father to me, but on the other hand I disagree because the environment and the strategic picture has hugely changed; nothing is like it was 10 years ago and shipping needs new management mentality and different behavior. Basically our task is to train the new generation of managers who are not directly coming from family owners. The last boom cycle didn't bring any contribution to making a change – most of the young shipowner generation spent more time on their yachts with stunning girls, rather than being seated behind the desk or visiting their charterers. Sadly they grew up making money and filling their wallets with just a touch on their PC screens to negotiate FFA Cal or by settling deals for pure vessel resales. Most of them never sailed on ships, never sat around the table to design a corporate structure, never applied their brains to thinking about the future of their shipping companies. In one word, most of the shipping companies, founded in the boom years of the cycle, are like boats adrift which took benefit from the unrepeatable 2006-2008 bonanza.
In practical terms, we lost the opportunity to change shipping, indeed we also killed the shipping equity markets in which a lot of newcomers, without experience and reputation, splashed their start-up companies raising huge money and afterwards disappointed the public shareholders. I have my Calvinist view of the equity capital market: this is no place for gamblers, for those who are, please accommodate yourselves to the Monte Carlo casino, I believe we owe respect to the minority shareholders. Unfortunately, most of shipping companies were like birds of prey, enacting the killing of the shipping equity capital market.
My octogenarian shipowner friend remarked that you make money in the shipping industry by asset play, and you make no money from fleet management transporting goods or passengers. Frankly I also disagree about that. Shipping is part of a logistic chain, therefore I believe that the mission is to move goods and passengers (or livestock) in a cheaper and better way, rather than play asset sale and purchase.
I know I am being un-cool stating my opinion above; probably my view is unpopular and will not lure any sympathy from the readers, in particular from shipowners, but don't worry, I am used to representing a "voice outside the chorus".
Business behavior was almost perverse in recent  years: the majority  of shipowners invested in new projects splashing out billions of dollars without sense, and no strategic guidelines were implemented. If you want a good example I can point out to you what happened in the panamax bulk carrier segment. This is what I wrote in November 2011:
Overcoming the "Lehman dip" the dry bulk sector rebounded in 2010. Anyway it was just a spike in "cloudy sky" before the storm; there were no changes in macroeconomic fundamentals to turn the shipping market view. Despite this, shipowners started to order at speed, and 2010 panamax contracting overtook 2007 ordering rate to stand at 420 ships amounting to in excess of 30m dwt. It was crazy!
Unfortunately, the price slowdown represents the biggest peril in a shipping crisis, because shipowners resume ordering at an impressive pace, and the consequence is that prices continue to flatten or decline, slowing the recovery.
Therefore, more than 700 new panamaxes (60, 000 to 100, 000 dwt) are expected in the years (2011-2013) giving roughly 55m dwt.
What will be the outcome? Unfortunately the story repeats itself confirming my gloom view for dry bulk panamax in the short term. Assuming current scrap pace we expect following picture:
Therefore, assuming 20% deletion or cancellation and low GDP growth (2% in the table above), oversupply will target roughly 250 vessels in 2012 and 2013; it means close to 15% of the panamax fleet. How that will affect secondhand prices? Very simple, we see below a regression analysis comparing secondhand prices and freight rates:
I would not be amazed to see soon secondhand, five-year old panamax  at $23m.
I shall conclude by submitting my question to the editor and readers of www.allaboutshipping.co.uk: When will shipowners understand that shipping is an
industry and not a gambling table, and when will those who hazard the dice be punished?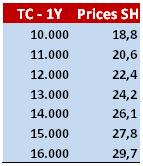 * Fabrizio Vettosi. Born in Naples in 1964, he graduated in Economics & Finance at the "Università Federico II di Napoli" with the highest grade.
He started working in 1984 for BNL (Banca Nazionale del Lavoro). During his career he had important guide roles in other three Merchant Banks (in the last one he was CEO).
In 2000 he joined Efibanca, the Investment Banking arm of Banca Popolare Italiana Group specialized in Shipping Finance, where he assumed the role of Head of Advisory – M&A Division in Milan.
He was involved in several and important Private Equity Joint Ventures between Efibanca and Shipping Companies such as Moby S.p.A., Onorato Family in Ro-Pax Ferries, Gestao de Nevegaçao Lda, Premuda Group in the Tanker Sector, Aurora Shipping S.p.A. and Giuseppe D'Amato Family in the bulk Sector.
He's been engaged in Shipping Industry for the last 20 years and, throughout his career, he has established excellent relationships with most Italian ship-owners and some key international shipping players.
He actively takes part in shipping industry life also participating in the Fiscal & Financial Commission of CONFITARMA (Italian Ship owner Association).
In 2009 he founded a new Private Equity and Advisory Vehicle targeted on Shipping Industry: Venice Shipping and Logistics S.p.A., where he assumed the role of Managing Director.