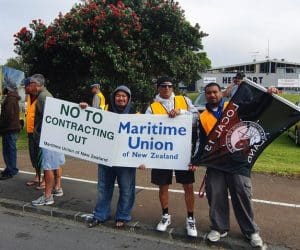 There's been a further victory for wharfies at Ports of Auckland in New Zealand in their fight for job security. Ports of Auckland Limited (POAL) wants to make 300 members of the Maritime Union of New Zealand (MUNZ) redundant and contract out their stevedoring work.
The union has already successfully argued the case of workers in the Employment Court and yesterday (27 March) another temporary reprieve was granted in the form of an interim injunction. This relates to claims from MUNZ that the contracting out of workers by POAL would be illegal. POAL is now bound by court restrictions until a substantive hearing in May.
These restrictions include POAL taking no more steps to make MUNZ members redundant, ceasing any steps to engage contractors to carry out the work of striking or locked out workers and to make no statement encouraging MUNZ members to apply for contractor jobs.
A hearing this Friday will deal with issues of legality in terms of a lockout notice issued last week by POAL management and the process of voluntary redundancies. Meanwhile, solidarity action with Auckland wharfies continues to take place around the world. More than 6, 000 people have sent letters to Auckland Mayor Len Brown calling for him to replace Chair of the POAL board Richard Pearson and CEO Tony Gibson, as rogue members who are driving the port into the ground and acting recklessly with regards to workers.
Meanwhile a solidarity map which shows where action in support of Auckland is going on worldwide has been viewed more than 5, 200 times in the past week. It details where unions are holding protests and where solidarity messages and protest letters are being sent from.
(source: itf 27March 2012)