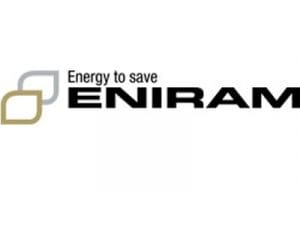 Finland's fastest-growing company has opened its Singapore office to better service a growing Asian client base.
April 18th, 2012 – Eniram Limited, the fast-growing provider of real time decision-support systems for the shipping industry, has opened its Asian office in Singapore to better service its clients in the region.
The Finland-headquartered company develops onboard applications, performance management and analytics solutions that help fleet owners and captains better operate their ships towards reduced fuel consumption and improved overall vessel efficiency.
Philip Padfield, CEO of Eniram, said: "Singapore was a clear choice for us as it is not only one of the premier global hubs for shipping but has also made clear its intention to be a hub for 'green' shipping in the region. This is in line with our corporate strategy to provide ship owners and operators with technology to save fuel and improve their environmental performance."
Headed by Noël Jelsma, Eniram's Asia Pacific Regional Director, the Singapore office provides a base for local and regional sales and support services for the whole of the Asia Pacific region.  Headquartered in Helsinki, Eniram also has offices in Fort Lauderdale, the United States of America and London, United Kingdom.
Eniram offers a range of products designed to maximize vessel efficiency and provides the most accurate analytics and measurement tools to enable ship operators to find out exactly where they are achieving savings. This includes speed management and dynamic trim optimization, both of which significantly affect the amount of fuel consumed on a ship's voyage and can each result in measured savings often in excess of 3%."
Mr Padfield said, "With the prices of marine fuel continuing to soar, we have a lot to offer ship operators in the region who believe that the ability to produce tangible savings is of paramount importance. Our solutions directly target fuel consumption, using techniques such as dynamic trim optimization to fine-tune the way their fleets move through the water. On average this can lead to savings per vessel of up to US$300, 000 per year on a VLCC or mid size container vessel, and in some cases much more."
"In addition to the potential fuel savings ship operators stand to achieve with our systems, our software also enables ship operators to assess the value of other fuel efficiency solutions that they may be using, " he added.
Having won Deloitte Technology Fast 50 Finland awards in 2011 for being the fastest growing Greentech company in Finland respectively and placed 14 in the EMEA Fast 500 ranking, Eniram has shown its dedication to steady growth and expansion in order to attain a strong presence that reaches a truly global clientele.
Eniram has also been shortlisted for the Technical Innovation Award at the Seatrade Asia Awards this year, a testament to the company's spirit of innovation in creating new technological solutions for the maritime industry.