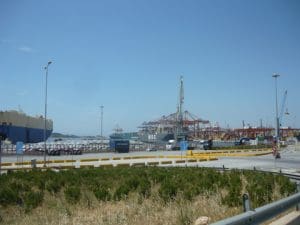 Commission Considers Priority Right to Renew Port Land Leases Unlawful  
The European Commission sent yesterday a formal warning to Lithuania for maintaining a legal priority right for cargo-handling operators to renew their land lease contract with the port authority. The Commission says that cargo-handling operators from other Member States wishing to establish themselves in Lithuania might be discouraged from doing so because of the entry barrier this provision raises on the market for cargo-handling services.   In Lithuania, a 1996 law governs the land lease in maritime ports.
It requires that the land at the port is leased solely on the basis of competitive tendering, except when the existing holder of the lease contract exercises his priority right to renew it. A lessee acquires such priority right when he fulfilled all his obligations concerning cargo-handling laid down in the original lease contract.
Referring to the 2007 Ports Policy Communication, the Commission argues that access to port land is a precondition for providing cargo-handling services. As a consequence, it would also be a precondition for cargo-handling operators in choosing a place of establishment in an EU port. Therefore, a competitive, transparent, non-discriminatory and reviewable procedure for land leasing would be the best way of securing a fair and efficient allocation of this scarce resource, while ensuring compliance with the principle of freedom of establishment. The priority right contained in the Lithuanian law would in contrast constitute an entry barrier, favouring existing operators in providing cargo-handling services in a Lithuanian port.
The Commission's decision comes at a time when ports policy appears again on the European agenda (see ESPO News of yesterday). "We need to see the details of this case, but we would agree that prolonging existing contracts should not be an unconditional and automatic right", commented ESPO Secretary General Patrick Verhoeven, "However, we do believe that if an existing operator is performing well and commits itself to continued investments, there should be scope for prolonging the agreement with the port authority. If this were not possible at all, the operator would typically cease all investments in the last years of the agreement. This situation would lead to lower terminal efficiency and suboptimal use of land."
Despite the fact that Lithuania has not contested that the priority right to renew the port land lease contract is incompatible with the freedom of establishment, the provisions amending this regime have not yet been adopted. The Commission's warning issued yesterday takes the form of a 'reasoned opinion'. This is the second stage in the infringement procedure which is started when the Commission finds that a Member State does not comply with EU law. If Lithuania fails to inform the Commission within two months of measures taken to ensure full compliance, the Commission could refer the case to the European Court of Justice to start litigation. In around 95% of infringement cases, Member States comply with their obligations under EU law before they are referred to the Court