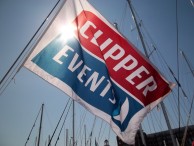 Sailors' Society Clipper Yacht Regatta Wednesday 12th September – Portsmouth, UK
After last year's success the Sailors' Society will be holding another Clipper Yacht Regatta. Once again this will be an ideal opportunity to compete against other shipping companies as well as entertain clients. The event can also be used for corporate team building.   The Regatta will begin with breakfast. You will then be taken out on to Solent waters and be given training on how to sail these magnificent 68ft Round The World sailing yachts.  Lunch will be provided on-board followed by an opportunity to race against the other shipping companies taking part in this event.
After a full day of sailing you will then join us for post-event 3 course dinner at Loch Fyne restaurant with entertainment and prizes for the winning team.
This entire package is available for your Clipper yacht at £6, 000 to accommodate 12 participants.
Please click here for full details of the event provided by Clipper.
For viewers having any query or would like to take a yacht, they can contact Sofie Bennett by email: sbennett@sailors-society.org or call +44 (0) 23 8051 5957.