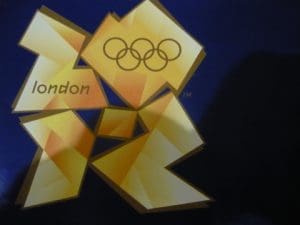 Obviously nobody expected such a synchronised combination of grandeur, tradition, science and technology coupled with fiction and non-fiction acts to produce such an excellent result watched by over 4 billion people- more than half of the world's population; John Faraclas' "recap" from the opening ceremony… and beyond.
For a start the buzz words "Twenty Twelve" will go down to Olympic History as the second best maxim after the Citius, Altius, Fortius, which is Latin for "Faster, Higher, Stronger".
Add the sea factor and the usage of father Thames, whose thousands of years of history is interwoven with everything to do with London and moreover with the Olympics – the barge "Gloriana" carried the Olympic Flame and David Beckam too piloting the Olympic Flame down the river in a speedboat for its final leg, before it was handed over to seven young hopefuls,   to bring same in the Olympic Stadium after its long journey from Ancient Olympia in Greece!
The Queen arrived by a helicopter to a thunderous applause in a true James Bond style with Mr. Bond …err Daniel Graig; Her Majesty was greeted by Jacques Rogge, the Olympic president who said that Britain virtually invented modern sport, pushing up national British pride another notch, and the show begun!
The entire island's history, despite notable omissions costing 27 million pounds was worth to every penny used; Einstein's "imagination is more important than knowledge"  worked perfectly for this occasion!
Thousands of VIPs, including over 100 world leaders, gathered in the British capital for this opening ceremony, with guests ranging from Russia's Dmitry Medvedev to USA's  First Lady Michelle Obama and Hollywood star Angelina Jolie.
The Olympic teams entered the stadium with the Greek team first by tradition and the British host's team last. King Constantine was at the VIP box on his feet and waving the Greek flag! Then the alphabet kicked in with big cheers for the tiny Afghan delegation, bigger ones for the 400 strong Australian group, a warm welcome for Argentina despite their Malvinas stunt – on a night like this, all are among friends… The Armanis…err the Italians where the most cheerful ones!
After the Hymns the real show begun; enjoy the Games and always remember where it all started, down south in Olympia Greece; hope to see many supporting the modern Olympic Truce event tomorrow at the Carlton Club and…beyond!
Finally, it's worth mentioning that The Games are guarded by Britain's biggest ever peacetime security operation backed by a force of more than 40, 000 military and civilian personnel.
We intent to bring from time to time news on the Olympics particularly the sea/water-sports – sailing, rowing, diving and swimming, as well as some rare moments of various events; enjoy The London 2012 Olympic Games and look forward your comments.