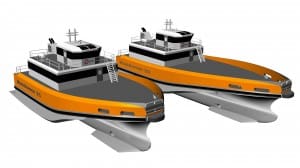 Hamburg, Germany, 8 August 2012 – As offshore wind developments move further offshore, into deeper waters with more extreme weather conditions, the challenge of providing operations and maintenance (O&M) support safely and cost effectively grows. The Fjellstrand WindServer is one of the new generation of offshore service vessels who will be meeting these needs and Germanischer Lloyd (GL) is very proud to be supporting this growing industry by providing classification services for the first newbuildings of this innovative design.GL will class the order of six of the new vessels, two 30m vessels and four 25m, built by Fjellstrand for Danish shipping company World Marine Offshore A/S. The vessels will have a service speed of 25 knots and the capacity to carry 25 and 12 service personnel, respectively. They are scheduled to enter service in March 2013.
The Fjellstrand WindServer, includes a number of innovative features which have been designed to improve access to offshore installations in rough weather, improve fuel efficiency, ensure the safety of the personnel on board, and reduce running costs. The vessels will be equipped with four engines that power two controllable pitch propellers, giving improved operational flexibility while ensuring redundant capacity.
The vessels will be equipped with ballasting systems allowing them to shift between a rough weather SWATH mode and a light weight transit mode. A fixed stabilisation foil adds to the design's stability – one of a set of permanently integrated motion damping devices that are part of the hull concept and designed to reduce construction and maintenance costs by avoiding complex active motion control systems.
"The offshore service sector is currently one of the innovation highpoints within the maritime sector, " says Ronnie Westerman, GL's Business Development Manager for North Europe. "GL has been intensively involved in this area over the past several years, assessing new designs, materials and components and we are extremely happy to be once again working with Fjellstrand to help to bring this exciting new design to life."
The WindServer was one of 13 shortlisted concepts in the Carbon Trust's Offshore Wind Accelerator access competition. The competition was designed to enhance the safety of workers transferred to offshore wind turbines and increase turbine availability by identifying and developing new access systems. The programme allowed Fjellstrand to undertake extensive tank testing on the new hull form, demonstrating its stability and seakeeping ability in high seas states at both high speeds and stopped.
GL has previously provided classification services for a number of Fjellstrand designed and built passenger catamarans, including the Halunder Jet, a 36 knot, 52m long catamaran which carries some 580 passengers on the nearly four hour journey between Hamburg/Cuxhaven and Helgoland.
In May GL released the first comprehensive set of classification rules for Crew Boats and Offshore Wind Farm Service Craft. The rules were developed by bringing together all of the relevant GL rules, international codes and recommendations which can be used for the classification of Crew Boats. The rules will allow designers to develop vessels built to the individual needs of their clients according to the rules, with full confidence in the fact that their vessel can meet with classification approval. The Rules have been developed in consultation with the flag states and will contribute to the development of international standards for Crew Boats.
About World Marine Offshore
World Marine Offshore is an innovative shipping company providing service to the offshore industry. Its focus is on transporting personnel and cargo to and from offshore installations and supporting services, such as: survey and inspection, guard and rescue, chase support and diving/Service Operating Vessel (SOV) operations. World Marine Offshore offers: turnkey tailored specialised solutions, modern flexible vessels, experienced and multidisciplinary employees, operations according to our HSEQ standards always with a high focus on safety.
About Fjellstrand AS
Fjellstrand AS is located at Omastrand in the Hardangerfjord, on the west coast of Norway. Fjellstrand is a modern shipyard which develops, markets and constructs technically advanced high speed passenger and car-carrying catamaran ferries in aluminium. In addition the company also designs and builds living quarters, superstructures, ROV hangars and other marine and offshore constructions in aluminium.
About the Carbon Trust
The Carbon Trust, a UK non-profit organisation funded mainly by the British Government, endeavours to accelerate the commercialisation of innovative concepts that reduce carbon emissions and save energy. The Offshore Wind Accelerator is a collaboration between the Carbon Trust and eight international energy companies (SSE Renewables, Statoil, DONG Energy, RWE Innogy, Scottish Power Renewables, Statkraft, Mainstream Renewable Power and E.ON) with licenses to 60% of the UK's offshore wind capacity.
About Germanischer Lloyd – Maritime Services
Germanischer Lloyd (GL) offers classification services, plan approval, inspection and certification of materials and components as well as technical assessments for newbuildings and ships in service. GL is dedicated to providing high quality services, which ensure the safety of life and property at sea, and minimise impacts on the marine environment.
As a classification society GL is particularly strong in the classification of container ships, multi-purpose vessels, tankers, bulk carriers, high-speed ferries, cruise ships, mega yachts and sports boats. GL currently surveys more than 8000 ships on a regular basis, and GL's fleet in service now surpasses 103 million GT.
GL's experts serve as advisors to governments, the IMO, flag and port states. The group is committed to a smarter, safer and greener future of shipping.