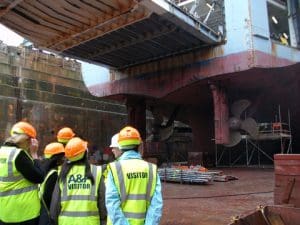 Braemar (Incorporating The Salvage Association) is delighted to announce that the next of its popular programme of Port and Shipyard Familiarisation courses will be run in conjunction with the U35 Marine Insurance Group.
Providing a practical insight into port operations, the Port and Shipyard Familiarisation course aims to provide a bridge between marine claims handling professionals and the ship repair and ship building industry. In this regard it ties in perfectly with the U35 Marine Insurance Group's ethos of offering networking, training and support on a not-for-profit basis to marine insurance professionals in the early stages of their profession.
"Our organisation is ideally placed to make this contribution to the marine insurance claims market", says Nigel Clark, Managing Director of Braemar (Incorporating The Salvage Association).  "We believe our responsibilities within the industry extend to developing the quality and potential of those around us – especially young professionals making their way in the business. The Salvage Association earned a reputation for putting something back into the industry and we are very pleased to continue that philosophy as Braemar (Incorporating The Salvage Association).
"In the last eighteen months we have endeavoured to build on our heritage and make a significant contribution to developing expertise in our marketplace.  Our Hull and Machinery Guides have been widely praised for assisting those in the market unfamiliar with the terminology used in marine survey reports to more easily interpret and provide greater understanding of the technical issues within.  We also run a successful series of in-house seminars and Lloyd's Market Briefings which cover topics of specific interest to the P&I market and to underwriters, and are open to the marketplace. Run by industry specialists with a reputation in their field they cover a diversity of current topics and always lead to lively debate."
The next Port and Shipyard Familiarisation courses, which run at the beginning of October in Falmouth and also Piraeus, have been developed to introduce marine insurance professionals to the basic technical aspects of shipyard repair, damage encountered in marine losses; marine surveying, investigating and reporting techniques. Delegates will gain a practical knowledge and a greater understanding of the way in which ships and ports function, how damage repairs are carried out and some of the key issues that might be raised when dealing with marine claims on a daily basis.