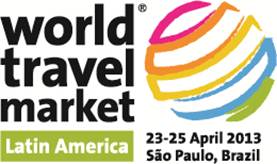 Two theatres will focus on current topics, trends, target sectors and much more
World Travel Market Latin America, taking place in São Paulo on 23 – 25 April 2013, will incorporate a three day Event Programme highlighting different topics impacting Brazil, Latin America and the global travel industry.
The show will focus on Leisure, MICE and Business Travel, giving the Latin American travel industry a platform to conduct business and become one of the most important travel and tourism regions in the world. Two seminar theatres open to all visitors and exhibitors, will host a range of high-level local and international speakers who are experts in their field and guarantee to deliver quality content.
In addition to the existing Responsible Tourism and Social Travel Market Programmes, a number of new seminars have been confirmed including Sports Tourism concentrating on the upcoming FIFA World Cup and 2016 Olympic Games, UNWTO 'round-tables' discussing Latin America as a multi-destination, a PhocusWright conference,   travel blogging, travel technology and an airline session.
Plus, the European Travel Commission (ETC) will host a high level industry think-tank during WTM Latin America covering key components such as long-term strategy and brand-building exercise for Destination Europe in Brazil and Latin America.
The three target sectors of the event; Leisure, MICE and Business Travel, will be serviced by the second seminar theatre with daily forums. WTM Latin America will be working with key Latin American Associations including BRAZTOA, ICCA, MPI and ABGEV to organise and host the forums with two conferences and a cocktail reception per day. Vincent Lhoste, Project Director for WTM Latin America says: "The content of the event programme provides global and local insight into important tourism subjects. The sectorial forums help segment the content into three very different areas and provide visitors with relevant information and new opportunities and ideas for business."
For regular event programme updates, visit wtmlatinamerica.com
About Reed Travel Exhibitions
Reed Travel Exhibitions (RTE) is the world's leading provider of exhibitions in the travel and tourism industry. Its wide-ranging portfolio of events around the globe covers leisure travel, luxury travel, business travel and the meetings and incentives industry.
In 2012 RTE 13 events were the catalyst for £2, 807 million worth of travel and tourism business deals.
The 13 events are; World Travel Market (WTM), Arabian Travel Market (ATM), International French Travel Market (IFTM), International Golf Travel Market (IGTM), International Luxury Travel Market (ILTM), International Luxury Travel Market Asia (ILTMA), International Luxury Travel Market Americas , Asia-Pacific Incentives & Meetings Expo (AIME) (owned by Melbourne Convention + Visitors Bureau), Global Exhibition for Incentive, Business Travel, and Meetings (EIBTM), Gulf Incentive, Business Travel and Meetings (GIBTM), Americas Incentive, Business Travel and Meetings (AIBTM), China Incentive, Business Travel and Meetings (CIBTM) and Business Travel Market.
April 2013 will see RTE launch World Travel Market Latin America in São Paulo.
RTE is a business unit of Reed Exhibitions. In 2011, six million participants attended RE's 500 events in 39 countries covering 44 industry sectors from aerospace and aviation to beauty and cosmetics to sports and recreation.
Reed Exhibitions is owned by Reed Elsevier, the world's leading provider of professional information and online workflow solutions.
About Reed Exhibitions
Reed Exhibitions is the world's leading events organizer, with over 500 events in 39 countries. In 2011 Reed brought together six million active event participants from around the world, generating billions of dollars in business. Today Reed events are held throughout the Americas, Europe, the Middle East, Asia Pacific and Africa and organized by 33 fully staffed offices. Reed Exhibitions serves 44 industry sectors with trade and consumer events and is part of the Reed Elsevier Group plc, a world-leading publisher and information provider and a FTSE 100 company.www.reedexpo.com