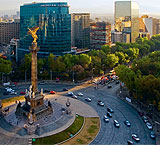 Mon 11 Mar 2013 –  Opportunities for insurers abound in Mexico – Latin America's second largest market after Brazil.
Mexico is a land of economic diversity. In Oaxaca, one of the largest states, 75% of the population lives in extreme poverty. Mexico City's affluent residents, meanwhile, enjoy income levels comparable to those in the US. But this heterogeneous country is unified by one trend: economic growth.  
According to Goldman Sachs, Mexico will be the world's seventh largest economy within 40 years. It is currently worth more than $20bn in premium, second only in Latin America to Brazil. Interestingly, however, Mexico is on Lloyd's list of underinsured nations. In 2011, insurance penetration was just under 2% of GDP.
Says Lloyd's Mexico Manager, Gabriel Anguiano: "Latin America is among the fastest-growing regions for Lloyd's. And Mexico is the largest contributor in Latin America, accounting for $397m of Gross Signed Premiums."
Thriving economy
The economy grew by 3.6% in 2012, which, though slower than 2011's 3.9%, is nevertheless healthy. Mexico's current pace of economic growth is expected to continue, with the government forecasting GDP to increase annually by 3.9% for the next five years.
David Battman, Managing Director, International Business Development, at Gallagher International, sees Mexico as one of their strategic growth markets. He believes the country's perceived historical dependence on both the US economy and the oil industry is changing:
"Mexico has 12 free trade agreements that allow it to trade preferentially with 44 countries, " he says, adding that Mexico is more than just a regional player. Mexican companies are increasingly becoming truly multinational, trading and investing on all continents, and we're helping them to do so."
And Mexico is not an energy economy alone – it's growing in many other sectors. Mexican companies are among the world's largest in telecoms, cement production, food and drinks, TV and financial services.
Private enterprise
Around half of Lloyd's business in Mexico is government-related risks, with clients comprising regional and federal authorities as well as state-owned companies. However, key growth classes of business for Lloyd's in Mexico are aviation, energy, marine and property, in both the public and private sector.
Mike Hughes, Chief Executive at Aon Benfield Latin America, explains: "Aviation is a very big sector for us. We're forecasting growth in the private middle market, ie regional airlines and helicopter services."
He also says property will grow in both the public and private sector, in line with the economy and driven by construction. In marine, "blue water marine will stay as is but [private] cargo and in-land transit will grow", again driven by the expanding economy.
Government investment
A government drive to invest in infrastructure will create further opportunities for the Lloyd's market. Under the National Infrastructure Plan for 2013 – 2018, the State will spend some $400bn on 1, 138 projects in sectors including energy, tourism, transport, water and urban development.
Rafael Audelo Mendez is the Chief Executive of Seguros Inbursa, the insurance arm of Mexican Financial Services company, Grupo Financiero Inbursa:
"Mexico needs to build highways, ports and dams. This will bring opportunities for foreign insurance and reinsurance because these projects entail large risks and the capacity that we have in Mexico is not enough."
Energy is an important growth area. Mexico plans to invest $20bn per year in its oil industry up to 2025 through state oil company Petróleos Mexicano. Lloyd's Mexico Manager, Gabriel Anguiano:
"There will be particular growth in offshore energy, which is where most of Mexico's oil is. Production has fallen in the last decade because we have exhausted all the 'low hanging fruit' in shallow waters. Now we have to venture into deep waters."
For those ready to embrace Mexico, how can you develop an edge in this competitive market?  A key strength Lloyd's brings is the fact that its coverholders and service companies are allowed to set up onshore.
Anguiano says: "No one is taking advantage of this yet so there's a real opportunity to write medium-sized risks that don't come to London."
Read an extended version of this feature in the latest edition of Market magazine.