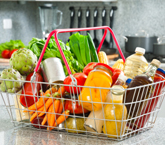 March 2013 –  Agricultural risk transfer solutions, with increasing levels of government support, are one answer to the problem of global hunger.
Foods prices have become extremely volatile and are up by almost 75% since 2005, " says Li Xing, one of the co-authors of a Swiss Re Sigma report titled Partnering for food security in emerging markets. Supply issues due to droughts have heightened food security concerns, especially for vulnerable people in emerging markets.
Food security was a big issue at the World Economic Forum in Davos in January, this year. The Food and Agriculture Organization (FAO) and UN Environment Programme launched an initiative to tackle food waste, revealing 1.3 billion tonnes of food is lost or wasted around the globe each year.
Food security in 2013
An exponentially growing global population, increasing demand for a meat-rich diet, volatile food prices, severe weather events and desertification of arable land. These are just some of the issues shaping global food security.
Population growth is making the situation more stressful, " says Neil Smith, manager of emerging risks and research at Lloyd's, who is due to publish a report on Food Security next month.
Climate change is another factor causing more severe weather and disrupting food supplies. Urbanisation is another pressure, which is particularly interesting for us as insurers, because it is concentrating risk in particular areas."
With population growth it's not just sheer numbers, " he adds. "It's also a growing middle class that are looking for particular types of food, many of which are resource intensive to develop, like dairy and meat products in particular, which require more land."
Today, one in eight people in emerging markets suffer from hunger. Asia Pacific and Sub-Saharan Africa most affected, accounting for 61% and 27% of the world's population that are suffering from hunger and malnutrition respectively.
Making progress 
Progress in reducing hunger over the past 20 years has been more pronounced than previously estimated, according to FAO publication The State of Food Insecurity in the World 2012. Given renewed efforts it may be possible to meet the Millennium Development Goal target of halving hunger in the developing world by 2015.
It proposes a "twin-track" approach based on support for broad-based economic growth (including in agriculture) and safety nets for the most vulnerable.
Growth must not only benefit the poor, but must also be "nutrition-sensitive" in order to reduce various forms of malnutrition. Reducing hunger is about more than just increasing the quantity of food it is also about increasing the quality of food in terms of diversity, nutrient content and safety.
Innovative risk transfer
It is estimated that global agricultural production will need to increase as much as 60% by 2050 in order to meet people's growing need for food.
Meeting these challenges in the coming decades will require a multi-stakeholder approach, argues Swiss Re Sigma, and insurance will play an increasingly important role in this.
"Ensuring adequate and sustainable agricultural production is extremely important in strengthening food security and this can partially be achieved through effective risk management where insurance plays a core role, " says the study's other co-author Amit Kalra. "Insurance can help manage risk across the entire agriculture food value chain."
Agricultural insurance premiums almost tripled between 2005 and 2011 to an estimated $23.5bn. While mature markets such as the US and Europe still account for the majority of these premiums, the untapped potential in emerging markets suggests the sector will continue to grow steadily.
Creative crop insurance
Crop insurance products protect against either the loss of crops due to natural disasters (crop-yield insurance) or the loss of revenue (crop-revenue insurance) as a result of a decline in food prices.
While cover for hail is common and generally available, multi-crop insurance – which covers multiple varieties of weather events including hail, flood and drought, as well as pest infestations – is more complicated and hence commands higher premiums. This type of cover is often subsidised by governments.
Index-based agricultural products are becoming increasingly popular thanks to fast, effective and efficient claims-settlement processes.
However, insurance on its own is not enough to feed tomorrow's global population, which is set to reach nine billion by 2050. In a number of countries, public-private approaches have proved successful.
In 2010, the Vietnamese government implemented area-yield crop insurance on a large scale in an effort to protect farmers against natural hazards. A claim is triggered when the actual yield is less than the guaranteed yield per district and rice season. A similar programme also exists in Beijing, China.
"Insurance is an important part of the puzzle but it is not the only one, " says Li Xing of Swiss Re.
Achieving food security in emerging markets requires a multi-stakeholder approach. Insurance cannot provide food security in emerging markets on its own but it can play a big part. Farmers and producers, governments, communities, agribusiness and cooperatives can benefit from solutions offered by insurers and reinsurers."
(source: Lloyd's of London)