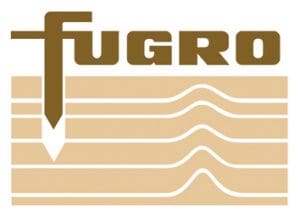 Cape Town, 11 April 2013 – Anadarko South Africa (Pty) Ltd (Anadarko), in partnership with PetroSA, is operating the first exploration period over frontier block 5/6 and block 7 of the Orange Basin, southwest of Cape Town, South Africa.
Fugro was contracted by Anadarko to conduct a survey within these blocks that involved the acquisition of multi-beam echo sounder (MBES) data from the MV Fugro Gauss, together with onboard seep mapping interpretation.  This survey is part of a greater Seafloor Geochemical Exploration survey designed by Anadarko and their partners.
The successfully completed ~56, 000 km2 MBES survey provided quality bathymetry and backscatter MBES data for the identification of potential, natural hydrocarbon seepage at the seabed. During the acquisition, experienced Fugro geoscientists onboard the vessel performed mapping of potential seeps, interpretation of the surficial sedimentary geology, structural geology and shallow fluid migration systems, and reporting of the acquired MBES data.
As Helle Els, Commercial Manager of Fugro Survey Africa, explains: "Seep hunting requires both MBES bathymetry and MBES backscatter data to be collected and processed in real-time during the survey. Our geologists onboard evaluate the data to determine potential seep targets and weight them for a later geochemical coring survey. All technologies and methods used are in accordance with good survey practice and our Fugro team onboard are experts experienced in bathymetric surveys to IHO standards in both data acquisition and processing."
ENDS
Further information is available from: Helle Els Commercial Manager Fugro Survey Africa (Pty) Ltd h.els@fugro.com
ABOUT FUGRO Fugro is a world leading service-provider in the collection and interpretation of data relating to the Earth's surface and sub-surface, and in the support of infrastructure developments on land, at the coast and on the seabed.
Through its international network, Fugro provides the expertise and technology that support the exploration, development, production and transportation of the world's natural resources.
You are receiving this transmission from PR Newswire on behalf of the issuer of the information contained in this email. If you would like to stop receiving information of this nature via email for this issuer, click here for auto-removal.