Lloyd's Charities Trust supports disaster relief charity RedR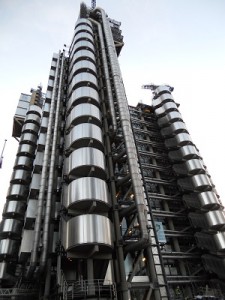 (source: Lloyd's of London)
Wed 17 Apr 2013 -Lloyd's and international disaster relief charity RedR have announced a new partnership aimed at improving the capability of first responders to disasters hitting communities around the world.
Lloyd's Charities Trust plans to donate £300, 000 over the next three years to fund the Ready to Respond programme which, through collaboration between the private and humanitarian sectors, aims to fill the current gaps in specialist knowledge required to deal with large scale urban emergencies and to enable people affected by disasters to rebuild their lives and livelihoods sooner.
The new partnership comes at a time when increasing urbanisation is posing major challenges to businesses and communities around the world.
Increasing urbanisation
According to RedR, each week a million people move from rural areas to cities. Globally most migrants coming to a big city move into a slum. These unplanned, haphazard settlements within cities are often built in areas already prone to landslides, flooding, seismic activity or industrial accidents. And of course, when disaster strikes it will inevitably have more impact where people are tightly packed together, services are limited and construction standards are poor.
Swiss Re's head of economic research and consultancy Dr Kurt Karl has predicted that in the year 2025 eight of the world's ten megacities will be in emerging markets.
"With rapid urbanisation, particularly in emerging markets, we are seeing increasing concentrations of people, property and assets frequently in catastrophe-exposed areas, " says Lloyd's manager of emerging risks and research Neil Smith.
However, most humanitarians are not yet equipped to cope with disasters in very built-up, densely populated areas, explains RedR.
Lloyd's helps policyholders to cope with crises and catastrophes of varying kinds. However, particularly in developing countries, not every disaster or emergency is covered by insurance. Through this partnership, Lloyd's Charities Trust supports efforts to help people around the world rebuild their lives in the face of disaster.
The programme
The programme, funded by Lloyd's Charities Trust, comprises two parts. The first is to identify, select and train a team of first responders, in particular from the UK engineering and construction industries and lead humanitarian agencies, which can be quickly deployed to future urban disaster zones. The second part of the programme will give existing aid workers around the world more practical solutions to on-the-ground challenges in urban and rural areas. More than 1, 000 staff will be trained in all aspects of disaster response including disaster preparedness, project management and logistics.
"For 325 years Lloyd's has been helping businesses and communities get back on their feet after disaster strikes. With continued urbanisation increasing the impact and complexity of disasters, this new partnership with RedR will enable the experts on the ground to respond quicker and more effectively, " said Iain Webb-Wilson, Chairman of Lloyd's Charities Trust.
Martin McCann, CEO of RedR said: "This partnership combines the experience and commitment found at the top end of private and charitable sectors. It allows a hugely valuable pooling of information and transference of skills. Together, we can make a greater difference in the world."