Roke Manor Research Ltd (Roke), a Chemring Group company, has developed AGITATE, a self-charging miniaturised device which could deliver a low cost method of monitoring and regulating the use of lifejackets that have a built in man-overboard capability.
AGITATE is currently the size of a five pence piece and could be produced for a few pence per unit. A small dielectric is charged, and when shaken the tag generates a radio signal that can be tracked through walls and up to 20 kilometres in built-up areas, with an estimated range of 200 kilometres in free space. AGITATE requires no battery as shaking it converts mechanical energy into radio pulses, rather like a dynamo that uses mechanical energy to power bicycle lights.
Roke's research and design team has already completed UK trials across 26 kilometres of variable terrain. Further work will be focused on reducing the size of AGITATE and increasing Radio Frequency output power to track at greater distances.
Peter Lockhart, Future Technology Manager for Roke, said: "As with many of the best inventions, AGITATE was developed by accident. But thanks to their highly inventive and creative minds, they recognised a potential application and have brought that to fruition, developing a simple yet highly usable technology."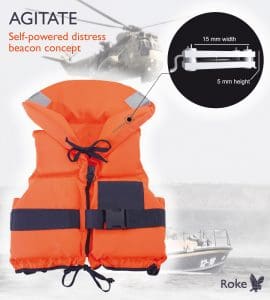 About Roke: www.roke.co.uk
Roke, based in Romsey, Hampshire, is the principal electronics research and development centre of Chemring Group Plc. Founded in 1956, Roke is one of the UK's leading suppliers of innovative solutions and contract R&D, pioneering developments in electronic sensors, networks and communications technology. It employs 450 staff and has over 430 patents to its name.