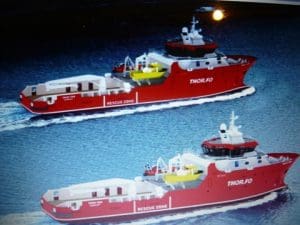 What have the US Coast Guard, the French Navy and the Norwegian Navy all got in common?
They have all recently opted for Vestdavit boat handling solutions to improve their operational effectiveness.
Read how in the attached newsletter, which also contains news of orders for seismic workboat davits and new production facilities for Vestdavit.
Come and meet the Vestdavit team at the Nor Shipping exhibition in Oslo 3-6 June. Vestdavit will be exhibiting in Hall C – Stand C05-32i.
You can see the team in the attached newsletter at the end of the text. If you want to be sure to find the right person, please e mail atle.kalve@vestdavit.no to set up an appointment. Or just drop in for a well-informed discussion on boat handling and some good company. www.vestdavit.no