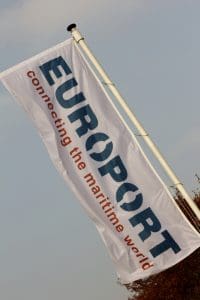 An independent jury from the Platform Clean Shipping initiative has identified the companies that will merit 'Green Route' status at Europort 2013, to be staged November 5-8 at the Ahoy Rotterdam exhibition and conference centre.
Europort 2013, the premier event for pioneers in maritime technology, confers the coveted Green Route status on exhibitors offering demonstrable commitment to a sustainable maritime industry. Recognition entitles exhibitors to acknowledgement on the organiser's floor plan, highlighting their standing as 'green innovators'.
Platform Clean Shipping is a partnership including the Holland Shipbuilding Association, Maritime Research Institute Netherlands (Marin), Netherlands Organisation for Applied Scientific Research (TNO), North Sea Foundation, Port of Rotterdam and Royal Association of Netherlands' Shipowners.
"As a partner in the Platform Clean Shipping we stimulate companies within the maritime sector to reduce their emissions while staying competitive, " says Martin Dorsman, managing director of the Royal Association of Netherlands Shipowners.
The Platform Clean Shipping jury made its selection based entirely on merit, with the final list featuring large corporations and smaller independent companies able to show sustainability as a guiding principle. The Green Route recognises environmentally-responsible products or services, but also companies demonstrating an environmental 'vision', research-led initiatives, independent accreditation, or corporate responsibility on environmental issues.
"The Green Route is a great way to draw attention to companies committed to reduce the emissions of seagoing merchant and offshore vessels. It allows visitors to find a variety of companies displaying their sustainable products, while others show how they have implemented sustainability in their corporate strategy, " says Mr Dorsman.
More than 45 applications for Green Route recognition were received by Europort 2013 for consideration, demonstrating the high value exhibitors place on being recognised for environmental responsibility.
"The criteria used for selection were searching and exhaustive, " says Raymond Siliakus, Europort 2013 Exhibition Manager. "In line with pressing industry themes on innovation, the jury focused on practical steps in achieving enhanced efficiency today as much as on the technology, investments and attitudes that will shape the future of a sustainable maritime and offshore industry for tomorrow.
"The Green Route has proved itself at Europort to be a valuable tool to showcase the latest solutions for a sustainable maritime industry. Ever since the initiative was launched in 2009 by Ahoy Rotterdam and HME, we have found that exhibitors prize both their acknowledgement on the floor plan and the 'Green Route participant' plate they can display on their stands."
GreenRoute_participants  Floor_plan_Europort2013