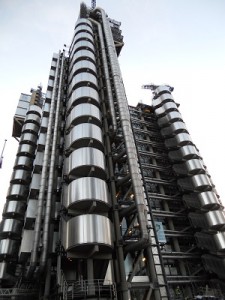 Bursaries awarded through Lloyd's Community Programme are helping three London students realise their dreams and gain some independence in the process.(source: Lloyd's of London)
University costs continue to rise, putting many students off applying for university at all. This year has seen the second consecutive drop in university applications, with UK applications down nearly 20% since the rise in tuition fees.
The cost of tertiary education is also leading to an increase in the number of students opting to stay at home while they study. Tuition fees of up to £9, 000 grab the headlines, but it is all the other costs of going to university – with accommodation the highest among these – that is discouraging many of tomorrow's graduates.
With the significant financial commitment of university study in mind, Lloyd's Community Programme has offered bursaries to three London sixth formers that will allow them to attend universities in other parts of the UK. Dominic von Goetz, Tajah Hamilton are heading to Liverpool University and Iveren Yongo will be studying at Manchester University.
Each will receive £15, 000 over three years as part of a scheme that helps inner- London students study at universities in other towns and cities, which could be difficult for them to access otherwise. Lloyd's University Bursary Scheme, now in its third year, is one aspect of Lloyd's Community Programme's support for students in Tower Hamlets.
The alternative to living on beans
For Hamilton, who is about to study history at the University of Liverpool, the potential of a bursary inspired her to study hard for her A-levels. It also means she can study without having to "live on beans". "It makes it a lot easier for my mum, " she says. "She doesn't have to worry that I don't have enough money for food etc."
Yongo is due to study chemistry at the University of Manchester. Her twin sister is also going away to the same university this year and the bursary will help ease the pressure on family finances. She has decided to share the bursary with her twin.
"We won't need to worry about getting a part time job and that will allow us to focus on our studies and get the best grades we can, " she says. "So it's a big relief and I just feel so lucky to have received it."
While she originally applied to study politics, philosophy and economics (PPE), the degree her sister will be starting, Yongo changed this to chemistry after receiving excellent A-level results.
"I got an A in chemistry which was a bit of a surprise, " she says. "I worked really hard so it was rewarding to see that pay off in my results. I'm very interested in environmental chemistry, and the research opportunities are really good, so I'd like to do something in that area."
Part of the attraction of studying away from home is to gain some independence and grow in confidence, explains Yongo. "A lot of my friends are staying in London to study. I've lived here all my life so I've had no outside experience of the rest of the UK. I haven't lived away from home, so I want to experience that and to say that I've done it."