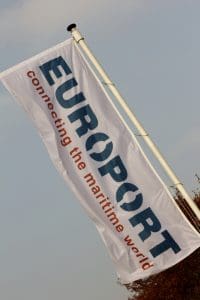 A call for sustained innovation and an 'international level playing field' on environmental regulation greeted global maritime and offshore business leaders today, as Melanie Schultz van Haegen, Minister of Infrastructure and the Environment of the Netherlands opened Europort 2013 at Ahoy Rotterdam.
Addressing an invited audience that included ambassadors and shipowners from around the world, as well as trade mission delegations from China, Russia and Brazil, Mrs Schultz said the challenges facing the sector needed frontrunners who want to innovate. "We need pioneers!" she said. "Intelligent, clean shipping is the future. That's where the opportunities for innovation are – and the opportunities for strengthening our competitive position."
In committing her government to further infrastructural development for waterborne transport and honouring pledges on environmental legislation, Mrs Schultz also emphasised the pace of regulatory change should be guided by consensus.
"I want to work with the sector and develop solutions at the international level, " she said. "I believe EU regulations should not be stricter than global regulations." Specifically referring to targets on reducing CO2 emissions, she added: "They are most effective when agreed at global level. That is the position I support."
Also speaking at the opening event was Govert Hamers, President of European marine equipment and shipbuilding trade organisation SEA Europe, a sector employing 500, 000 people and generating annual turnover of €80bn.
Mr Hamers picked up the themes of public-private partnership and the environmental agenda. "If we want a more innovative and sustainable industry we need to collectively (policy makers, industry and customers) set achievable targets and then stick to them, " he said.
This year's Europort also hosts 'Future Pioneers' organised by Maritime by Holland and Ahoy Rotterdam to bring together marine equipment business leaders with the designers and engineers of tomorrow.
"The future of the maritime industry depends on the availability of enough skilled professionals, " said Mrs Schultz. "We must do everything we can to attract talented young people. In the Netherlands, we are funding short work placements for secondary school pupils who want to know what this industry is all about."
Ahoy Managing Director Jolanda Jansen reported an exhibition sell-out for Europort 2013. "The Europort 2013 exhibition has attracted 1, 062 companies from 40 countries, 45% of them having come from outside the Netherlands, " she said. "The conference programme includes the Mare Forum, a two-day Ballast Water Management Conference, and the CEDA Dredging Forum, while Advanced Technology Conferences run throughout the four day event. With around 30, 000 maritime professionals attending, Europort 2013 has once more proved itself to be truly at the centre of the maritime and offshore world."