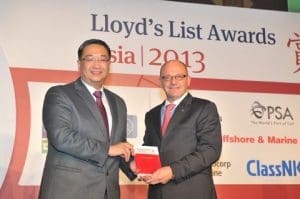 Singapore,  28 November 2013: GAC has been presented with the Lloyd's List Asia Award in recognition of its commitment to delivering high quality logistics services throughout Asia Pacific, at a ceremony held at the Raffles City Convention Centre in Singapore.
The Award acknowledges GAC's track record in successfully delivering a
wide range of logistics services, from complex project and heavy lift
logistics through to the end-to-end management of supply chains, whilst
also showing a firm commitment to further developing infrastructure and
expertise in its operations.
Speaking at the awards ceremony, Captain Dan Hjalmarsson, GAC's Group Vice
President – Asia Pacific, said: "We are delighted to have won this
prestigious award for our logistics services throughout the region. It is
testament to the dedication and hard work of our logistics experts who go
out of their way to ensure that we can deliver our customers' strategies
and a well-earned recognition of the lengths to which they will go in
order to provide our customers with the highest quality of service,
whatever their requirements."
GAC is the world's leading provider of global Shipping, Logistics and
Marine services.