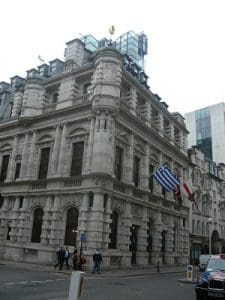 28, 000 deadweight multi-purpose vessel (MPV)* will be designed to meet current and future environmental and efficiency targets
Nantong COSCO KHI Ship Engineering Co., Ltd. (NACKS) and Lloyd's Register China have agreed to the joint development of an LNG-fuelled 28, 000 deadweight (dwt) type motor general cargo ship design, built to Lloyd's Register's requirements, that will meet current and future environmental targets. This 'new' ship design project will incorporate new propulsion systems (dual/triple-fuelled) and will meet new operational requirements. This design will be an evolution of NACKS' most current 28K MPV design.
Lloyd's Register will be applying its risk methodology for novel technology processes, which provides a proven pathway through the complexity of the technical risk assessment. The goal is for LR to issue an approval in principle (AIP) for the new design including approval of the LNG as fuel systems.
In a ceremony held at NACKS' offices, Nikolas Skaribas, LR's Greater China Marine Operations Manager, signed the JIP (Joint Industry Project) agreement on behalf of LR with NACKS President, Mr Han Chengmin.
Luis Benito, LR's Head of Global Marine Marketing, commented: "This project is the latest example of our efforts to work with key partners to develop safe, LNG fuelled deep sea ships. Assessing and addressing risk is where we really add value as we transfer five decades of leadership in LNG carrier classification into supporting the exciting opportunities offered by gas for mainstream shipping."
Mr. Nishiyama, Vice President of NACKS said: "We are focused on the development of green ship technologies, especially using LNG as fuel for merchant vessels. Co-operation with classification pioneers, LR, and sub-vendors, knowledge, experience and research resource can be definitely shared in order to keep pace with leading expertise in this segment, and this will be beneficial for both parties involved to find practical, feasible technology solutions fit for customers' expectations in the future."
Last year LR issued details of the 'Clean Sky' LNG fuelled bulk carrier design following the completion of a joint project with COSCO Shipyard Group and Greek ship operator, Golden Union.
Lloyd's Register is the classification market leader in LNG carrier classification. This expertise is being shared with the all looking to use gas as a marine fuel and Lloyd's Register is involved in LNG as fuel projects world-wide. Recent significant news includes the completion of an LNG bunkering study for the Maritime and Port Authority of Singapore, which provides a clear road map for Singapore to go from concept to reality in establishing an LNG bunkering hub.
Our most recent Gas Technology Report, released last week, looks at the exciting world of LNG as a marine fuel –www.lr.org/gas.
*What is a multi-purpose vessel (MPV)?
MPVs are, typically, highly flexible workhorses of the world's oceans that are self-sustaining with deck cranes enabling the loading and discharge, including heavy lift capability in ports where shore facilities may be absent. They are used to transport a wide range of bulk, breakbulk and containerised cargo as well as vehicles, machinery, project cargoes and logs.
About Lloyd's Register
Lloyd's Register provides independent assurance to companies operating high-risk, capital-intensive assets in the energy and transportation sectors. We enhance the safety of life, property and the environment by helping our clients to ensure the quality construction and operation of critical infrastructure.