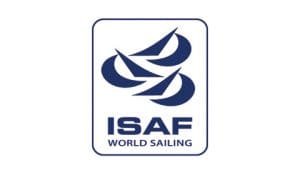 Thursday 5 December 2013 – A quiet cheer went up around the boat park at Sandringham Yacht Club as AP over A was hoisted on the official flag pole for all classes competing at ISAF Sailing World Cup Melbourne.
With a cold 30 knot wind from the south whistling through the regatta venue, sailors sheltered from the rain and patiently waited for a decision from the Race Committee. After a gale warning was issued by the met office racing was abandoned for the day.
The forecast for Friday is 20-25 knots in the morning decreasing through the course of the day. Additional races have been scheduled for the Nacra, 49er an 49erFX fleets with the first starts scheduled for 11:00.
With boats strapped down and covered from the changeable Melbourne weather the sailors have enjoyed the racing conditions thrown at them over the first few days of the regatta.
Australia's Sarah Cook teamed up with Carrie Smith, a 2013 ISAF Youth Worlds 420 gold medallist, for ISAF Sailing World Cup Melbourne after Cook's regular partner Elise Rechichi (AUS) had to pull out in advance on medical terms.
The challenge of working with a new crew has been one embraced by Cook, but the bigger test has come over the previous 12 months after she moved away from the Olympic rowing scene and into the Women's 470, "I'm loving the sport, " commented Cook. "I think a big part of that is having a change and learning something new. It's such a great opportunity for me to have the challenge of transforming the kind of athlete I am going from one spectrum to another."
Used to competing in a crew of eight with a couple of oars Cook has embraced working with Smith, who won a silver and gold medal with Ella Clark at the 2012 and 2013 ISAF Youth Worlds.
"I'm enjoying racing this regatta with Carrie and that brings new challenges, " added Cook. "We only had one sail together before this regatta and Carrie has come from 420s so it's a big challenge for us to connect as a team.
"She's doing an amazing job. We've had some good races and some not so good races but all in all we're enjoying this week."
The conditions the day prior were challenging for the sailors and developed over night to bring an early end to the day for the 579 competitors from 24 countries in the Olympic and Invited Classes.
In the Men's 470 Mat Belcher was happy that proceedings were brought to an early close, "Too much wind today, so it was a good call by the Principal Race Officer to abandon racing for the day. We enjoyed yesterday, it was challenging, " commented Belcher on a windswept Thursday.
Belcher added, "We still have a bit on for the week, with the Croatians leading for the first two days. They were the 2009 World Champions and four time world medallists. They are an extremely strong team. We have seen tough racing so far and expect to see more throughout the week."
Tracking
Tracking will be available throughout ISAF Sailing World Cup Melbourne.
Video
Tom Burton Leads His Aussie Counterparts In Melbourne
URL – http://youtu.be/7ZoNdwt7TAM
Embed – <iframe width="640″ height="360″ src="//www.youtube.com/embed/7ZoNdwt7TAM" frameborder="0″ allowfullscreen></iframe>
Weir And Drozdovskaya Embracing Melbourne Competition
URL – http://youtu.be/kd6P1HLmwYc
Embed – <iframe width="640″ height="360″ src="//www.youtube.com/embed/kd6P1HLmwYc" frameborder="0″ allowfullscreen></iframe>
Lilley Likes The Way Things Are Going
URL – http://youtu.be/7-HM5oK-SRE
Embed – <iframe width="640″ height="360″ src="//www.youtube.com/embed/7-HM5oK-SRE" frameborder="0″ allowfullscreen></iframe>
News feeds containing interviews and b-roll of sailing action will be available from Friday 6 December through to Sunday 8 December on the ISAF FTP. A log Sheet will be attached.
In addition, fully-produced highlight packages will be available from 6-8 December. These will contain interviews, action and results, including event graphics. These will be available to view on the ISAF YouTube Channel – http://www.youtube.com/SailingWorldCup