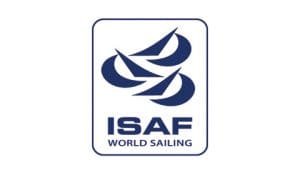 ISAF Rolex World Sailor of the Year and London Olympic Champion Mat Belcher and crew Will Ryan re-wrote sailing history by securing another regatta win in the 470 class, the 18th in a row for Belcher.
For Belcher's crew, Will Ryan it was his tenth consecutive win, two of which were as a stand-in crew for his predecessor in the boat, Malcolm Page. For the most successful coach in sailing, Victor Kovalenko (AUS), it was another episode in a long successful career.
While the spotlight was firmly on the Men's 470, it was also a day of personal achievement for Swedish Finn sailor Björn Allansson.
Allansson exclaimed after the race to the on the water crowd, "I might have a serious face, but I am very happy today. This is my first win in a World Cup event." At which point he leapt out of his Finn and performed a somersault worthy of an Olympic diving event.
Conditions on Port Phillip Bay were near perfect for the Medal Races which were sailed directly off the Sandringham Yacht Club allowing the fans a perfect vantage point. The remaining five will be sailedon Sunday on the final day of the regatta.
Men's 470
Sime Fantela and Igor Marenic from Croatia had the chance to cause a major upset in the 470 sailing world if they could beat the Australian team to the gold medal. They got off to a good start and sailed Belcher and Ryan back into the fleet, but broke away first to head for the windward mark on port tack, only to come across a wall of starboard tack boats heading for the mark.
Seeing the Croatian crew forced to duck behind other boats in the fleet, Belcher and Ryan picked their course perfectly, and were able to cross ahead of the Croatians and secure the gold medal.
Fantela and Marenic, who were the 2009 470 World Champions and have medalled in three World Championships, finished the race in seventh place and secured their second ISAF Sailing World Cup silver medal of the series.
Angus Galloway and Tim Hannah won the Bronze medal.
After the race, Belcher commented, "It's good to finish as we started. Today's Medal Race was difficult, the Croatians are tough competitors, they and all our competitors are getting closer.
"It's been an amazing year. Winning every regatta; having a son; completing three quarters of a Master's degree; and becoming ISAF Rolex World Sailor of the Year.
"We are expecting to see much more competition next year, with the top 25 sailors likely to be here in Melbourne with the revised World Cup format.
"A lot of countries are investing in 470, we don't have anywhere near the funding that the Chinese have. There are other countries doing well, including the Spanish, French, and British. So we will have our work cut out keeping up this winning sequence, " he concluded.
Finn
The Finn Medal Race went down to the wire as the top three all had a shot at winning the gold medal.
Overnight leader Björn Allansson (SWE) made a serious attempt at losing the gold medal before staging a tremendous recovery to finish the race second behind Australia's Oliver Tweddell.
Allansson dropped his places after hitting a wall of starboard tack boats on the final approach to the first mark, causing him to drop back down the fleet as he dipped behind the crossing boats. He started his recovery to catch race leader Tweddell by splitting with the fleet and slowly climbed his way back.
However, Tweddell was not finished with the Swede, allowing him to close up on the final leg to the finish, and then initiating a match race, luffing hard, right on the finish in an attempt to force a penalty on Allansson for not keeping clear. The trap failed and Tweddell was forced to cross the finish line in first place, with Allansson content to cruise across for second place, which was sufficient to win the gold medal by just one point.
Then the Swede cut loose shouting for joy at his first ISAF Sailing World Cup win, punching the air, calling on nearby photographers to get his moment of ecstasy and then performed a somersault off the side deck of his Finn.
After the race, Allansson said he tried to focus on wind shifts, "The wind is always the biggest competitor out there, especially when it's light and shifty."
"I managed to make a big gain on the second beat. I have good downwind speed and I have good balance on the boat, so I was in control of the situation, " he added.
One of the future hopes of Australian Finn sailing, Jake Lilley (20) won the bronze after placing third in the Medal Race. He had led the fleet for much of the regatta and is definitely a sailor to watch.
Laser Radial
The Laser Radial fleet were the first on the race track and with a light breeze from the south west, Tatiana Drozdovskaya (BLR) was determined not to have a repeat of the Medal Race in Qingdao where she finished second to Chinese athlete Dongshuang Zhang.
Zhang lead the Medal Race from start to finish and was never really threatened for first place but this time Drozdovskaya had started the race with a substantial 15 point lead. The Belarussian incurred a downwind penalty from the on water officials but it only set her back a couple of places and she finished the race in fourth.
"It was difficult conditions for me today", said gold medallist Drozdovskaya. "I did not have a good start, but winning here is a much better feeling than in China, where I was beaten in the Medal Race. I like strong conditions and the results reflected that."
Dongshuang Zhang took home the silver medal, with double Olympic representative Krystal Weir (AUS) finishing second across the line to secure the bronze medal.
Laser
Ryan Palk (AUS) had his turn in the spotlight winning the Medal Race but, as with the Laser Radial, one athlete had dominated the regatta. Leader since the first day of racing, ISAF World #1 ranked Tom Burton (AUS) struck out strongly in the Medal Race. Arriving at the first windward mark on port, Burton was forced to give way to several other boats and found himself in the middle of the fleet.
Burton recovered well to eventually finish third in the Medal Race, securing the gold medal by a 27-point margin. New Zealand's Thomas Saunders won the silver medal with Matthew Wearn (AUS) taking the bronze.
The World #1 Laser sailor came into Melbourne after a disappointing Laser Worlds result and was upbeat about racing at the World Cup, "The aim was to get back atop the podium. So I am happy with today's results. The next stop is Miami, then the European circuit."
Michael Blackburn, Australian Laser Coach commented, "I'm pleased with Tom and the whole Laser squad. It's interesting to consider that looking back at the 2009 Laser Worlds our best placed Australian was Tom Slingsby at 17th, so at this stage of the cycle we are well ahead of that."
Women's 470
Shasha Chen and Haiyan Gao (CHN) were well on course to win the gold medal, after topping the points table heading into the last day.  Uncharacteristically, they trailed the fleet around the first mark, but in a remarkable display of sailing, they had worked their way through the fleet on the next leg to take the lead.
Second on the water and also winners of the silver medal, were sisters Sasha and Jaime Ryan (AUS) with China's Nan Zhang and Yixiao Lv finishing fifth place in the Medal Race to miss out on silver by just two points.
Men's RS:X 
Chuakun Shi (CHN) leads by an eight-point margin over Chunzhuang Liu (CHN), with another Chinese sailor Zhennan Fang five points behind in third. They sailed four races on Saturday and Liu has only an outside chance of winning the gold medal, needing to beat Shi by five places to do so.
Women's RS:X
Manja Zheng (CHN) has an 11-point lead in the Women's RS:X ahead of Qiaoshan Weng (CHN). ISAF Sailing World Cup Qingdao gold medallist Peina Chen (CHN) is a further eight points behind in third.
Nacra 17 
Darren Bundock and Nina Curtis (AUS) have just a two point lead in the Nacra 17 and will have a tight tussle with second placed crew, Euan McNicol and Lucinda Whitty (AUS) in the Medal Race. The New Zealand crew of Gemma Jones and Jason Saunders are third overall, six points behind McNicol and Whitty.
The Kiwis will be more concerned about protecting their bronze medal position from the fourth placed crew of Jason Waterhouse and Lisa Darmanin (AUS) who are just three points behind, or two places in a Medal Race.
49er
Nathan Outteridge and Iain Jensen (AUS) have a healthy 15-point lead in the Men's skiff ahead of Stevie Morrison and Chris Grube (GBR), who are the fast improvers in this regatta. They have a four-point margin over David Gilmour and Sam Phillips (AUS) and the battle is expected to be for silver and bronze on Sunday.
49erFX 
The points-table in the Women's 49erFX is the tightest of all the classes with four crews being separated by just seven points ahead of the Medal Race. Three Australian crews will take on Norwegian twins Ragna and Maia Agerup for the medals.
Medal Race Schedule – Sunday 8 December 
12:00 – Mixed Multihull, Nacra 17
12:35 – Women's Windsurfer, RS:X
13:10 – Men's Windsurfer, RS:X
13:45 – Women's Skiff, 49erX
14:20 – Men's Skiff, 49er
ISAF Sailing World Cup Melbourne
ISAF Sailing World Cup on YouTube
Tracking
Tracking will be available throughout ISAF Sailing World Cup Melbourne.
 
Click here to view the tracking.
 
Video
Untouchable Australians Win Again – Men's 470 Highlights
URL – http://youtu.be/K56VFyxtFzY
Embed – <iframe width="640″ height="480″ src="//www.youtube.com/embed/K56VFyxtFzY" frameborder="0″ allowfullscreen></iframe>
 
Tom Burton Takes Melbourne Gold – Laser Highlights
URL – http://youtu.be/x_4DdEH2L4Y
Embed – <iframe width="640″ height="360″ src="//www.youtube.com/embed/x_4DdEH2L4Y" frameborder="0″ allowfullscreen></iframe>
 
Giant Swede Storms To First World Cup Gold – Finn Highlights
URL – http://youtu.be/A50pvZetTZw
Embed – <iframe width="640″ height="480″ src="//www.youtube.com/embed/A50pvZetTZw" frameborder="0″ allowfullscreen></iframe>
 
Drozdovskaya Makes Amends For Qingdao Heartache – Laser Radial Highlights
URL – http://youtu.be/SX3ALFhhCiQ
Embed – <iframe width="640″ height="480″ src="//www.youtube.com/embed/SX3ALFhhCiQ" frameborder="0″ allowfullscreen></iframe>
 
Chen And Gao Pick Up Melbourne Women's 470 Gold – Women's 470 Highlights
URL – http://youtu.be/TUn4YIj9dLg
Embed – <iframe width="640″ height="480″ src="//www.youtube.com/embed/TUn4YIj9dLg" frameborder="0″ allowfullscreen></iframe>
News feeds containing interviews and b-roll of sailing action will be available from Friday 6 December through to Sunday 8 December on the ISAF FTP. A log Sheet will be attached.
 
In addition, fully-produced highlight packages will be available from 6-8 December. These will contain interviews, action and results, including event graphics. These will be available to view on the ISAF YouTube Channel – http://www.youtube.com/SailingWorldCup
 
For FTP login details, specific requests and native language interviews please contact the ISAF Communications Department or using the details below.