2014: the markets returning, the opportunity is now. London is as strong as ever. By Jean Winfield, Jeanius Consulting
Almost 300 delegates from 15 countries recently attended the 5th Annual London Marine Money Ship Finance Forum at the Dorchester, Park Lane in London to hear a wide array of high calibre speakers and debates on the current markets.
Alderman Jeffrey Evans, Chairman of Maritime London, gave a rousing keynote address in which he greeted delegates to an upbeat London and an upbeat UK. Inflation falling, new job creation, the IMF expecting the economy to grow, direct foreign investment flow into the UK, high business confidence and excellent Government initiatives to support business were welcome signs of growth and prosperity. He gave a comprehensive shipping health and economical report highlighting London's pivotal role across all areas.
"As Chairman of Maritime London and an active member of Maritime UK, I'm committed to ensuring that London and the UK maintains its position as the world's leading international maritime centre, we have a unique breadth of offer across shipping finance, freight derivative and ship-broking, insurance, ship management and of course legal." He went on  to add; "Above all there is our reputation for transparency, predictability and clarity in global maritime business, business ethics that have been respected and upheld here for hundreds of years providing unrivalled and strong reassurance to all those with whom London does business."
The conference continued with a panel format focusing on market trends and looking at future supply growth, with the panel's views and presentations ranging from the bullish to the cautious. This was swiftly followed by a debate on restructuring amidst new hopes for an improving market; talking about how to review strategies and the secondary market for shipping debt.
Regarding success and sustainability; is it only market dependent? Can pressure groups and international bodies influence? These were just some of the questions asked of an impressive panel moderated by Doug Barrow, Chief Executive of Maritime London. Katharina Stanzel, Managing Director of Intertanko, said that her members of independent tanker owners "fiercely defend and support a free market".  She felt that while on the commercial side shipping is less related than other industries, there were other aspects so did not believe the health and prosperity of shipping was purely dependant on market forces. Peter Hinchcliffe, Secretary General of ICS said "Everything we do is market linked but it's not necessarily so being market driven" adding "I think we are going to see a whole new era of regulatory influence on the industry's performance". There was agreement that international bodies play an important role in influencing regulatory issues and bringing the industry together, providing a platform for exchange, lobbying and showing a united industry.  With so many key organisations based on having a major presence in London and such a pool of talented people in shipping, Katharina Stanzel very simply summed up London's role "I think that shipping is a people business and the people are here, that's why it's a centre."
Following lunch the debate changed to focus on private equity taking a higher profile and the desire by non-banking elements keen to invest, concluding there was improved confidence in shipping markets and that private equity was no threat to the recovery of the industry.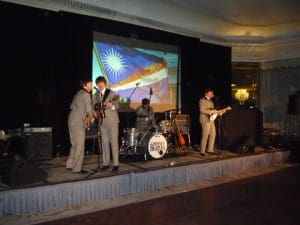 After a packed day programme, there was a chance to relax and network at a cocktail party and event held in the Ballroom by the Marshall Islands Ship Registry, celebrating reaching 100 million gross tons. After a proud speech by Bill Gallagher, President, thanking his team, clients and the industry, their journey as a ship registry was shared by way of a film. They hosted a wonderful evening with live entertainment by the Mersey Beatles.