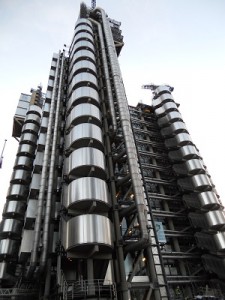 The insurance industry's ability to model the potential impact of natural disasters around the world has been advanced by the launch of an open source framework that's backed by Lloyd's and a community of well-known (re)insurers and brokers. (source: Lloyd's of London )
Oasis Loss Modelling Framework has launched the first version of a platform that allows members with an interest in creating new catastrophe risk models to use its open source software as a starting point.
Until now, insurers, reinsurers and brokers had to rely on a small number of proprietary software vendors. Formed by its members as a not-for-profit company in 2011, part of Oasis' remit is to bring down the cost of modelling, as well as to provide transparency and greater flexibility for all model users.
A number of commercial models will be immediately available from Oasis, including flood (two for Great Britain, plus Australia); three earthquake (USA, North Africa and Middle East); Cascadia (Pacific North-West) tsunami and Brazilian bush fire. Other models in development and expected for release later this year include Thai flood, US flood, Middle East earthquake and US commercial/industrial earthquake.
According to Trevor Maynard, head of Lloyd's exposure management and reinsurance team, Oasis has deliberately concentrated initially on perils and geographies that are not so well covered by other proprietary models.
Greater transparency
Tom Bolt, director of Performance Management at Lloyd's, believes it is important for the insurance market to have model transparency and choice. Commenting on the launch in a statement he said, "Oasis, an open framework, clearly adds to the pool of knowledge and gives choice to the market. It is exciting that after two years in development Oasis members have software that they can use in addition to existing solutions."
Paul Jardine, Chief Operating Officer at Lloyd's insurer Catlin, agreed saying: "At Catlin we have always sought to have a diversity of models and have as much transparency in those models as possible. Barriers to entry have restricted that choice in the area of cat modelling and we are really pleased to see Oasis go from concept to reality."
Peter Taylor, technical director at Oasis, explained how the framework provides "plug and play" data interfaces and web services that enable members to calculate the economic and insurance consequences of catastrophe events. "The Oasis Framework reveals the uncertainties in pricing and capital adequacy following from variations in model and portfolio data and from within the calculations themselves. The quantitative insights into what we don't know will help us make better informed decisions, " he said at the launch in London.
Fast response
The open source aspect of the framework also means that the latest thinking on natural disasters and climate change can be incorporated into Oasis' models, according to Maynard. "We learn something from every major disaster. Hurricane Katrina improved our understanding of the potential impact of storm surge and after the 2011 Japan earthquake we know more about tsunami, for example, " Maynard told lloyds.com. "Oasis lets users convert knowledge from academics and scientists into business relevant data. So insurers can incorporate the latest academic thinking on natural disasters into their models more rapidly."
According to Oasis, the new framework could also contribute to government agencies' efforts to improve resilience in areas vulnerable to flooding or other perils. Serious flooding across the UK and in Europe has placed renewed pressure on authorities to better identify risk exposures and increase the defences of local communities.
"Government agencies could use Oasis to build their own flood model and work with an engineering firm to model the financial impacts of building mitigation infrastructure, " Maynard said. "Transparent modelling of natural hazards should also help all stakeholders to understand risk pricing. That in itself helps drive better risk awareness."
About Oasis
Oasis Loss Modelling Framework is a not-for-profit company backed by 21 industry companies including Lloyd's Corporation and a community of (re)insurers and brokers in the UK, Bermuda, Zurich and the US.
Its portfolio of plug and play models makes it easy for new entrants to come into the cat model market. By providing access to the simulation kernel and financial module for free (the part of the model that computes financial losses by applying insurance terms and conditions), Oasis allows new players to share their models and views of risk with the market.
A number of enterprises from around the world have already joined as associate members, including the UK Met Office, University College London, Karen Clark & Co, JBA Risk Management and Perils AG. The European Union funded Climate-KIC programme is backing the initiative and has sponsored numerous model developers.
Oasis user membership is now open to all. In 2014, it will cost £20, 000 but as other revenue sources come on stream, the figure is expected to reduce substantially. For this, members get direct access to the code and participation in the community working parties.