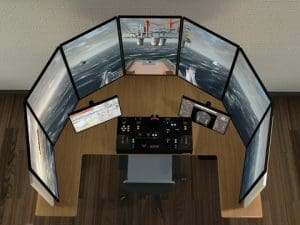 Bangkok,  February 6th  2014 –
For training of Offshore Supply Vessel activities within their fleet, Uniwise Offshore Thailand purchased a NAUTIS Offshore Supply Vessel Simulator and Instructor Station. The simulator was delivered and installed by VSTEP at the Uniwise Offshore training centre in Songkhla.  
Uniwise Offshore owns and operates the largest crew boat fleet in the Gulf of Thailand, supporting the Kingdom's offshore oil and gas activities. The Songkhla training centre plays a key part in the company strategy to develop, train and retain competent Thai crew. The Songkhla base houses the main technical centre of excellence, with an engine maintenance facility essential for high crew boat up-time, a large warehouse for critical spares and mentioned training centre, through which all crews must pass.
The NAUTIS OSV Desktop simulator and NAUTIS Instructor Station will be used at the premises for realistic training of OSV activities and navigation training with the vessels of their fleet.  The simulator includes a range of specific Offshore Supply Vessels from the Uniwise fleet, optimizing the training value.
The NAUTIS OSV Desktop Trainers feature an innovative high performance concept whereby a full 240-degrees horizontal outside field of view, which is normally only obtained in large Full Mission Bridge Simulators, is presented to the trainee at his desktop without any framerate or quality loss, and using just one high spec pc.  Conventional current desktop trainers provide a much more limited view of 30-120 degrees, which is only useful for straight reverse platform approaches. The 240° large field of view of the NAUTIS OSV Desktop Trainers makes training of alongside maneuvers that require a perfect port or starboard view  possible.
The NAUTIS OSV Desktop Trainer  uses an actual azimuth control box, connected to the PC through USB.  The entire set-up is compact and fits in any office or classroom environment.
About UNIWISE
Established in 1999, Uniwise Offshore, a Joint Venture of the Unithai Group, a major Thai offshore, shipyard and logistics group, and Miclyn Express Offshore (MEO), an Australian listed Singapore based leading provider of offshore service vessels covering South-East Asia, Australia and the Middle East, has grown to become Thailand's leading indigenous offshore support vessel (OSV) company. The company is currently growing its fleet of drilling rig supporting Anchor Handling Tug and Supply vessels and provides technical and commercial management for a fleet of over 40 vessels.  To support the growing operations in the Gulf of Thailand, Cambodia, the Malaysia Thai Joint Development Area (MTJDA) and Myanmar, Uniwise has invested in shore support bases in Sattahip and Songkhla, in addition to the Bangkok head office.
About NAUTIS
NAUTIS is a new generation of advanced DNV certified maritime training simulators for the civilian & military maritime industry, developed by VSTEP. NAUTIS simulators are high quality innovative and cost effective solutions for training maritime and inland navigation officers and crews. It includes a full range of simulators, from desktop trainers to full mission bridge simulators. NAUTIS simulators meet the training requirements of nautical colleges, naval academies, maritime training centres and individual ship owners in compliance with the latest STCW requirements and IMO regulations. www.nautissim.com
About VSTEP
VSTEP is a leading International developer of simulators and virtual training software. VSTEP creates 3D virtual training applications and simulators that allow people to build their skills in a practical and cost effective way. VSTEP has several core product lines, focusing on virtual incident training for first responders (RescueSim), maritime simulators for the civilian & military maritime industry (NAUTIS), training simulators to prepare camera operators to identify suspect human behavior before a crime or terrorist attack takes place (EyeObserve) and Crowd Control Management (Crowd Control Trainer).www.vstepsimulation.com