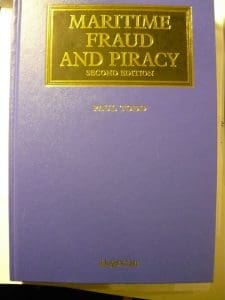 Maritime Fraud and Piracy coupled with Terrorism and Safety at Sea including the Environment are the most important issues in today's shipping world!
This Lloyd's List/informa  book by Paul Todd* is the second edition following its first nearly ten year ago (Maritime Fraud as it appeared then); a very daring account and kept me awake over the last two months to read, study and have a say on this.
I am recording Maritime Fraud and Piracy over 30 years and come across two thousand acts of maritime fraud, piracy and terrorism and the diversity as well as ruthlessness of modern day maritime fraud and piracy – both, in my view leading to terrorism with high level repercussions, makes this excellent and very well legally detailed written book / analysis an essential aid for all in the industry. Above all the necessity for legal backing is more than important today as there are too many loop holes and this book can greatly support you.
As you all read our constructive criticism through this site with the biggest scams in shipping history – from the scandalous vessels prices, to the market assessments and banks scandals as well as shipyards scandals and the bankruptcies which take place, needless to say chartering fraud, our position towards the way to tackle piracy and fraud, to all intents and purposes, and the involvement also of politicians and their accomplices world-wide in these illegal and inhumane acts, this second edition comes at no better time! A very useful tool for all, highly recommended for university students who must learn to separate logic from reality and use their imagination in avoiding naïve judgments and take over each case which arises with extreme seriousness.  Wearing my other cap as a shipbroker I can guarantee you the importance of the usage of this book, as innocently one can get involved with aspects of fraud with incalculable repercussions. Enjoy the read.
ISBN 978 1 84311 884 8
Viewers can contact law.enquiries@informa.com and order.
*Paul Todd, M.A., B.C.L., Professor of Law University of Plymouth
"F"