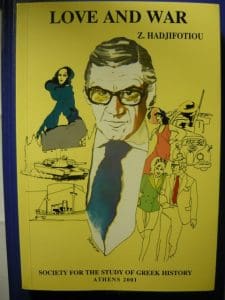 Back in Athens during our latest Festive Season's visit,  strolling down near my sea-side neighbourhood  – that is Paleo Faliro, and thinking of the state of the shipping markets, suddenly I met Zachos Hadjifotiou*, the world acclaimed Greek journalist, and WWII veteran, as usually bespokenly dressed! Having read in difficult times of my past life some of Zachos' masterpieces and as Zachos has been at the Anargirios and Corgiallenios College of Spetses famous public school – from where I graduated, there are always many things that unite us, add that of shipping…
We both were in our own world, Zachos in a rush to visit his GP and myself …contemplating with my "alter ego" on the state of the shipping markets, managed to exchange a few words that made both of us more than happy!
I dared ask him if he was writing any interesting book so that we can saw the world via www.allaboutshipping.co.uk  what real Greece and Greeks are all about and here goes Zachos: "I will leave you my translated into English book 'Love and War' at the Pools kiosk for you to collect." I heartfully thanked him and wished him all the very best with good health and to reach  100 years old at least– he is now 92! The next day I went to collect the book which managed to read in three days twice! As my late father fought in the Second World War participating in the convoys and torpedoed, one can understand my feelings, particularly after reading the book; what an account! A must for all to have same in our library, don't ask me why, make it a must-to-buy! The only thing I can reveal is: "War is cruel and has its own rules, one  of them being 'save yourselves'". There are many interesting and rare pictures worth not just seeing them,  but also study them! The Love part too more than great!
*Zachos Hadjifotiou was born in Athens in the picturesque district of Plaka. He lived as he himself often says in a town resembling a theatrical setting.
At the age of seventeen just out of school and when the Germans in 1941 occupied Greece he fled to the Middle East and fought in Tobruk, El Alamein and with the Rimini Brigade in Italy. After the war he got involved for a while with the family business but later left for Paris where he lived for several years. On his return to Greece he took up journalism as a columnist in most of the prominent daily newspapers. He is a prolific author of over fifteen books some of which made record sales. He is also the author of verses put to music by distinguished popular musicians, has written plays for the theatre and has translated and adopted theatrical plays staged with success. 
He has worked for twenty three years on Television and became famous by his daily five minute political – humoristic talk show.
He has travelled extensively, took part in car rallies and always was and still is very much a ladies man.
At the age of seventy eight he was the Deputy Mayor of Athens for the second time!
The Book was translated in English by Terry Crosfield and published by the Society for the Study of Greek History in 2001. Its first edition in Greek come out in 1997 and the second one in November 1998! ISBN: 960-8172-13-6