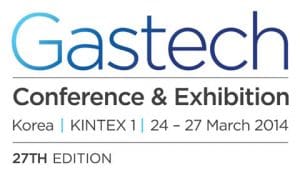 February 2014 – London, UK: A select group of influential speakers will offer insights on the future of liquefied natural gas (LNG) as a transport fuel for ships at the upcoming Gastech , the world's leading LNG and natural gas conference and exhibition.
Gastech 2014 will host a day-long seminar on LNG Fuel Technology as part of its Centres of Technical Excellence (CoTEs) programme, a series of free exhibition seminars taking place at the KINTEX exhibition and conference center in Seoul, South Korea, from March 25 to 27, 2014.
The Gastech CoTEs technical seminar programme is dedicated to delivering knowledge, education and awareness of technological innovations in the gas industry.
The focus on LNG fuel technology will be of special interest to Korea since its leading ports, such as Busan, could become regional bunkering centres for supplying LNG as a marine fuel. Korea's shipbuilding industry must also consider the adoption of LNG as a fuel in retrofitting existing vessels and constructing new ones.
Industry experts believe the use of LNG as a transport fuel is becoming more feasible because of tougher environmental regulations and the gradual delinking of LNG prices from oil prices.
"The use of LNG as a shipping fuel is starting to occupy a significant portion of marine market minds, " said Luis Benito, global strategic marketing manager of Lloyd's Register, which will present the stream. Benito will join high-level speakers from some of the world's most-respected global gas industry companies and organizations who will participate in the CoTEs. The LNG fuel technology will feature speakers from KOGAS, Lloyd's Register, Finland's Wärtsilä shipbuilding group, Shell Eastern Petroleum and France's GTT engineering group, who are confirmed to share the latest developments in the sector.
Topics to be covered during the stream include developments in LNG bunker port operations and safety procedures, incorporating LNG fuel tanks into ship design, as well as regional highlights on projects in North America and Canada.
"We look forward to addressing this very specific fast-growing market and to meet major representatives of our customer industries during this event, " said Rolf Stiefel, sales director at Wartsila.
LNG fuel technology will be one of the nine CoTEs streams at this year's event, which also include LNG & gas carrier ship technology, offshore & subsea technology, liquefaction, power generation, natural gas vehicles, health, safety, security & environment, pipeline infrastructure and NGL & GTL technology.
The LNG Fuel Technology CoTEs stream takes place at the Gastech Exhibition on Tuesday 25 March 2014 at KINTEX1. For more information, please visit www.gastechkorea.com/ cotes
About Gastech Conference & Exhibition
Gastech 2014 Korea will bring together thousands of commercial and technical industry professionals for unrivalled networking, new business opportunities, the exchange of ideas and to showcase the latest innovations, technologies and developments across the gas value chain. The 2012 event attracted over 14, 000 industry professionals, 350 international exhibitors and 2, 000 conference delegates. Hosted by KOGAS with support from industry associations and media, as well as a respected conference Governing Body, Gastech is an event run by the industry, for the industry. Comprising a large-scale exhibition and high-level conference, alongside exceptional networking, make sure your organization is seen at the must-attend industry event in the global gas calendar. For more information please visit www.gastechkorea.com or contact Samantha Ling, +44 (0) 203 615 2850 or email marketing@gastech.co.uk
About dmg :: events
dmg :: events organizes many of the world's most important exhibitions and conferences. From the global gas market to the oil sands of Alberta, dmg :: events provides conferences that provoke and educate, and exhibitions that showcase the best products and services that the industry has to offer. Our events are organized from offices in London, United Kingdom, Dubai, UAE, Calgary, Canada and Singapore. Our staff of dedicated, experienced events professionals is complemented and supported by the large number of industry associations that endorse our events, and by Governing Bodies of industry leaders that guide and shape our conferences. dmg :: events is a wholly-owned subsidiary of the Daily Mail and General Trust plc, one of the largest media companies in the United Kingdom. Please visit www.dmgevents.com for more information.