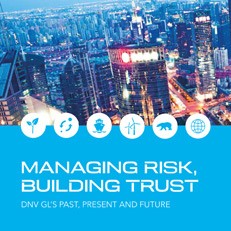 The global maritime sector is responsible for transporting some 80 per cent of goods traded around the world. Although it is one of the most fuel-efficient modes of transport and is responsible for only 2 to 3 per cent of anthropogenic global greenhouse gas emissions today, most ships run on heavy fuel oil – one of the dirtiest and most carbonintensive fuels – and contribute substantially to air pollution in ports.
Global demand for commodities and manufactured goods is projected to rise over the next four decades, adding to global demand for transport by air, land and sea – but that demand will come with new expectations for ships to operate in a safer, smarter and greener way.
Meanwhile, the potential for game-changers such as a technological revolution in manufacturing and distribution, a high-profile hijacking incident or a major change in public attitudes towards nuclear powered ships add greater uncertainty.
Yet while these trends will drive change through tougher regulations, competitive pressure and advances in technology, it will also reward early movers with a competitive edge. Opportunities to achieve a safe and sustainable shipping industry by 2050 are ripe in three key areas: reducing ship and occupational fatalities; reducing emissions of carbon dioxide; and exploiting efficiencies made possible by new technologies.
A whole new safety mindset
A number of recent, high-profile ship accidents have increased public scrutiny of shipping safety. The shipping industry's fatality rate is ten times higher than that of onshore industries in OECD countries.
To reach parity, the shipping sector needs to reduce its fatality rate by 90 per cent. This is a demanding ambition, but within reach if the industry adopts a new safety mindset. A holistic safety perspective is needed, taking into account humans, technology and procedures. In turn, measures must be put in place to prevent and reduce the consequences of accidents big and small.
Towards carbon-neutral shipping
The convergence of air quality concerns, growing pressures for fuel efficiency, and intensifying urgency around climate change is pushing CO2 emissions to the top of the shipping sector's agenda. Scientific consensus concludes that we must avoid warming of more than 2°C above pre-industrial levels or risk catastrophic consequences. This limit implies an economy-wide reduction in CO2 emissions of 60 per cent by 2050. For the shipping sector to achieve this level of reduction while accommodating the expected growth in transport demand, shipping must cut emissions per transported unit by 80 per cent by 2050.
Digital technology: a catalyst for smarter shipping
A sustainable world will also be a digital world. The steady advance of communications technology and access to ever increasing amounts of data will continue to drive human connectivity. For the shipping industry, the Digital Age will open up a new landscape of opportunities for the industry to "get smarter" – from ultra-efficient supply chain coordination to virtual design laboratories capable of producing next-generation vessels with radically reduced operating costs and energy consumption.
These digital solutions can enable the shipping industry to maintain or reduce its costs relative to today, even while dramatically improving safety and CO2 emissions levels.
From vision to impact
Looking ahead to 2050, we are confident that the impact of technological advances, increasing public engagement and changing industry mindsets will create new opportunities for the industry to become safer, smarter and greener. We examine trends in the global population and economy information and communication technology, energy and climate change and the environment. Based on these trends, we set out a vision for the future of shipping that sees the industry become dramatically safer, smarter and greener over the coming decades.
And we identify six pathways that can enable the shipping sector to achieve these ambitions: safe operations, advanced ship design, the connected ship, future materials, efficient shipping and lowcarbon energy.
 About DNV GL
Driven by its purpose of safeguarding life, property and the environment, DNV GL enables organisations to advance the safety and sustainability of their business. DNV GL provides classification and technical assurance along with software and independent expert advisory services to the maritime, oil & gas and energy industries. It also provides certification services to customers across a wide range of industries.
Combining leading technical and operational expertise, risk methodology and in-depth industry knowledge, DNV GL empowers its customers' decisions and actions with trust and confidence.  The company continuously invests in research and collaborative innovation to provide customers and society with operational and technological foresight.
Established in 1864, DNV GL operates globally in more than 100 countries with over 16, 000 professionals dedicated to helping their customers make the world safer, smarter and greener.