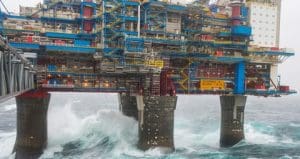 VIKING is ready with all the answers to a new hot topic for offshore infrastructure owners and operators at its stand at OTC 2014. The topic is single-source safety equipment servicing – and judging by industry reactions, VIKING seems to have uncovered – and solved – a significant hassle for its offshore customers.
Although its safety management offering, called the VIKING Offshore Safety Agreement, was released only last year, marine and fire safety equipment leader VIKING Life-Saving Equipment has already had a number of significant wins. Among these is a newly inked, multi-year servicing contract signed with Norwegian-based oil and gas giant Statoil for the maintenance of marine safety equipment on board 36 platforms in the North Sea.
Statoil's portfolio of marine safety equipment for its oil and gas activities is typical of similar-sized industry players. The company's rigs have been built at various times and were equipped with the best of what was available at the time of construction. Over the years, many of the products have been updated, but rarely or never as a complete installation upgrade. What's more, Statoil's platforms are designed for a variety of purposes and environments and can require, therefore, slightly different types and specifications of equipment.
The result is a mix of brands, models and vintages that demands significant time and resources to maintain. The challenges aren't Statoil's alone, but present a correspondingly difficult set of challenges for its suppliers, who are required to maintain spare parts inventories, accurate delivery times and consistent quality levels. The delivery logistics of it all are complicated, too. Unlike safety servicing for passenger or cargo ships, which can be carried out when the vessel is in port, offshore platform owners are often forced to choose between buying or renting a temporary set of liferafts to replace equipment being serviced, or to consider reducing onboard personnel for days while vital safety equipment is being maintained on shore. 
The new c Offshore Safety Agreement makes for significantly easier administration for Statoil's platforms and logistics staff. Previously, numerous emails and phone calls flowed between the various Statoil installations and a range of different safety equipment suppliers. And establishing and consolidating the various budgets at corporate level demanded many hours of work.VIKING now has full responsibility for its customer's liferafts and chute systems, and its offshore service planning department coordinates scheduled servicing, including coordination with supply vessel schedules.
"Until the agreement, Statoil's North Sea installations have been servicing their safety equipment under a variety of different schemes with little or no synchronization or coordination with other installations in the area, " says FrodeLindseth, Statoil's Senior Engineer in charge of Maintenance Management. "Now, VIKING has taken on the management effort, creating a single point of contact for us and finding new efficiencies with a minimum of disruption to Statoil's production and production support processes. And the new predictability of costs is also very important to us, too." 
"At the moment, we have several different brands of equipment, but over the years to come, we expect only to have VIKING, " he continues. "Going this way has given us peace of mind both when it comes to the quality of the safety equipment we make available for our employees and the simplicity of its management."
According to Benny Carlsen, VIKING's VP Offshore, the new single-source safety management possibilities for offshore platform owners and operators are a welcome addition to the methods currently being deployed to tighten up operating efficiency. "From an overallsafety perspective, this is a real game-changer, " he says. "Basically, we take care of all aspects of a rig owner's safety equipment and servicing tasks for predictable, transparent prices. This not only answers efficiency requirements but it can also lift the customer's safety equipment and servicing arrangements to the higher levels required as exploration moves further from shore."
At the company's stand (1601) will be a number of offshore specialists with extensive North Sea experience, including Benny Carlsen, Mark McLeman and Alexander Gundersen, all 20-year veterans of the offshore industry now based at VIKING's Norwegian offshore business unit.Together with their colleagues, they will be sharing lessons learned from in-depth analysis of offshore servicing requirements and best practices with the offshore industry – including the reasoning behind customer decisions to assign servicing ofliferafts and evacuation chutes to a single supplier. At the same time, VIKING will release its new Best Practice Guide to help the industry to make better-informed choices when it comes to offshore safety servicing strategies.
 "Jo"