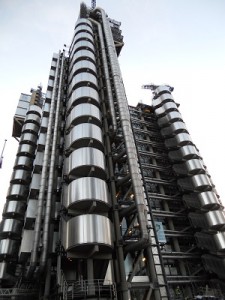 Wed 30 Apr 2014 – Recent research shows a very high level of awareness of the Lloyd's brand globally, with the world's oldest insurance market the second most spontaneously mentioned brand of insurers and reinsurers after AIG. (source: Lloyd's of London)
Lloyd's brand tracking research polled audience groups in several countries in an effort to measure awareness/favourability/recommendation and usage of the brand.
There was a strong correlation between top of the mind awareness and profitability, suggesting the better known brands are more likely to be successful. Lloyd's announced a profit of £3.3bn for 2013 and has an operating profitability of 11%.
As well as being the second most strongly-favoured insurance brand,  67% of those polled said they would consider Lloyd's first or equally to other carriers. Among the reasons for selecting Lloyd's were its capacity and range of cover and ability to take on 'hard' and specialised risks.
The brokers, coverholders, insureds and reinsureds surveyed said Lloyd's expertise and experience covering a wide range of risk classes made it stand out from the competition. Other words used to describe the brand were "global", "innovative", "flexible", "dependable" and "capacity".
Many attach a certain quality to the Lloyd's name and said that the structure of the market makes it unique.
"Lots of insurers are like each other, but Lloyd's is stand alone. [That is due to the structure] to a degree, and the history and the legacy and everything. I think it is a positive thing; people have a lot of… respect, admiration for Lloyd's, " said one policyholder.
"[The Lloyd's market is] gutsy, very innovative [and] risk-taking, which I don't think a lot of insurance companies are any more, " said a broker respondent. "Intuition is certainly something I would associate with Lloyd's and for the most part probably only Lloyd's."
The market outperformed both the global financial industry and global insurance industry on key attributes, including expertise, stability, ethics, responsibility, dependability, openness and transparency.
The results of the research have been shared with Lloyd's country managers to assist in their business development and marketing plans.
Positive results in emerging markets
Lloyd's was perceived favourably and had increased its brand awareness in a number of emerging markets including China, Brazil and Mexico. This bodes well for Lloyd's commitment to keep pace with developing markets, as outlined in Vision 2025 where it identified China, Brazil, Mexico and Turkey as high priority countries.
In China and Brazil, spontaneous awareness of Lloyd's had increased significantly from 2011 when the last brand tracking research was carried out.
"Lloyd's has a bigger range of products… competitive conditions, lots of [financial] capacity to provide and international knowledge, " said one Brazilian respondent. Among the Chinese respondents' reasons for choosing Lloyd's were "more underwriting capacity", "very good security" and "tremendous strength and innovation".
Overall, the research suggests that awareness of Lloyd's as a brand is strongest in markets where Lloyd's has a strong presence but also growing in emerging markets where Lloyd's has stepped up its involvement in recent years. In all markets Lloyd's is highly-regarded for its international and specialist approach to underwriting a broad spectrum of risk classes.