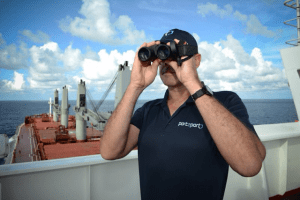 Manchester UK – Port2Port Maritime hasnow been formally accepted as an Associate Member of BIMCO, followingthe company'saccreditation of ISO/PAS 28007, the first assessment of a maritime security company's quality management system against an International Standards Organisation framework (ISO).
Andrew Varney, Managing Director, Port2Port Maritime said, "Membership to BIMCO gives a clear choice for Shipowners, Charterers and Operators alike that for the first time, having proven its competency and capability beyond doubt, a maritime security provider can take its legitimate place within the shipping industry supply chain".
Port2Port is the first PMSC to become an Associate Member of BIMCO following ISO/PAS 28007 accreditation. ISO/PAS 28007, as part of the ISO 28000 family of security standards, provides established guidelines to private maritime security companies (PMSCs) supplying privately contracted armed security personnel (PCASP) on board ships. Certification to these standards demonstrates to the international community that they, and their operatives, can legally, safely and effectively plan and execute, and manage the delivery of armed services.
Stephen Reed, Port2Port's Compliance Auditor said, "This will hopefully make it easier for the Shipping Community to identify credible providers of risk management services. The Maritime Security Industry has come a long way in the delivery of its services and the quality of service in the protection of seafarers has never been higher than now."
Giles Noakes, BIMCO's Head of Maritime Security said "BIMCO believes that the implementation of ISO PAS 28007 will enhance the standards of Private Maritime Security Companies (PMSC) and protect against the use of low grade and potentially dangerous services. The current use of private armed guards on board ships should not be seen as an endorsement or institutionalization of the practice by the shipping industry or as a waiver of the fundamental obligations of flag states under UNCLOS. BIMCO however firmly recommends the use of PMSCs that are ISO PAS 28007 certified and BIMCO will make available a "White List" for members.
BIMCO is a shipping association providing a wide range of services to its global membership of stakeholders who have vested interests in the shipping industry, including shipowners, operators, managers, brokers and agents. BIMCO is a strong advocate for the harmonisation and standardisation of all shipping related activity. Accredited as a Non-Governmental Organisation (NGO) with all relevant United Nations agencies and other regulatory entities, BIMCO actively promotes the application of internationally agreed regulatory instruments.
About Port2Port
Port 2 Port Maritime Security Ltd. is a fully accredited, licensed and compliant global Security Risk Management Company specialising in the delivery of maritime protection services to the international shipping and offshore industries. World class and expert on board and on shore, it has a reputation for professionalism and reliability and is redefining standards in the maritime security industry. Andrew Varney founded the Company in 2011; its Head Office is in Manchester, UK with regional offices in Singapore and a sister company Port2Port West Africa registered in Lagos, Nigeria and regional office in Accra, Ghana.
"Jo"