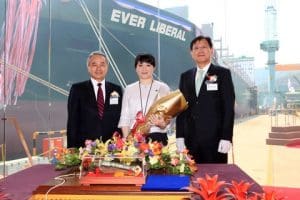 May 9, 2014 – EVER LIBERAL, a new 8, 452-TEU L-type containership of Evergreen Line, was christened by Bronson Hsieh, Evergreen Group's Second Vice Group Chairman, at the Samsung Heavy Industries shipyard today. The rope cutting for the vessel was performed by Ms. C. H. Chang of Evergreen Marine Corporation in a ceremony attended by dignitaries from Taiwan and abroad.
EVER LIBERAL is the nineteenth L-type containership to be built by Samsung for Evergreen Line. In his speech Mr. Hsieh said, "It was in July 2012 that we started to take delivery of L-type vessels from Samsung Heavy Industries. All the new-buildings were delivered perfectly to schedule and have been performing very well. The twentieth and the final new-building of this program is planned to be completed in July. Furthermore, we are looking forward to receiving five 14, 000 TEU chartered vessels from Samsung in 2016."
Owned by Evergreen Marine (UK) Ltd., EVER LIBERAL is 334.8 meters in length, 45.8 meters wide, with 942 reefer plugs. The L-class containership is fitted with alternative marine power, ballast water treatment system, electronic-controlled fuel-injection engine that supports slow steaming and many more eco-friendly designs. After her delivery on 14th May, the new-building will join Evergreen Line's Far East – Europe route, replacing an older vessel.
"Jo"